Born with a bang
V-Delicious have enjoyed amazing success from the very start. Their inaugural vegan and vegetarian show at London Olympia in 2013 saw nearly 21,000 people through the doors for the combined V-Delicious and Allergy and Free-From Show. They're now building on this success to bring another V-Delicious Show to Liverpool. With 86% of those attending in 2013 saying they would be likely to return in 2014, we think they'll continue to go from strength to strength.
V-Delicious are passionate about providing visitors with an array of vegan products to sample and buy - and are keen for Vegan Society Trademark Holders to showcase their products prominently. They are excited to be working with increasingly more vegan businesses to bring exhibition visitors greater opportunities to discover vegan products.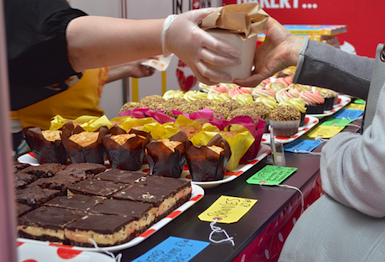 They're also very pleased to be promoting The Vegan Society during our 70th year - not only by hosting our Volunteer of the Year Awards, but also by putting on a celebratory vintage 40s-themed tea party open to all in attendance.
Why not support vegan businesses and come along to V-Delicious London in July 2014 and Liverpool in October 2014. Free tickets are available for Vegan Society members and supporters.