Tackling the root causes of global hunger
In 2013, the IF campaign called on governments to take action on global hunger.
The Vegan Society was there, raising the profile of plant-based solutions (vegan diets and stock-free farming) to the hundreds of thousands of supporters of over 200 campaign organisations. Moving away from meat and dairy-based diets is vital to free up food and resources so everyone can be assured a healthy food supply. Growing crops to eat ourselves, could feed 4 billion additional people alone. The Vegan Society made sure IF put out this message loud and clear: "Right now, 40% of the world's grain harvest is going to feed livestock instead of hungry people."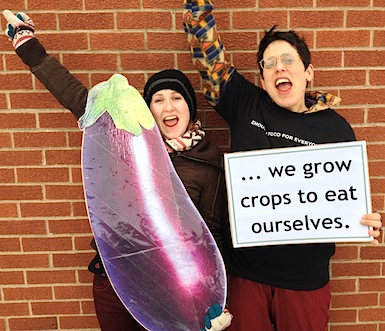 The London Big IF event on Saturday the 8th of June 2013 saw tens of thousands of people gathered in Hyde Park to demand that G8 leaders take action to tackle global hunger. Interested campaigners queued up all day to talk to Vegan Society staff and volunteers – this was one of our busiest stalls to date. 
Vegan Society Ambassador and MP for Bristol East, Kerry McCarthy, urged the UK Government to recognise how animal agriculture contributes to world hunger. She pushed for it to be at the top of the G8 agenda. "We could eliminate the worst cases of world hunger with about 40 million tonnes of food," commented Kerry in the New Statesman. "And it would be easy enough to find: nearly 20 times that amount of grain, 760 million tonnes, is fed to animals on factory farms every single year." This figure dwarfs that of biofuels, which accounts for only 100 million tonnes.
Action: Write to your MP and ask them to investigate stock-free farming and plant-based diets as significant solutions to global climate change and food security.