Read our testimonies from our partners and supporters on how we've helped the world become more vegan

Have we helped you or advocated for you in the past? Email web[at]vegansociety[dot]com: we'd love to hear from you.
Click on the type of testimonies you're interested in below:
Vegan Business Development
Advocacy
Outreach
Vegan Business Development

The Vegan Society established the Vegan Trademark in 1990, to help improve product labelling and make veganism more accessible to all. We now have over 60,000 products registered with the Vegan Trademark on cosmetics, clothing, food, drink, household items, and many more. Hear from some of our clients about why they chose to register their products with the Vegan Trademark.  
Ethical Bedding

Ethical bedding was created, after two years of product development, with the aim to be the most sustainable luxury bedding range on the planet. They use the innovative silk-alternative Tencel (a Vegan Trademark raw material), made from Eucalyptus to create their range of Vegan Trademark certified pillowcases, duvet covers and bedsheets.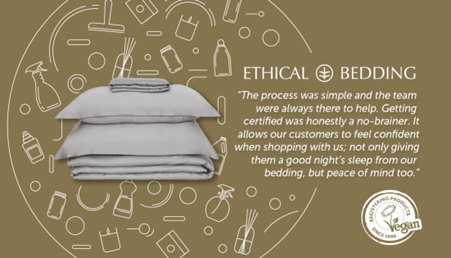 "Environmental sustainability is at the heart of every decision we make at Ethical Bedding. From our raw materials and packaging to our manufacturing methods and processes, we aim to challenge the perception of how businesses can - and should - operate. That's why when we found out about the Vegan Trademark, we registered straightaway. The process was simple and the team were always there to help. Getting certified was honestly a no brainer. It allows our customers to feel confident when shopping with us; not only giving them a good night's sleep from our bedding but they get a peace of mind too.
---
Ration L 

The gender-neutral trainers by vegan footwear brand Ration.L have been garnering attention in the fashion world, featuring in Vogue, GQ, The Observer and more. Launched out of founder Kavita Basi's passion for sustainability, Ration.L has it's entire range registered with the Vegan Trademark.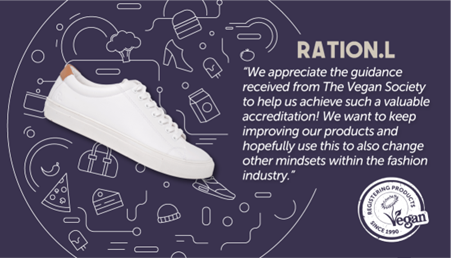 "Ration.L are really proud to certify our shoes with the Vegan Trademark. We appreciate the guidance received from The Vegan Society to help us achieve such a valuable accreditation! We want to keep improving our products and hopefully use this to also change other mindsets within the fashion industry. It's so important for Ration. L ethos to be vegan, gender-neutral and not harmful to animals during its production process. We hope this is a movement that will encourage others to understand more about the importance of vegan third party certification - RATION.L VEGAN & PROUD!" 
---
Violife

Iconic vegan cheese alternative brand Violife, and their parent company Arivia S.A, has been a Vegan Trademark holder since 2012. We have now registered over 150 products from the award-winning brand including their Epic Mature Cheddar, CocoSpread and their Vioblock. 
"At Violife we are very proud to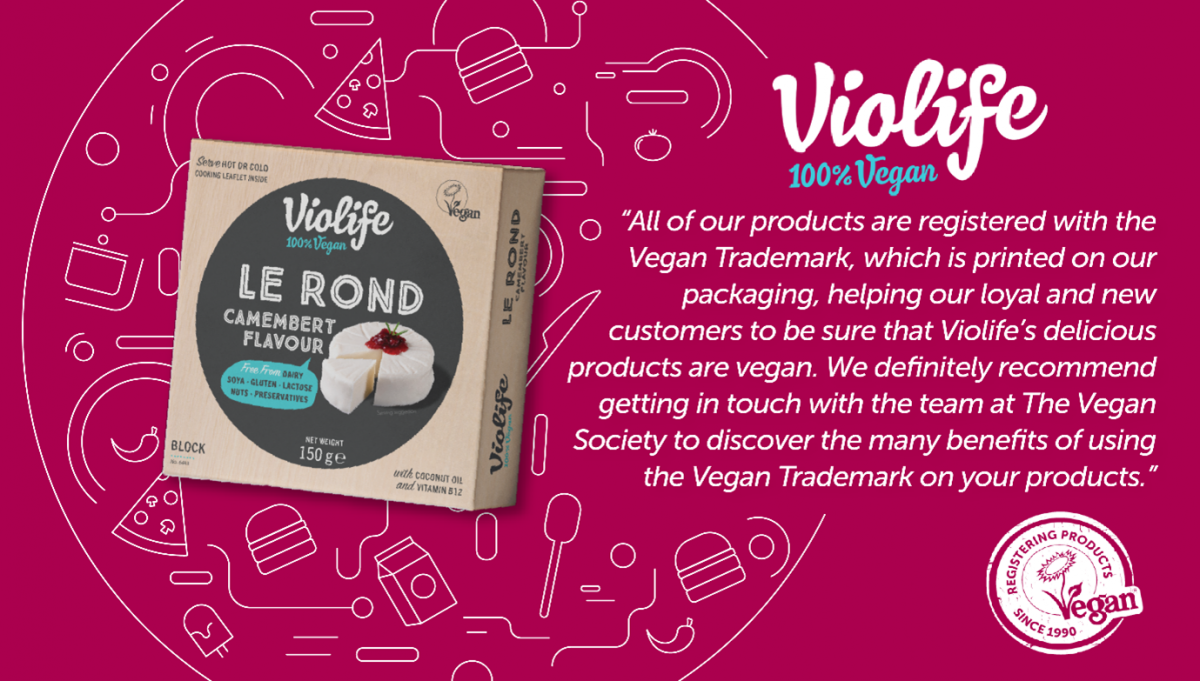 offer an enormous variety of vegan dairy-alternatives. All of our products are registered with the Vegan Trademark, which is printed on our packaging, helping our loyal and new customers to be sure that Violife's delicious products are 100% vegan. We definitely recommend getting in touch with the team at The Vegan Society to discover the many benefits of using the Vegan Trademark on your products." 
---
Advocacy

Support on bringing up a vegan child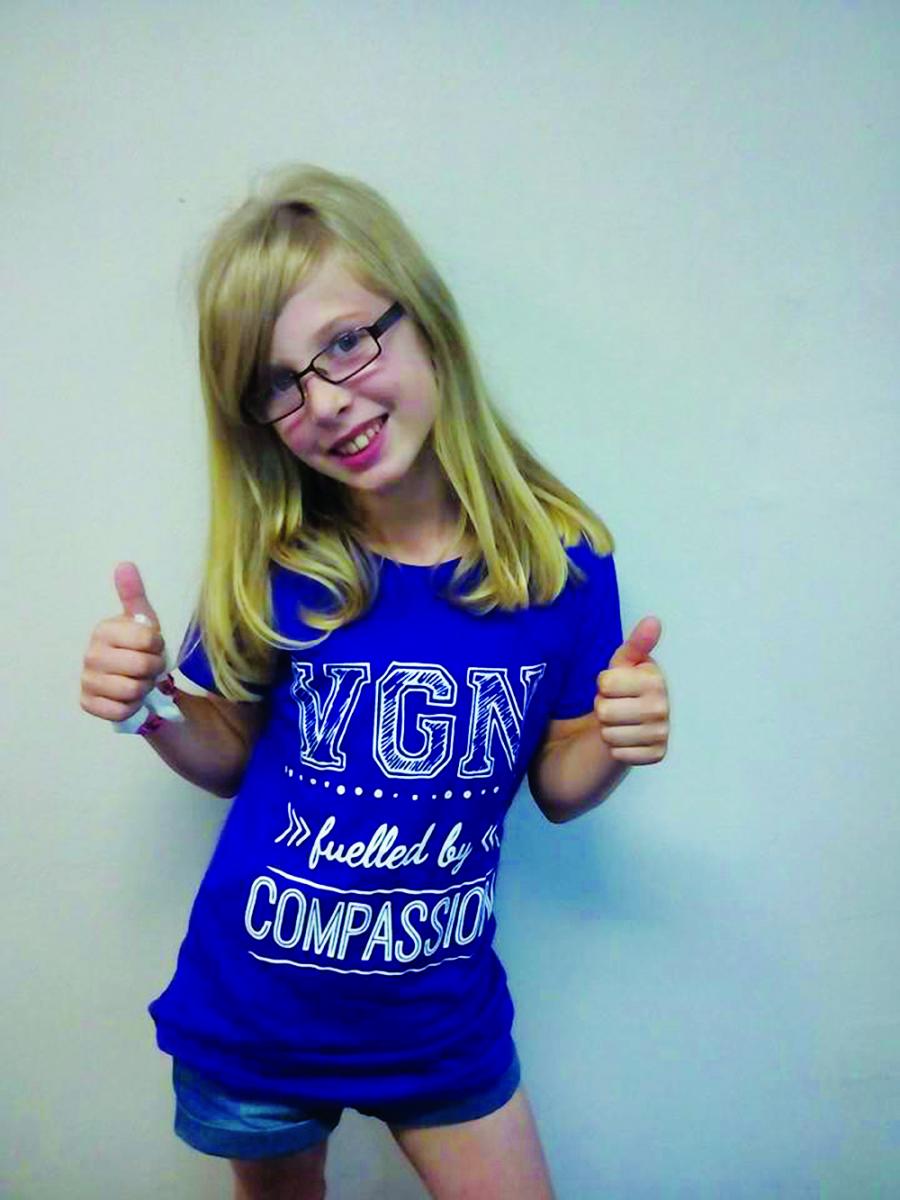 Jenny Liddle (42) and daughter, Emily (11) are from Somerset. Jenny and her partner Ian have brought up Emily vegan from birth. Here is Jenny's story:
"Deciding to bring our daughter up vegan from birth was never a difficult decision for us – however we were concerned about whether or not we would be providing adequate nutrition for her. We also thought it was important for our house to be 100% vegan, even when we have guests, but we weren't sure if this was appropriate. In addition, we were concerned about whether or not Emily would get adequate vegan meals at her next school as she had packed lunches previously. We didn't know where to start with all this. These uncertainties made us feel uneasy about what route to take regarding nutrition, and we weren't very confident about what we were doing at first. This was an extra worry we could have done without at the time and really added to our stress.
However, despite these uncertainties, I felt really supported by my husband and in turn, we felt really supported from everyone at The Vegan Society. The first thing we did was to get some valuable advice from the Senior Policy and Advocacy Officer, Amanda Baker. They gave us lots of information and advised we do some nutritional research and buy key books on the subject. It was reassuring to know that if we hadn't got the support we needed, we could always speak to Amanda. 
Amanda also advised us that we had every right to keep our house permanently free from all animal products, which gave us both the confidence to go ahead with our decision. In addition, they gave us useful advice about how we can ensure that Emily was well catered for at school, including providing a catering pack so that the caterers there had some ideas about what to make and what to cook with. Amanda also gave us some really useful advice on the type of approach that would mean we would stand a better chance of being successful.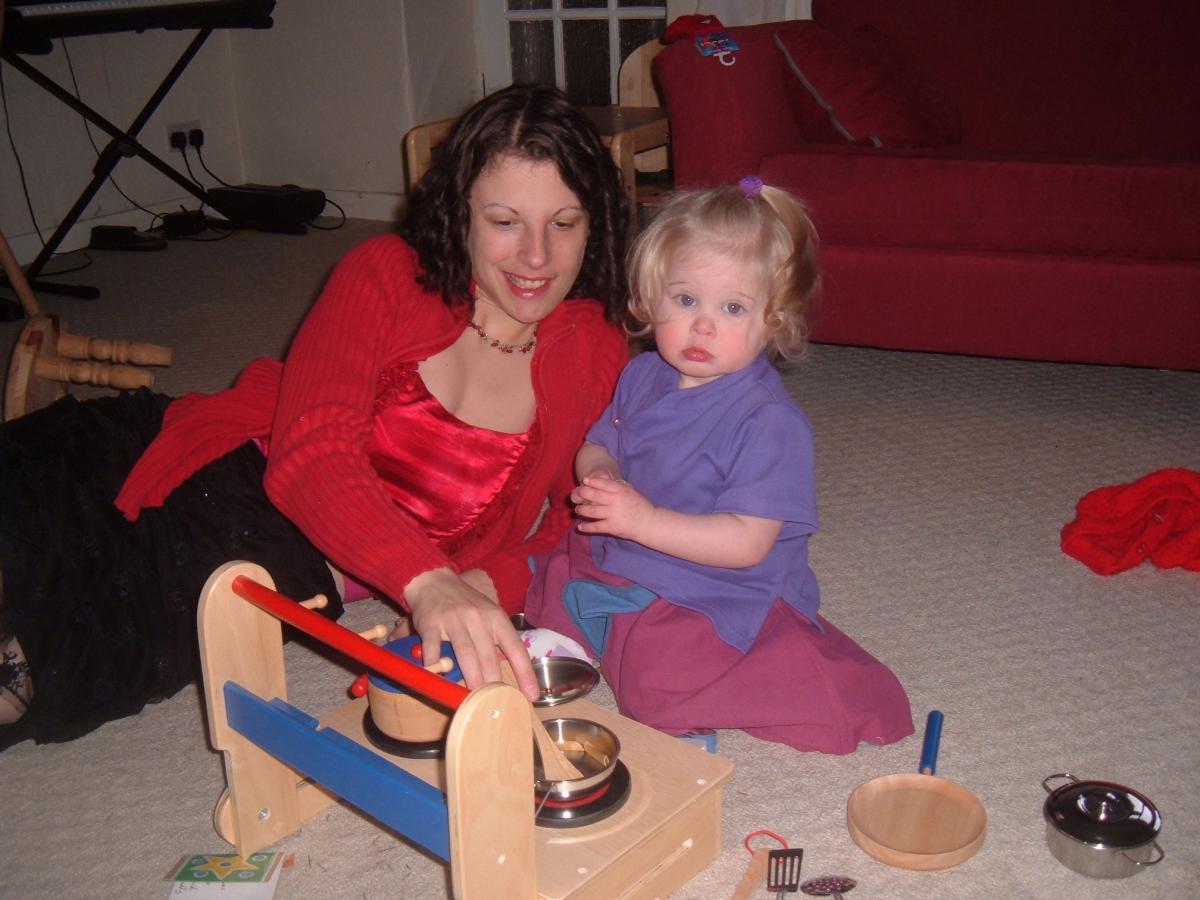 I particularly appreciate the practical and non-judgemental attitude of all the staff at The Vegan Society. I think their stance on breast-feeding for instance is pretty sound. If I hadn't been able to breast-feed I could have secured a vegan source of pumped donor breast-milk.  But if this hadn't been possible, then I could have used a formula. I feel that it's very important to go ahead with this, even though current formulas contain vitamin D3 from sheep. If you think of formula as a food for a medical purpose, you can appreciate that it's necessary for the survival of the baby due to breast-milk being unavailable. As vegans we can only do our best, so a soya formula fortified in this way is like any other medicine with animal use involved.  Sometimes there's no practical or possible alternative.  But I feel taking vital medicine does not mean I'm no longer vegan or my child is no longer vegan – and The Vegan Society recognise this too.
If we're ever unsure about a product, we double check with The Vegan Society, and if the product carries their Vegan Trademark we know its fine. The Vegan Society does an amazing job helping support vegan families in so many ways, including ensuring both children and families have all the advice and support they need for all sorts of tricky situations. In conclusion, I feel really happy with the advice we received. It really helped give us all so much confidence in what we were doing - it was wonderful to have other knowledgeable vegans there to support us."
---
Improving hospital catering for vegans like Catherine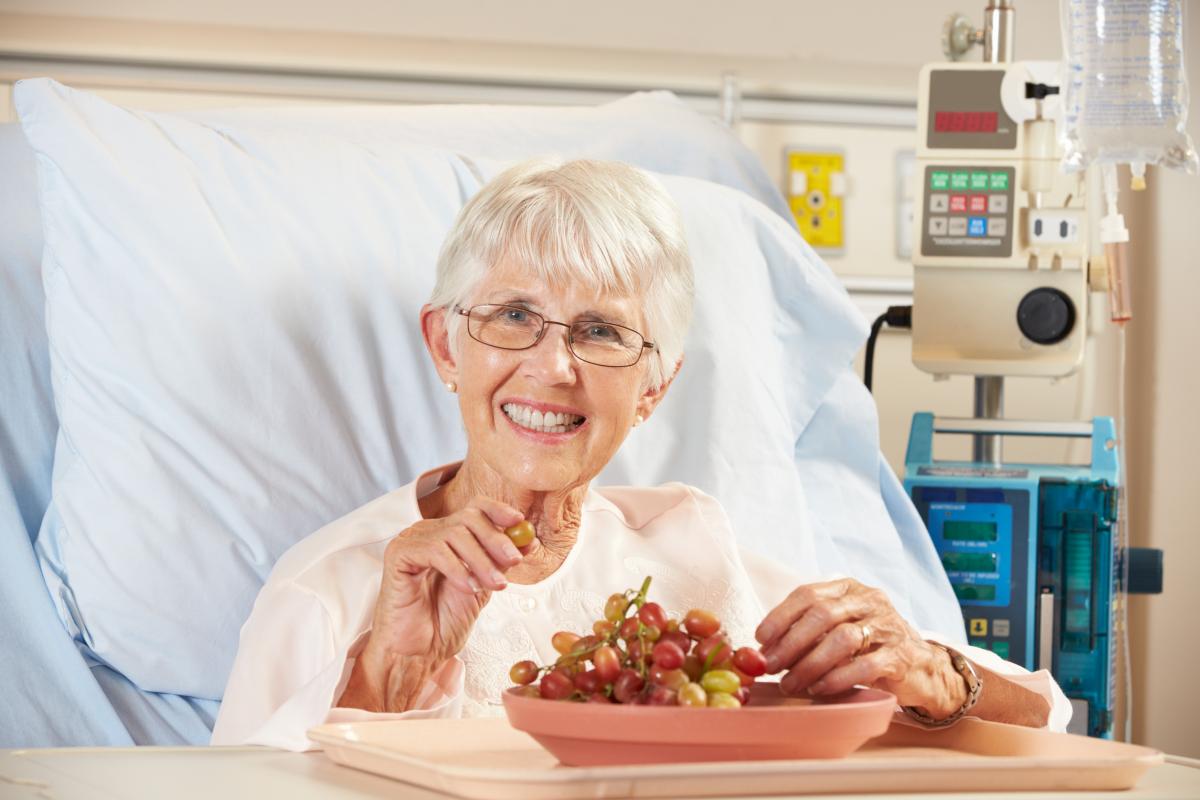 The Vegan Society prides itself on speaking up for people in vulnerable situations, as well as working with decision makers to increase access to vegan products. Our long-running campaign 'Vegan Catering in Hospitals and Care Homes' (now 'Hospital Catering for All') is no different. Working closely with our partners The Hospital Caterers Association (HCA) and the BDA - the Association of UK Dietitians these last few years, we've firmly advocated for nutritious vegan food to be provided in all hospitals across the UK. 
This long-term campaign has also involved advocating personally for vegans who receive poor dietary treatment when in hospital, and we are pleased to say that, with the aid of our partners, we have often been successful.
The Vegan Society similarly encourages self-advocacy in these situations, as was the case with Catherine. Catherine had a planned operation at Castle Hill Hospital to remove gall stones, and contacted The Vegan Society with her concerns over dietary restrictions. After receiving advice and support from Amanda Baker, Catherine contacted the Hospital Catering Manager with the date of her surgery over the phone, resulting in Castle Hill vegan menu having four starters, five mains and four desserts on the day. The catering staff handled smoothly last minute changes to Catherine's operation time and ward. Catherine went into her operation confident that all her needs were being met, having received outstanding care and consideration from all the hospital staff - both in terms of her medical treatment and in suitable, nutritious meals. 
Learn more about our Catering for Everyone campaign.
---
Outreach

Supporting Sebastian to go vegan 

Sebastian is 22, and from Brighton and Hove. This is his story:
"I struggled with my weight throughout childhood which affected my confidence and self-esteem. I was initially interested in veganism after learning of the nutritional benefits from the popular documentary Forks Over Knives. I decided to give it a go and was supported by The Vegan Society. I took the Vegan Pledge and enjoyed the emails that regularly came through. I started to feel generally better and healthier and began to exercise more. I started running as a way to support weight loss although it was something that I experienced great reservations about.
Growing up, people had laughed at me running due to my body and the way my feet would point outwards (this related to my heaviness). I would run at night when people couldn't see me. Gradually over time my endurance and speed increased as I went to the gym and continued to push myself. I started taking part in local 5k races, hosted by ParkRun UK and enjoyed the feeling of taking part. I felt better about the way I looked as I noticed everyone ran in their own way and we are all very diverse in our appearance.
It was the suggestion of a friend, who was training for a marathon, that I try an endurance race and so I signed up for my first half-marathon at Silverstone. I developed a training programme and began to make huge strides in my distance. By the time of the race I felt terrific, having trained beyond the half-marathon distance of 13.1 miles. I completed the race in a time of approximately 1:48 minutes, feeling great and like I could keep going. This inspired me to sign up for Brighton Marathon 2015, which I completed. It was much closer to my limit and a real challenge, pushing through pain, heat and exhaustion to complete the race in a little over four hours. I have since completed an off-road half-marathon along with a 24-hour relay. My medal collection has grown with my confidence and it reflects in all aspects of my life. I have now launched a rock climbing group in Brighton and enjoy this as my primary sport. It feels so good to be healthy, active and full of life whilst living by strong morals which reduce my negative impact on the earth and its inhabitants. Veganism got me off the couch and infused me with the confidence and compassion to set an example of animal advocacy amongst my friends and family.
I feel more connected with the world around me since going vegan. Non-human animals respond better to me as if they can sense that I mean no harm to those around me. I enjoy nature more and feel in harmony with it, knowing that if I respect the planet it will provide fruits and vegetables to sustain and nourish me. I am happier and more honest around other people as I am clear on my morals and live in a way that I can stand by."