We know when you call yourself an animal lover, you really mean it. But have you ever wondered why some people love certain animals and harm others?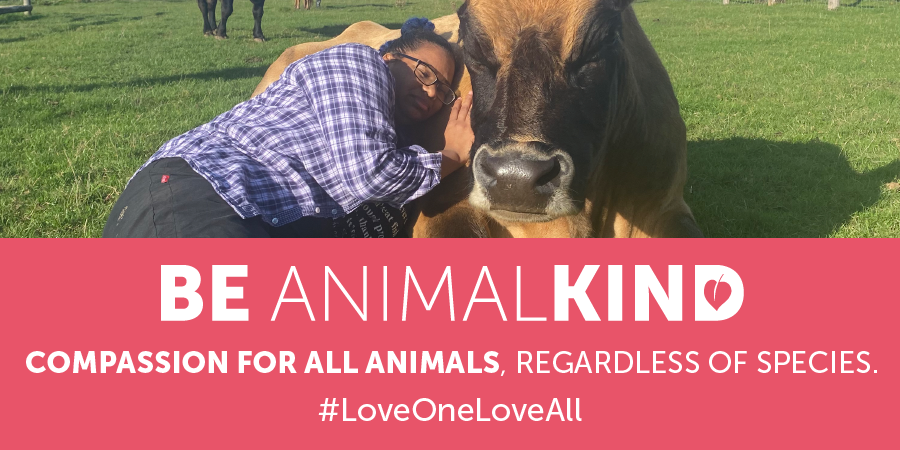 We're encouraging people to reflect on their values and rethink how their actions impact on the lives of animals. All animals – not just the ones we share our homes with. 
On the Be AnimalKind website you can find stories and videos aimed at non-vegan animal lovers. Through sharing heart-warming stories of animal rescue, thought-provoking articles and more, we're hoping to inspire long-lasting change. We're not looking to guilt trip people – instead we want to remind them how wonderful it feels to love all animals equally, and to live according to our values.  
With your help, we can reach people all over the world and create a kinder future. 
Below you can see one of our campaign films. 
Help the society reach farther than ever before and donate to Be AnimalKind! Let's spread love, compassion and respect for farmed animals this giving season and help the society to change attitudes so that no animal is eaten, worn or suffers at the hands of humans. Together, we can change the narrative and help others reevaluate their relationship with all animals. 
Your support will help us to reach even more new animal lovers through advertising and encourage sign-ups to information and support that will help them to consider a more compassionate way of living. It will make it possible for the society to attend events where we can share and spread the Be AnimalKind message through engaging in productive and educational conversation with local communities. We hope that with your support we will be able to reach thousands of people through TV on-demand advertising. 
We know that these are difficult times financially for many people but, if you are in a position to donate at this time, farmed animals need your support more than ever before as many of their allies will not be able to donate right now. Please consider donating to Be AnimalKind and give farmed animals a chance to be shown as much love and compassion as we show our animal companions.