We've teamed up with ULiveOrganics to bring you this luxurious competition prize! Three lucky winners will receive a silky-smooth award-winning facial serum. The serum is registered with our Vegan Trademark, organic approved and recyclable.

Empower your skin with this precious silky smooth award-winning luxurious facial serum.
Certified Organic
Vegan Registered
A powerhouse of super active nutrients, minerals, and vitamins. An exceptional and unique balance of Omega 3, 5, 6 and 9 essential fatty acids, that penetrate at the cellular level, scientifically proven to reduce the appearance of fine lines and wrinkles whilst maintaining the lipid balance of the epidermis for optimum hydration.
Expertly formulated using 14 beauty-enhancing phytoactives for plump, radiant and youthful skin
Boosts skin metabolism and regeneration 
Renews and revitalises skin texture and firmness 
24-hour deep hydration for a dewy and luminous glow 
Prevents skin pigmentation and dark spots 
Visibly optimises skin tone, pore reducing and acne prevention  
Rapidly repairs skin damage and fades scarring 
Phytosqualane lies at the heart of the formula and lends a wonderful silky softness. Its exceptional hydrating and moisturising ability, together with its brilliant, restorative anti-ageing and anti-inflammatory properties results in a fresh youthful and radiant complexion.
Instantly achieve long-lasting hydration and skin luminosity enriched by the delightful benefits of bisabolol.
Infused in a splendid luxurious bouquet of five organic essential oils, carefully selected for their therapeutic synergy to regenerate and hydrate, together with their anti-inflammatory ability to protect and even out skin tone, in addition to the delightful and tantalising neroli aroma that awakens yet soothes the senses.
The Ultimate Serum is available to purchase at www.uliveorganics.com.
Follow ULiveOrganics on Facebook and Instagram.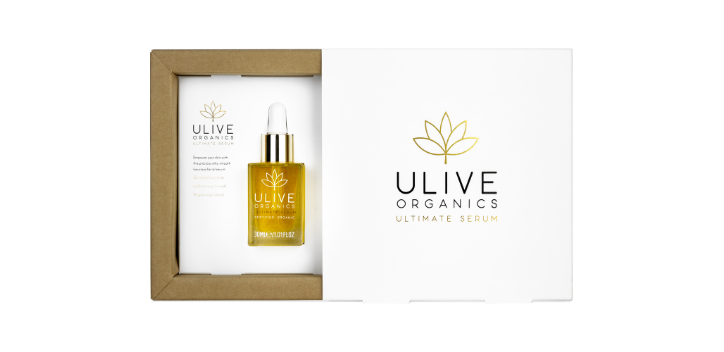 To be in with a chance of winning, simply enter in your email address below.

UK 18+ only. Normal exclusions apply. Closes 10am 13.08.21. 3 x prize winner to each win ULiveOrganics Ultimate Serum. Winner/s randomly selected and notified by email within 14 days of the closing date. All competitions are subject to our terms and conditions. Promoter: Vegan Society. Supplier: ULiveOrganics.