Something for everyone
Intelligent, thought-provoking films can be very effective in opening people's minds to veganism.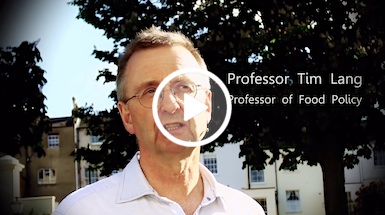 Climate change and meat consumption: what's the link?
The Vegan Society partnered with the 2013 Cheltenham Science Festival to facilitate an exciting discussion between Professor Tim Lang, Dr Tara Garnett and Dr Richard Twine (of our Research Committee) about the effects of the dairy and meat industries on climate change. Find out why more and more people are reducing their meat consumption. Video length: [5:33]
Do you want to make history?
"Ever heard a passionate, well-constructed, intelligent argument; but then disagreed with it anyway? That's exactly my dilemma after watching this powerful ad. I'm on the fence, which is super uncomfortable. Where are you?"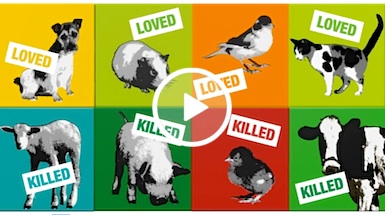 asked international journalist, Femi Oke, when introducing this short film on Upworthy. Within 24 hours the post went viral and to date hundreds of thousands of people have seen our powerful, visual message on social justice and veganism. Over the course of two hundred years humanity managed to put an end to human slavery. Today we have another opportunity to make history. Video length: [1:33]
Making the Connection

A healthy, fun, modern lifestyle AND a fair, sustainable, compassionate lifestyle - yes, it is possible to enjoy both. This half hour film in eight parts explores a lifestyle that includes delicious, healthy food while tackling many of the ethical and global challenges of today. The film features a dietitian, an MP, chefs, farmers, an elite athlete, environmental groups and a world-renowned poet. It explains how becoming vegan is good for your health, good for the environment, good for all animals and can help feed a growing world population. Available with subtitles in many languages including Catalonian, Chinese, Czech, Indonesian, French, Hungarian, Slovenian and Spanish. Video length: [31:00]
Invite others to be part of the solution
Share these videos on social media by using the handy buttons below. Why not arrange a public screening and let us know so we can help you with publicity? Email us for more information.
Since you're here...
...please join us as a member and support the vegan movement from just £2 a month. Since 1944, our members have been integral to supporting us as we spread the vegan message, help vulnerable vegans in need and work with institutions and governments to turn the world vegan. As a reward, you'll receive over 120 vegan-friendly discounts, The Vegan quarterly magazine, access to a community of vegans and much more.