Born with a bang
Just V Show (originally V Delicious) have enjoyed amazing success from the very start. Their inaugural vegan and vegetarian show at London Olympia in 2013 saw nearly 21,000 people through the doors for the combined Just V and Allergy and Free From Show, while their 2014 and 2015 shows have continued to grow. The 2015 London Olympia show saw over 33,000 people!
The team behind Just V Show are passionate about providing visitors with an array of vegan products to sample and buy - and are keen for Vegan Society Trademark Holders to showcase their products prominently. They are excited to be working with increasingly more vegan businesses to bring visitors greater opportunities to discover vegan products.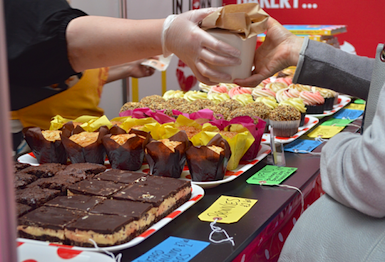 We are proud partners with Just V Show, and always look forward to talking to the many vegan-curious visitors who come along to the event.
Voluteering and Engagement Manger, Alex says "The Just V Show is a great event to attend as we are able to do so much effective outreach and talk to lots of new vegans and vegan-curious visitors!"
The amount of vegans attending the Just V Show London is also increasing year on year. As well as partaking in vegan outreach and discussing veganism with non-vegan visitors, we also love meeting our members, volunteers, and supporters, and are able to sell limited edition merchandise, our newest range of books, and give away the odd free goodie bag of course!  
To find out more about the next Just V Show event, visit our events section.