Need a legitimate excuse to eat lots of cake?

A common misconception about vegans is that we live solely on salad with never a dessert in sight. Well, we know that couldn't be further from the truth and it's time to let everyone else in on the secret! What better way to do this than to 'wow' everyone during the Worldwide Vegan Bake Sale?
Raise money - and awareness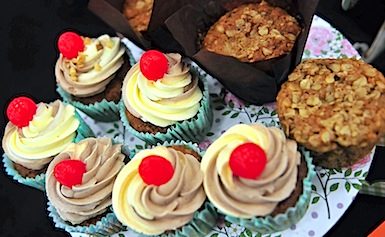 The event is running from 15th-30th April 2019 and is the perfect opportunity to get together with friends and bring out your recipe books. Vanilla frosted cupcakes, chocolate brownies, Rocky Road...the possibilities are endless. Once you've baked your goodies, find yourself some customers and raise money while impressing everyone with your gorgeous vegan creations.
Top tips for bake sale success:

People are bound to want to ask you more about veganism. Try to anticipate some of the questions and think of the best way to answer them.

For the same reason, it can be helpful to have some Vegan Society leaflets to hand for people who'd like more information.
Write up (or look up online and print) a 'baking without eggs' cheat sheet. We wish to make vegan baking as easy as possible.
Not everyone has a sweet tooth so you might want to consider making some savoury stuff too. Mini quiches, sausage rolls, meat-free Cornish pasties will all go down a treat.
Have recipe sheets available for the wonderful bakes you have on your stall - let's get everyone baking vegan style. 
For more tips, you can read our detailed blog on vegan baking or check the recipe section of our website here for inspiration.
Make sure that you register your event and you will be sent loads of tips on how to make the most out of your bake sale. There are also a whole load of online resources for the event from posters to social media graphics to price tags here. The Vegan Society can also help by sending you a collection tin and leaflets about veganism. Just let us know the date and location of your event by emailing fundraising[at]vegansociety[dot]com.
Whether you hold your Worldwide Vegan Bake Sale in your home, with a street stall or even at a large venue, you'll not only have a great time but will make a difference too. Raise funds for The Vegan Society by donating the money you raise either online here or by posting us a cheque. As a charity we receive no government funding and rely entirely on the kindness of our members and supporters.
If you have any questions about holding a bake sale, please don't hesitate to get in contact with the fundraising team on 0121 323 1802.