To mark the second annual International Vegan Junk Food Day on Saturday the 29th August, Ali Ryland lists her top vegan junk food experiences, and invites readers to do the same.

International Vegan Junk Food Day might seem absurd to the carnivorous cohorts who believe vegans survive on sprigs of lettuce and raw smoothies – which merely makes promoting the day all the more necessary.  Created in 2014 by Sean O'Callaghan (aka blogger Fat Gay Vegan) it originally started as a 'joke response' to the endless stream of 'national' and 'international' days forced on consumers all over the world. "I mentioned to my partner that these days are obviously imagined by marketing people in order to promote their product," laughs Sean.
However, Sean later decided that the creation of one of these days honouring vegan junk food would help frame veganism as "a fun, accessible choice for everybody."
"My aim is for vegans to feel secure and valued in their decision to live a vegan life. The junk food day is a reminder that anything they enjoyed as a non-vegan is within their reach as a vegan and that compassionate eating doesn't mean they miss out on celebrations," adds Sean.
Importantly, Sean wants to demonstrate that veganism is a multi-faceted approach that isn't about sacrificing tantalising treats for dismal dinners. So how can you celebrate the fact that vegan food is interesting and quirky this International Vegan Junk Food Day?
• Post your vegan junk food photos to Twitter, Facebook and Instagram, tagging them with #ivjfd15.
• Buy a non-vegan friend, family member or colleague a vegan junk food snack and wish them a happy International Vegan Junk Food Day!
• Or, like me, write a blog showcasing your favourite vegan junk foods. 
So, in honour of International Vegan Junk Food Day 2015 (the second of its name), here are my top 20 indulgences:
1) 'Cheeseburger' and chips pizza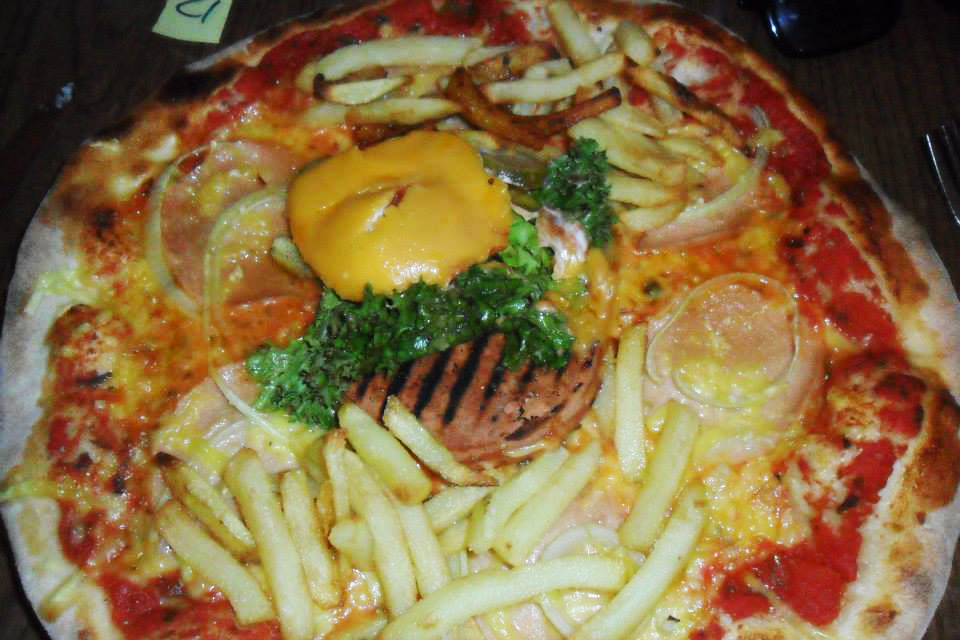 Resplendent with splotches of 'ham', vegan cheese and a smattering of fries, this really is the perfect marriage of two important vegan junk foods. You can order one in Sfizy Veg, Berlin, which has really earned its name as the capital of vegan junk food.
2) V Revolution burgers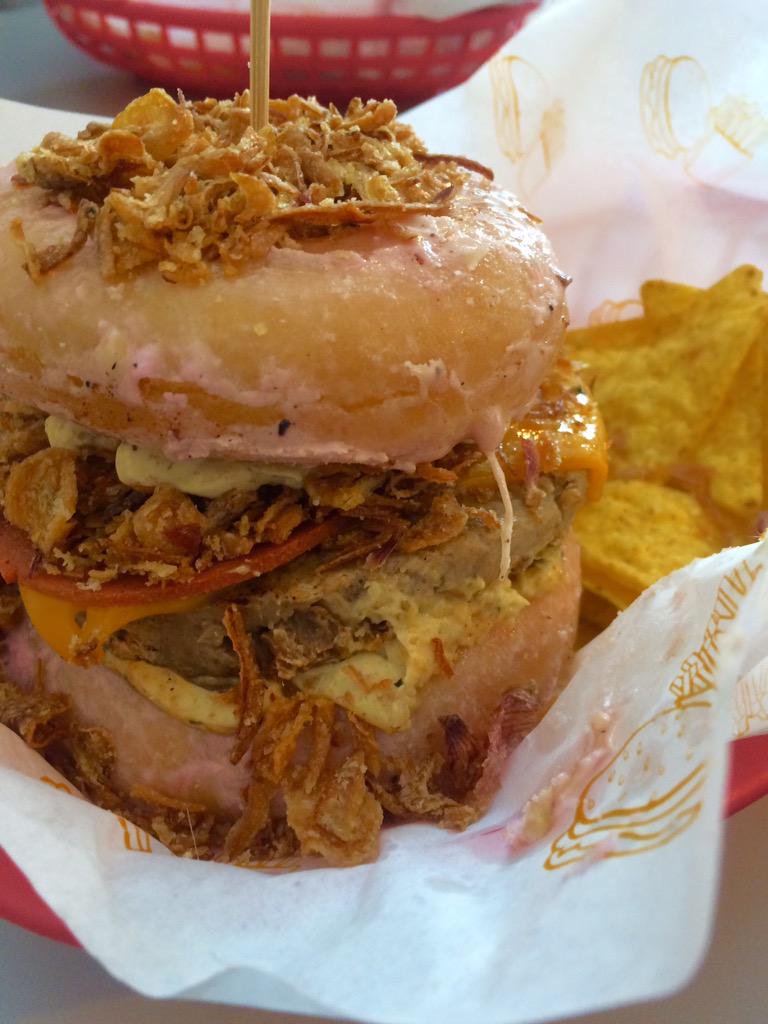 Credit: @KirstenShielART
All V Revolution burgers are shrines to International Vegan Junk Food Day, but their burger inside two glazed doughnuts is really out of this world. Don't forget, you can re-create that V Revolution taste by getting hold of Fry's burgers… but can you match their creativity?
3) Vegan fish and chips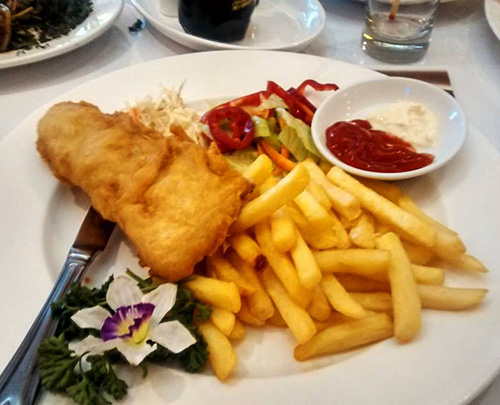 I was looking for vegan fish and chips for years and, like buses, they suddenly all came along at once. This perfectly presented picture was taken by my mate at Loving Hut in Archway, London, but you can also find a great take on a British classic at the British Oak, Birmingham and in Mono, Glasgow.
4) The Tresor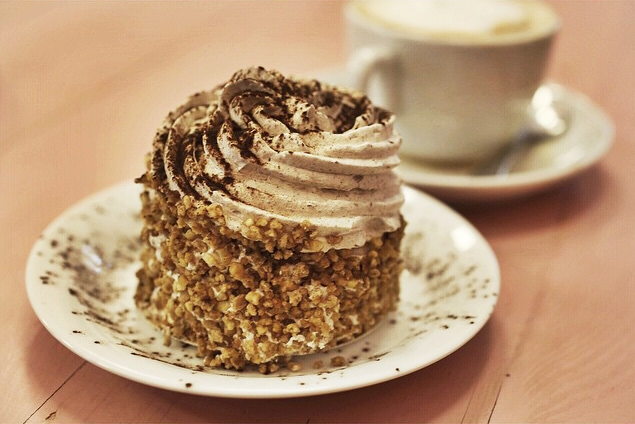 Oh La La's finest dessert is this Ferrero Rocher-inspired piece: the creamy, nutty, chocolate-sprinkled outer gives way to solid chocolate in the middle. Or so I thought, until I dug inside that, finding a caramel and hazelnut filling. Oh Berlin.
5) Jacket potatoes from The Baked Potato Shop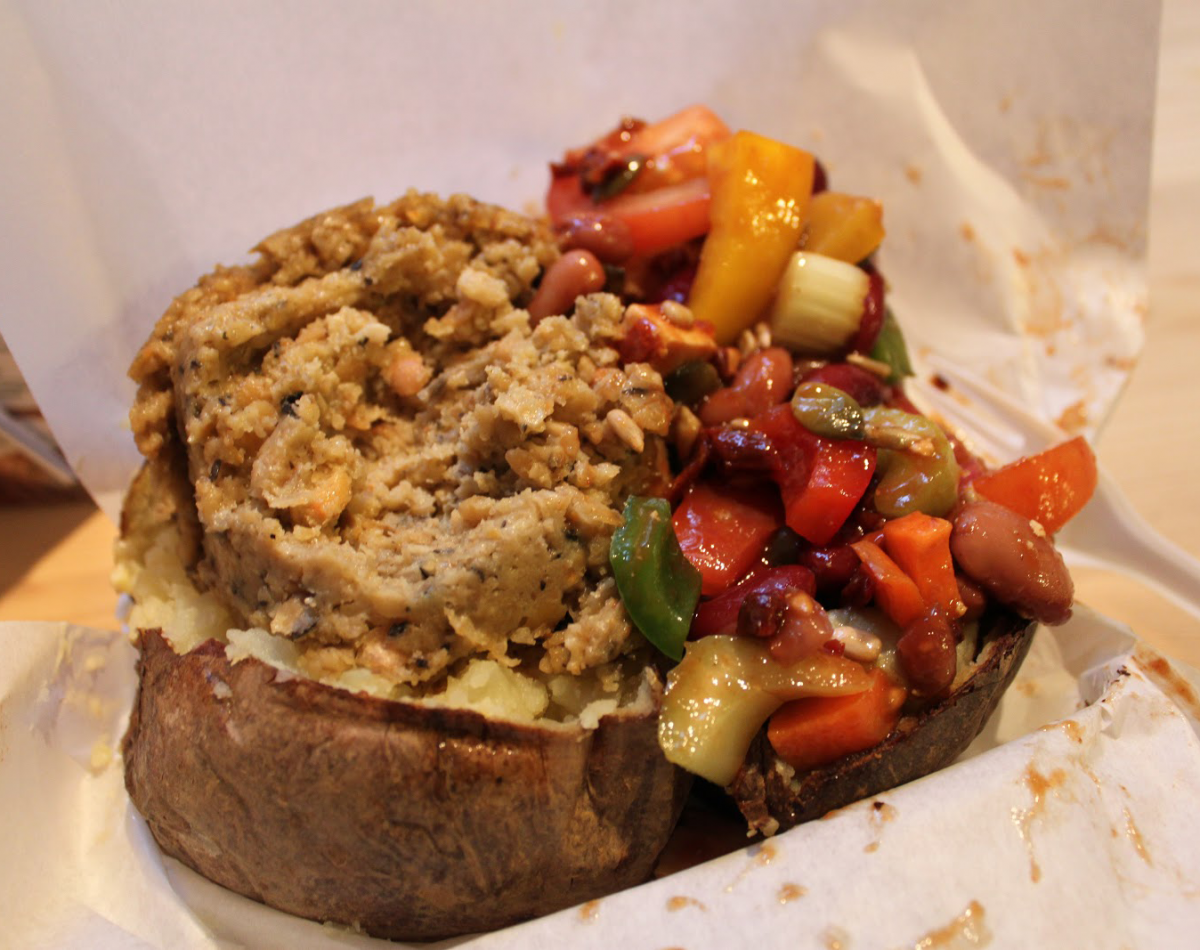 Credit: dadavegan.blogspot
My mates and I always make sure we get to Edinburgh for lunch in order to fit in The Baked Potato Shop before dining on the Auld Hoose's mega vegan nachos later. Their 'small' is the size of a medium-large baked potato anywhere else, while the large is at least two large potatoes. With an assortment of vegan fillings including coleslaw and 'haggis', it's comfort food at its finest.
6) All you can eat vegan Chinese buffet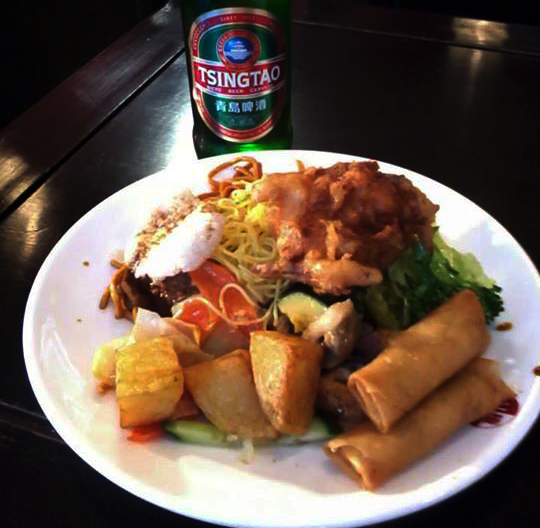 Those magic words! This picture was taken at Dou Dou in Camden, London, and is probably my most visited eatery in the capital due to its low, low price.
7) Cookies and Scream's cookie dough milkshake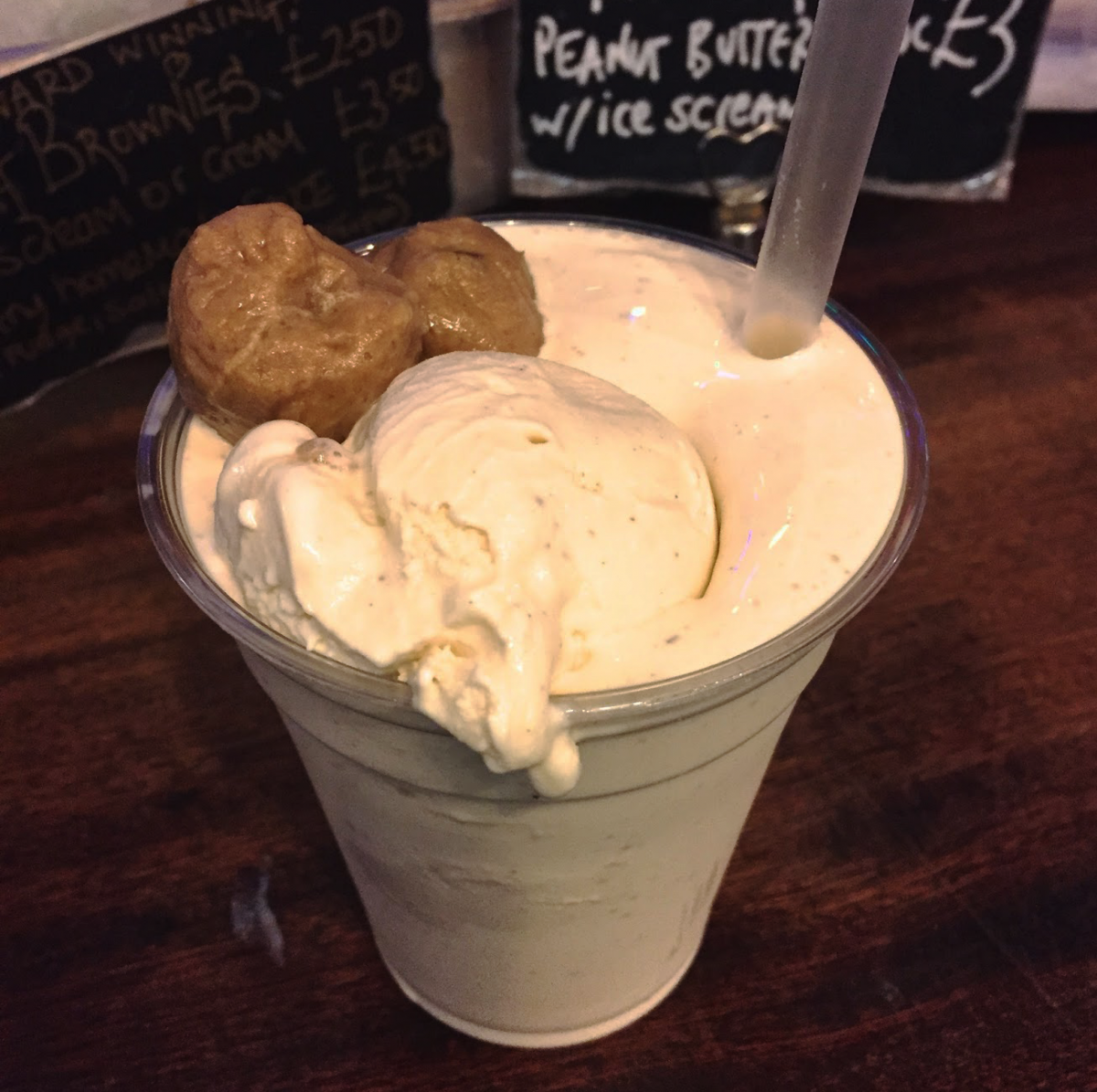 Credit: veega.co
I like to add salted caramel to the mix as well. This is basically just pure vegan ice cream slightly melted, people! Find Cookies and Scream's other delights in Camden, London.
8) The Globe's sausage, bap and chips with onion gravy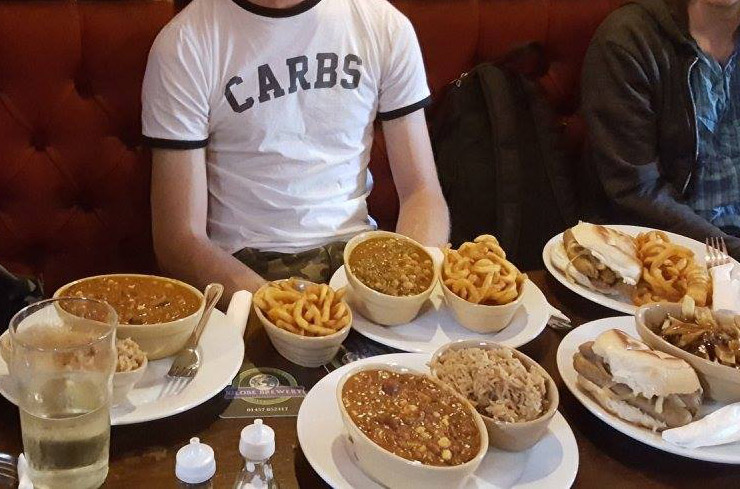 The Globe is my #1 favourite place in the world. Pints are £1.90, their all vegan menu won't set you back more than £3-4 for a main and they're a real-life locals' local pub with that comforting, untouched-since-the-70s décor. Recently my friends and I walked the mountainous ten miles from where we were staying in Holme to Glossop (in the rain) for their special onion gravy. Best birthday ever!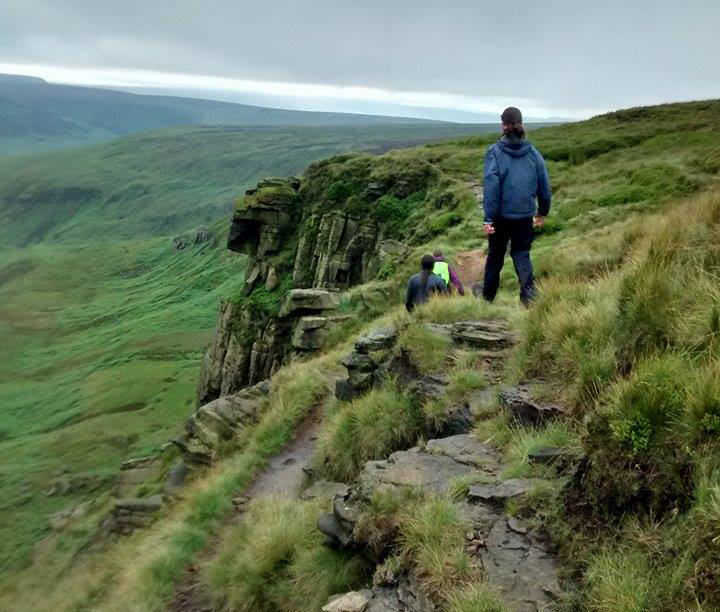 9) Ms Cupcake's cookie sandwich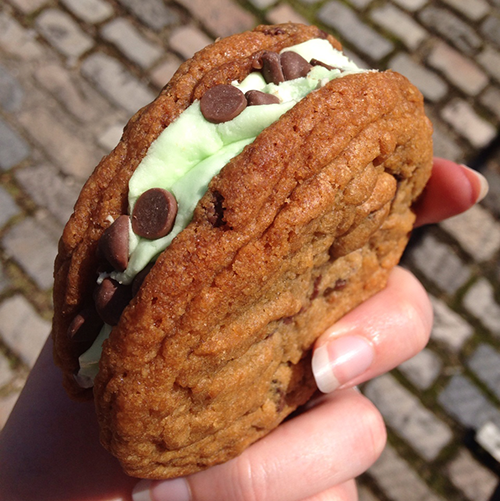 Credit: vegan-hannie.tumblr
I've always loved inventiveness with food. Why have one cookie when you can have two, sandwiched between a fondant filling? It's definitely worth checking out Ms Cupcake's other treats if you're ever in Brixton, too.
10) Teatime Collective sundaes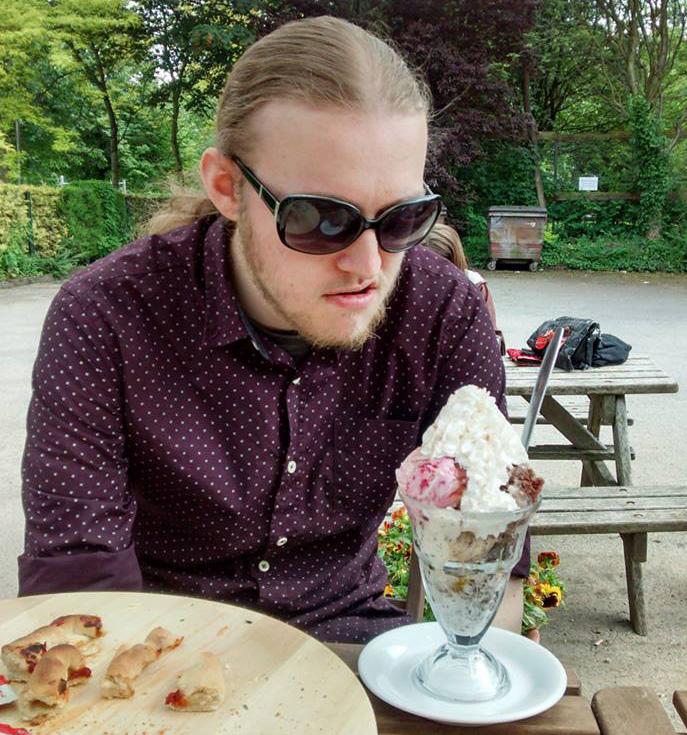 Teatime Collective in Manchester do the best homemade vegan ice cream. They also take suggestions for what to make – Oreo, Jammie Dodger and Bakewell tart ice cream (the latter suggested by me!) have all been on the menu.
11) Vegan éclairs

Credit: Veganoo
In the UK, JP Turner Foods used to produce some stonking vegan cream cakes. My first bite into their vegan éclair was at Vx in London. I promptly bought one for my non-vegan friend to force them to admit that ANYTHING IS POSSIBLE. Unfortunately the company no longer operates, but Vx now produce their own!
12) Vegan kebabs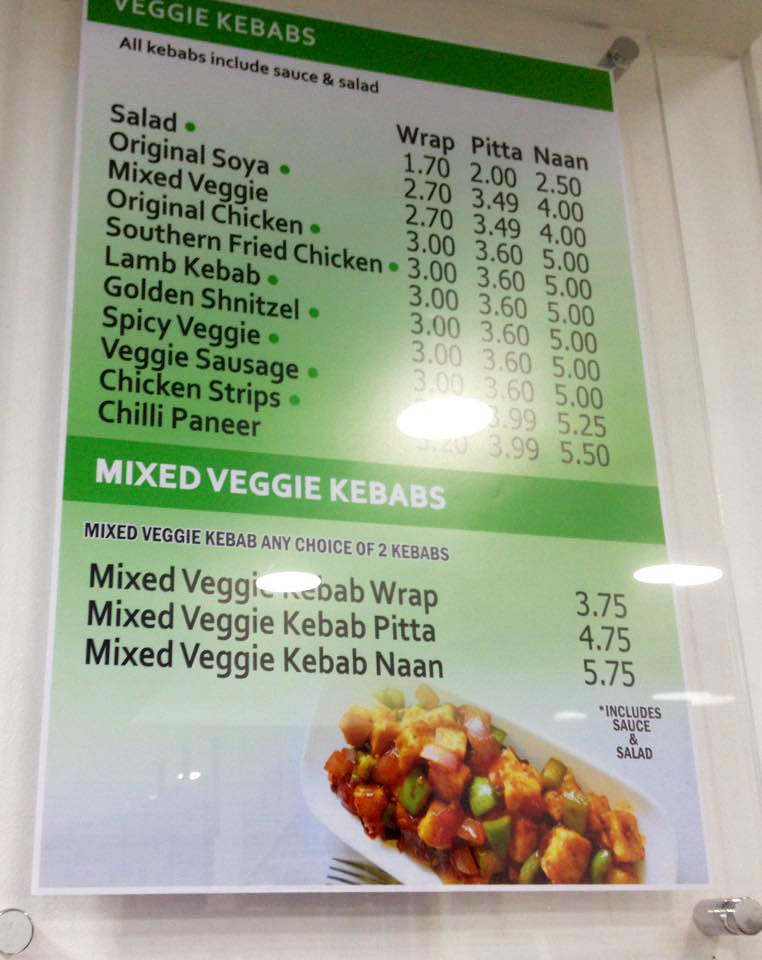 Yet another place where you can get vegan fish and chips, Coventry's Sandy Lane Fish Bar really has that British authenticity going for it: it is, truly, a greasy fish, chip and kebab shop. Unfortunately that means you have to deal with meat (but not in the same fryer) but at least you can hide yourself away in the Veggie Corner nursing your kebabs. They can rustle you up vegan pies and pizza too. Jealous? Check out some great vegan kebabs at Vx, London and Voner, Berlin.
13) Stuffed crust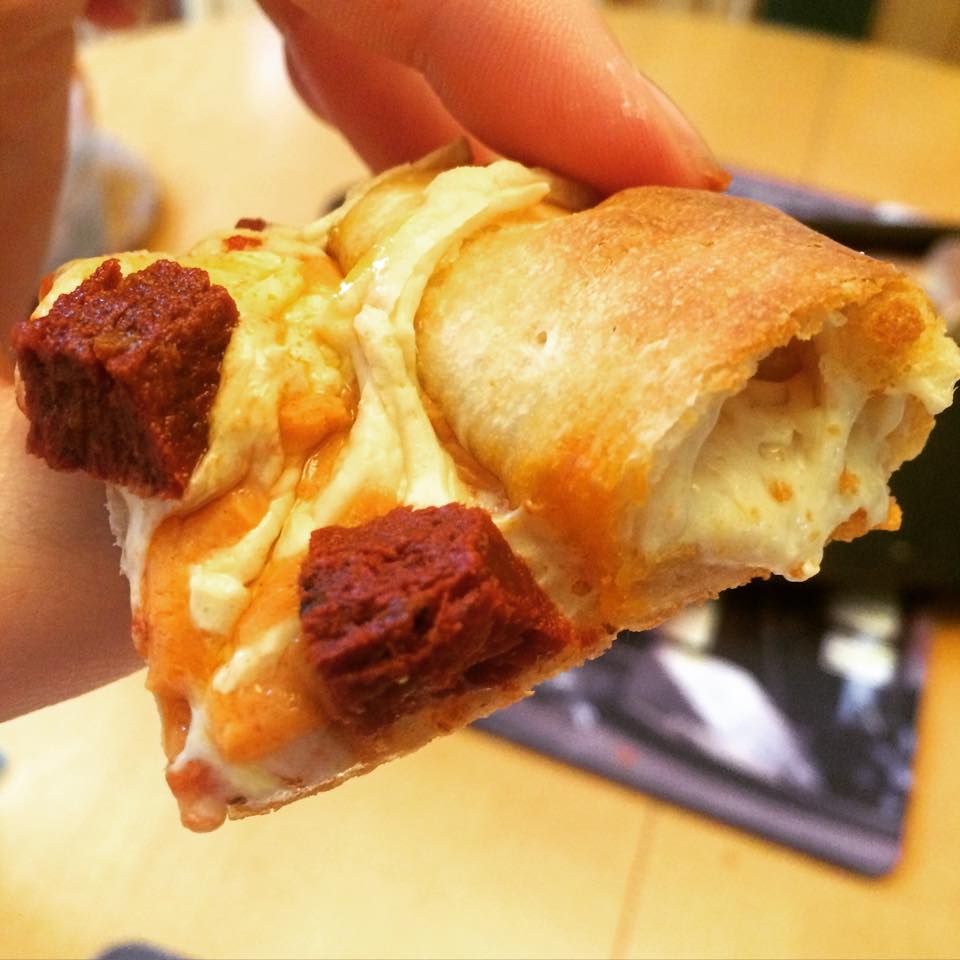 My colleague Abigail recently gave me her top junk food tip for those of us who do not have time to make our own dough. Buy Jus-Rol's pizza base, roll up your favourite vegan cheese in there, and there you go: DIY stuffed crusts.
14) Vegan deep-fried pizza


I have been intrigued by VEG's efforts to find a chippie in Glasgow that will deep fry them a vegan chocolate bar (as you may know, Scotland is the proud home of deep frying random things). While that has not yet been discovered, Old Salty's will deep fry you a vegan pizza if you bring it in - quick trip to Holland and Barrett to pick up a frozen VBites 'meat feast' anyone? But hey, if you don't fancy that, you could always head down to Hooked for battered vegan sausages.
15) Vegan cornettos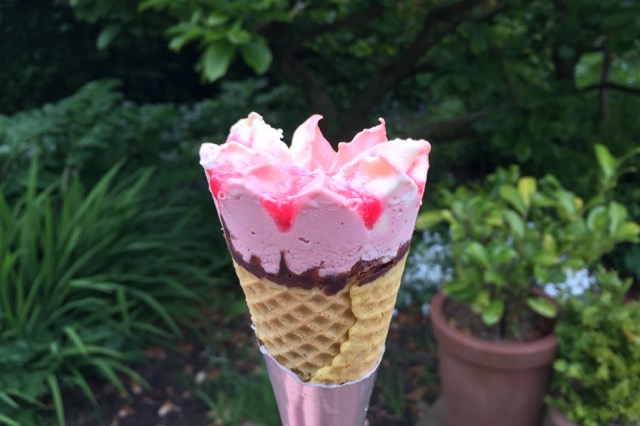 Credit: Veganoo
Tesco, Morrisons and ASDA now stock a range of vegan ice creams in their free-from section. Tesco alone offer strawberry and vanilla cones, toffee cones, chocolate sticks, and even vegan fruit splits: it's official, we've reached peak summer heaven.
16) Lazy days vegan tiffin selection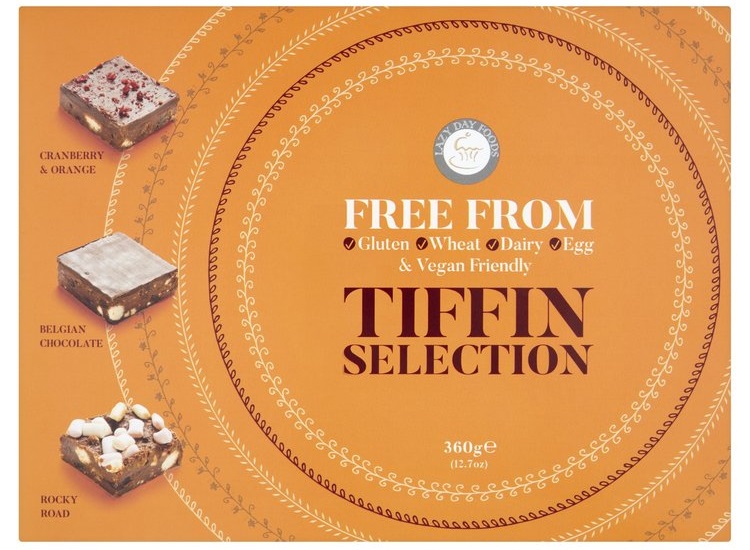 This tiffin selection is the perfect gift idea, or to treat yourself! It includes three delicious types
of vegan tiffin, including vegan rocky road. You can find it in many UK supermarkets. These products are also available individually, with Millionaire's Shortbread being another one of my fave Lazy Days products.
17) Mr Singh's vegan pizza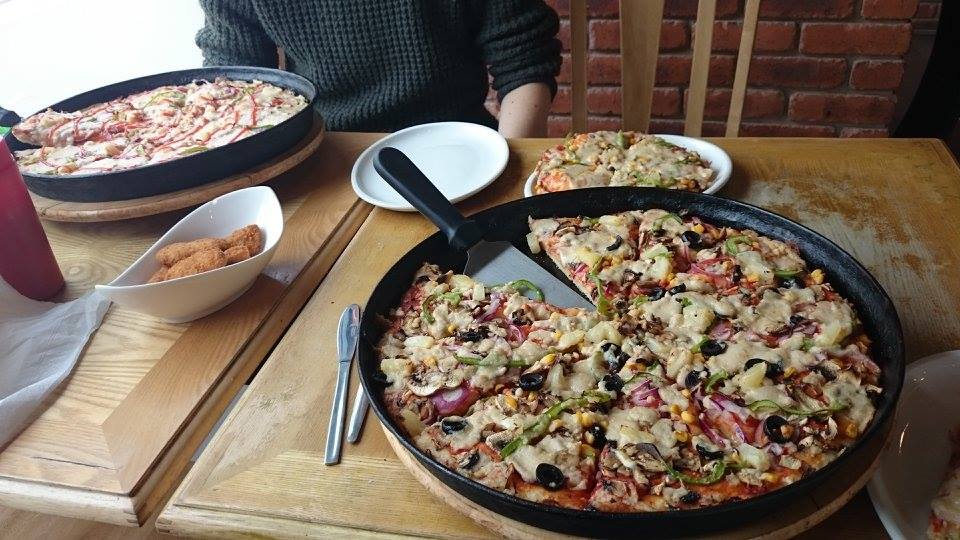 Mr Singhs is an all vegetarian pizza place in Birmingham with lots of different vegan options, 
all of which are entirely delicious! Seriously - the best vegan pizza in the UK. Barring perhaps Fed By Water for their Italian base.
18) Vegan sticky toffee pudding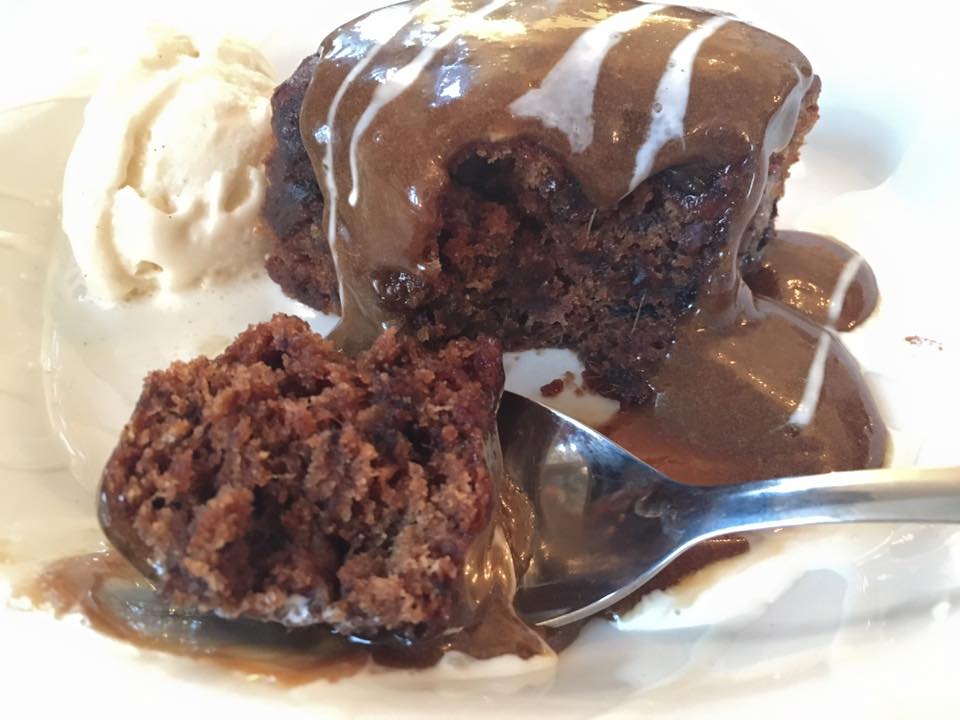 This vegan sticky toffee pudding is to die for. Served covered in toffee sauce and
with vegan ice cream, it's available at the recently turned vegan pub The Peacock, in Nottingham. All the food is now fully vegan, and they're working on getting more vegan drink options too!
19) Vegan kebabs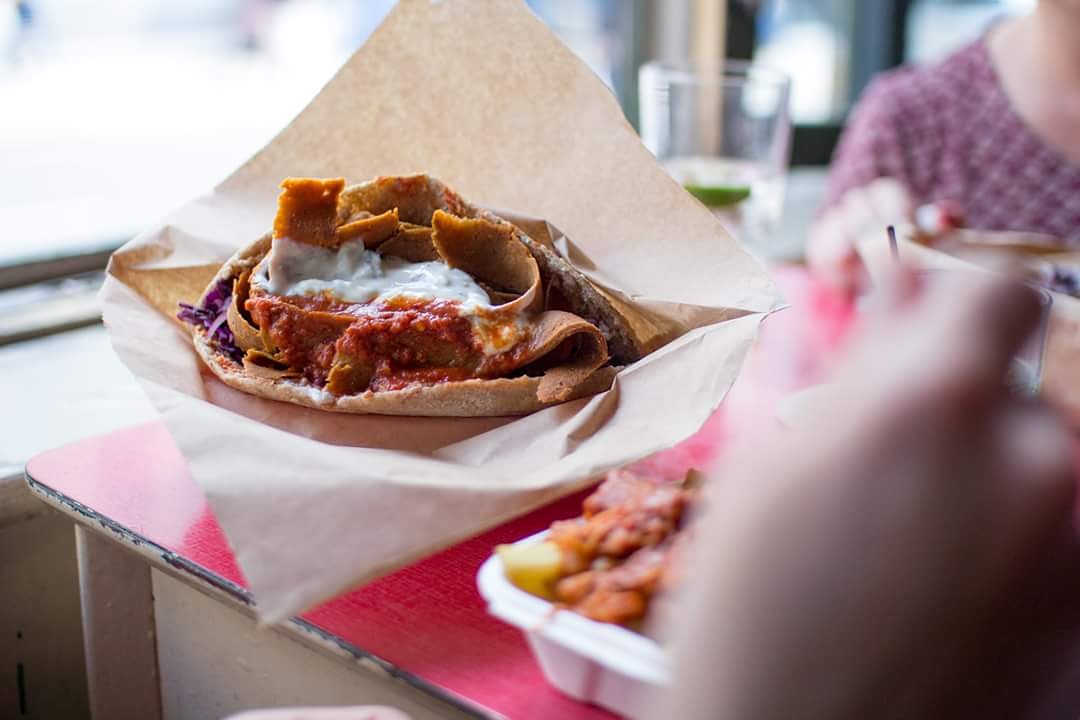 Credit: @beelzebab666 
You can find these delicious vegan kebabs by Beelzebab at The Hope & Ruin in Brighton.They also serve loaded vegan fries, hotdogs, and much more delicous vegan junk food!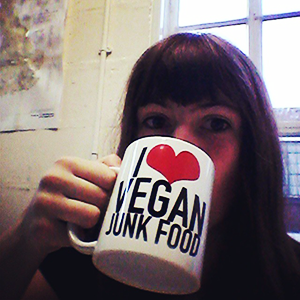 By Ali Ryland
Ali Ryland travels the globe looking for vegan food but more often thannot just ends up at The Globe.  
 Do you have any great vegan junk food experiences? Have you ever successfully deep fried a vegan pizza or a vegan chocolate bar? Send your stories with your pictures to web[at]vegansociety[dot]com.
The views expressed by our bloggers are not necessarily the views of The Vegan Society.