Friday, 16 December, 2016
Melissa McClements outlines the most festive vegan fizz, liqueurs, wines, winter warmers and non-alcohol beverages that you can find this holiday season
Christmas just wouldn't be Christmas without a celebratory tipple. Tis the season to be jolly, and all that. But before you go scrabbling round the back of the drinks cabinet for the bottle of sherry Aunty Norma left behind last year, don't forget that animal products, like fish-derived isinglass and milk protein casein, are used in the production of many alcoholic beverages – especially beers and wines. With this in mind, our handy guide to vegan-friendly Christmas drinks is here to help. Whether you're planning to host your extended friends and family for a full-on party (good luck!) or you're just looking for something warming to quaff as you muse by the fire, we've got it covered. 
Fizz 
To put some real sparkle into proceedings, pop open a bottle of Claude Carre Champagne  (£34.36) – a light and crisp champagne from a small estate that easily matches the quality of many of the more famous houses. A more wallet-friendly option is the Veuve Monsigny Champagne (£54.95 for a case of six), which is packed full of zesty bubbles. Taste the Difference Vintage Cava (£9) has hints of citrus enhanced by biscuit flavours, while Waitrose Bright and Fruity Italian Sparkling (£6.49) is an easy drinking and cost effective aperitif. 
For those who believe that Christmas should be pink, a bottle of the delicate subtlety of Oeil de Predrix Rosé NV Champagne (£23.99) is bound to be a crowd pleaser. The elegant fruitiness La Jara Pino Grigio Spumante Rosé (£13.78) is also utterly delicious.
Red wine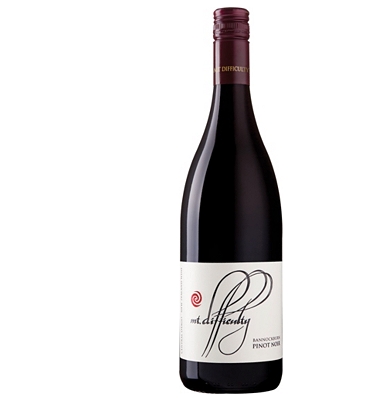 Winter is red wine drinking season. The dark nights call for its full-bodied richness and depth. Imbuko Releaf (£9.82) is a really powerful organic red that offers intense blackberry flavours. To imbue you with even more festive cheer, it's not only made on an environmentally sustainable farm in South Africa, but part of the proceeds from its sale go to a local schools project. Rioja Reserva 2012 Beronia (£9.99) is a lovely smooth rioja with notes of cinnamon and clove.  Rich with the aroma of red berries and herbs, Taste the Difference Pic Saint Loup 2014 (£8) offers an earthy spiciness. For a special treat, Mt. Difficulty Bannockburn Pinot Noir (£25.99) is a trophy-winning New Zealand red with Morello cherry flavours.
White wine
For those who prefer whites, La Jara Pinot Grigio (£10.17) is a superior organic wine with notes of ripe fruit. For a full-textured white Burgundy to go with Christmas lunch, try Le Gardien St. Pierre Chardonnay (£10.99). Taste the Difference Languedeoc Blanc 2015 (£7) is a distinctive wine is brimming with white peach and lemon flavours, while the Waitrose Foundation's Chenin Cederberg Blanc (£8.99) is fresh and dry (and supports community projects for farm workers in South Africa, where it's made). 
Fortified wines 
If you want to leave a glass of sherry out for Santa, try the medium-dry Waitrose Amontillado Sherry (£6.99), which has flavours of dried fruit and nuts.  For something a bit sweeter, which will complement Christmas pudding, Taste the Difference Sweet Pedro Ximenez Sherry (£8) is lusciously intense. When it comes to dessert wines, a glass of Curatolo Sweet Marsala Superiore (£11.29) is worth dipping a biscotti into. After Christmas dinner a glass of port is just the thing. Maynard's Port 2012 (£8.95) is a complex and full-bodied port at a really good price. Smooth, silky, nutty and fruity, Taylors 10 Year Tawny Port (usually £22, currently on offer for £16) is aged in wooden casks, so it takes on a brick-red, tawny colour. It works well with strong Christmas flavours and festive spices. Another port worth spending that bit extra on is Maynard's Vintage Port (£19.99, available in Aldi stores only, not online), which has dark chocolate and peppery tannins. Scottish vegans will be happy to learn that Buckfast is vegan-friendly.
Beers and ales
Offer your guests an unusual Christmas aperitif full of traditional Christmas flavours by serving up Ginger Pale Ale (£32.50 for a nine pint mini cask) from Vegan Trademark holders Little Valley Brewery. Made from hand-peeled root ginger, this organic, Fairtrade ale is light and fresh, with citrus flavours. A much bolder ale, with hints of raisin, is Little Valley Brewery's Barley Wine Ale (£16). Malty and strong, traditional English barley ales are designed to be savoured slowly and appreciatively. They date back to the eighteenth century, when they were brewed for the upper classes as an alternative to claret. For those who prefer the even darker style of a porter, Vegan Trademark holders Stroud Brewers offers a rich ruby Christmas one. Ding Dong (£20.50 for 5 litres) has a velvety liquorice taste with a hint of spice. 1792 Imperial Chocolate Stout (£4), from artisan London brew house – and Vegan Trademark holders – Pitfield Brewery, is a rich, dark brew with hints of raisin and coffee. 
Ciders
Mulled cider is the original Christmas drink. In medieval times it was known as a 'wassail' and was drunk in mid-winter to try and ensure a good apple harvest the following year. For an authentically traditional English cider Wylde Wood (£20.80 for 12 bottles) is made from organic apples harvested in Herefordshire, Gloucestershire and Worcestershire and brewed in oak vats. It is perfect for mulling, which can be done by warming the cider in a pan with a clove-studded orange, a few cinnamon sticks, a little brown sugar and an optional splash of brandy. Alternatively, make life easy for yourself by buying a ready-made mulled cider bag in a box (£12), from Vegan Trademark holders Hogan's Cider, and just heat to serve. On a more modern – and sweeter – tip, Brothers Toffee Apple Cider (£1.99) offers a blend of cream soda and smouldering toffee with a rich creamy aftertaste.  
Cream liqueurs
The heady delights of a cream liqueur don't need to be off limits for vegans. Just make sure to serve them ice cold. Vegan Trademark holders Besos de Oro (£17.50) is a mouth-wateringly delicious, and extremely moreish, blend of brandy and Horchata de Chufa – a popular Spanish drink made from a local tuber called 'chufa'. Alternatively, Marks & Spencer Gold Crème Brulée liqueur (£10) is a rich vanilla liqueur with caramelised notes that comes in a highly festive gold bottle.
Low and non-alcoholic 
Not all festive tipples have to leave you snoozing through the queen's speech. A gold medal winner at the International Cider Challenge 2016, Waitrose Low Alcohol Cider (£1.15) has an aroma of sweet baked apple aromas and contains less than one per cent alcohol. In terms of wines, La Plume Syrah Grenache (£8.65) is a light, bright and juicy red, while Plume Chardonnay Low Alchol (£8.65) offers lively apple and peach flavours. Both have an alcohol content of nine per cent. For those who would rather abstain altogether, apple juice can be mulled, just like cider or wine – or you can cosy up on a cold winter's evening with a mug of Vegan Trademarked Rococo's Plain Drinking Chocolate (£12.50), which can be enlivened with a dollop of coconut cream, a sprinkle of candied orange peel and/or a cinnamon stick stirrer. Drinking chocolates in the supermarket are often vegan-friendly too. Just check the label.
Cocktails
You can mull wine or veganise eggnog – or make a more contemporary Christmas cocktail devised by top mixologists. 
1) The Glen Coco
This cocktail tastes like an alcoholic chocolate orange in a glass and was created by vegan cocktail specialists Dandelion in Brighton. The aquafaba and coconut milk give it a lovely texture.
Ingredients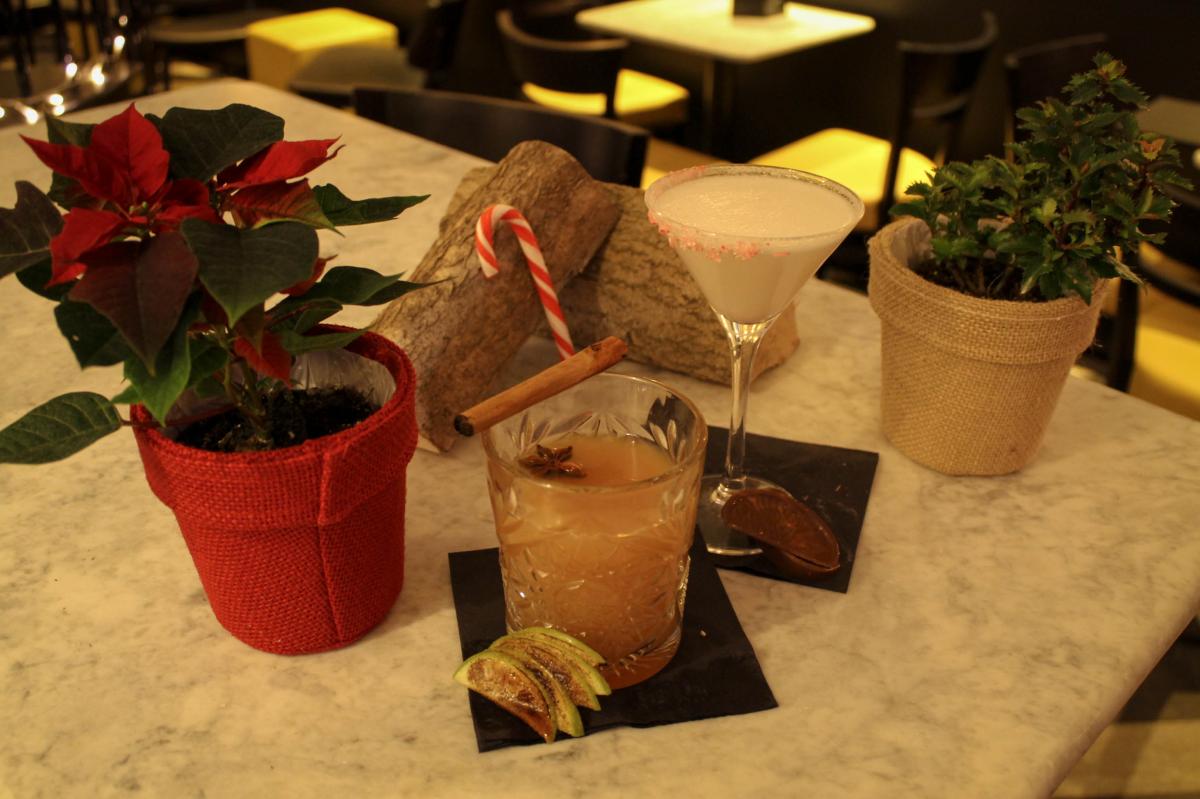 Vodka 25ml 
Cointreau 15ml
Coconut milk 25ml
Creme de cacao blanc 10ml
Aquafaba 10 ml
Maple syrup 10ml
Method
Shake the ingredients together and serve in glass dusted with crushed vegan candy cane.
2) The Chestnut Tini
Also from Dandlion, The Chestnut Tini is similar to an espresso martini.
Ingredients
40ml Espresso (or dandelion root coffee)
25ml Spiced rum 
20ml Kahlua 
20ml Chestnut sugar syrup  (make by heating some ready peeled and cooked chestnuts in one part water and one part sugar for half an hour)
Method
Shake and serve.
3) The Coco-Rita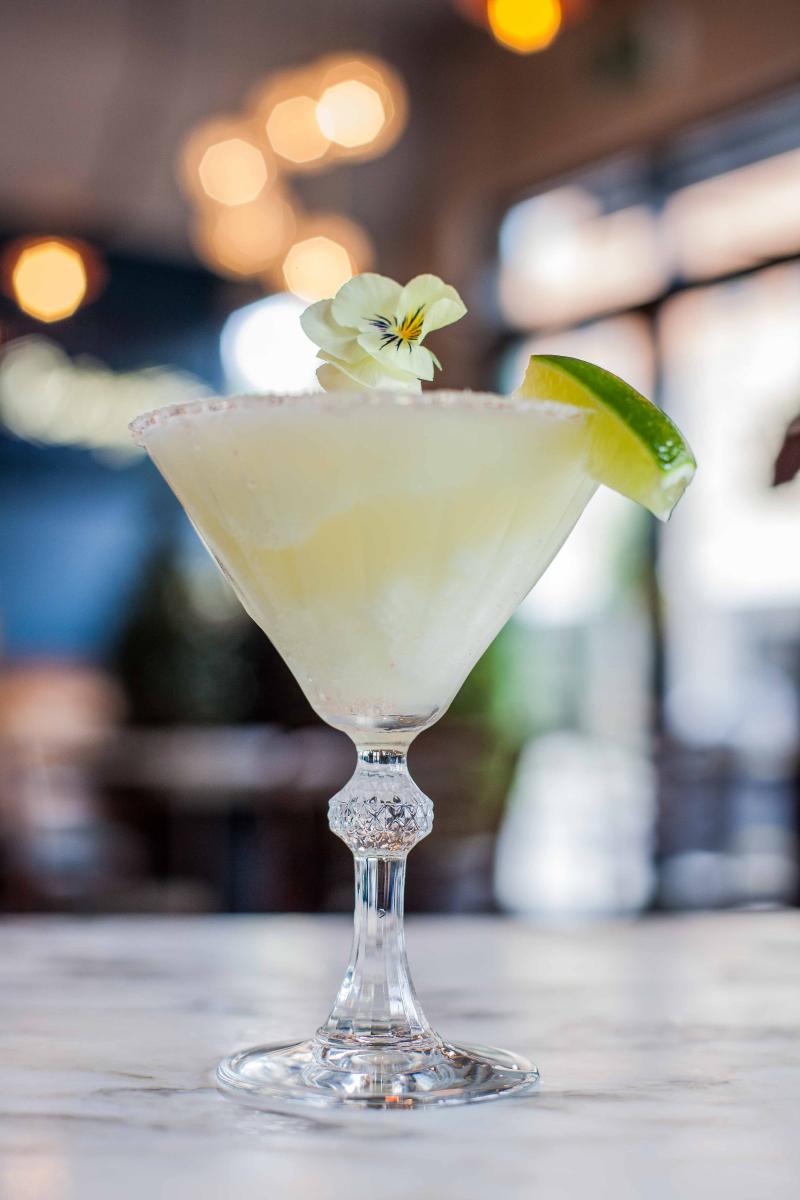 For a deliciously virtuous Christmas treat, The Coco-Rita is a non-alcoholic version of a frozen margarita from London's super cool all-vegan, alcohol-free Redemption Bar.  
Ingredients 
75ml Freshly squeezed lime juice 
25ml Birch syrup (healthy sugar replacement)
50ml Coconut water
25ml Freshly squeezed orange juice
5 Ice cubes
Himalayan rock salt to garnish
Method
Choose a beautiful martini glass, run a segment of lime around the rim and dip it in the salt to create a salt rim. Shake all the other ingredients in a shaker for 20 seconds. Strain into the glass and garnish with an edible flower and/or lime wheel.
Please drink responsibly.
By Melissa McClements
Still don't know what to make for Christmas? Our Festive Menu series details how to make the perfect three course vegan meal with a difference.
The views expressed by our bloggers are not necessarily the views of The Vegan Society.