Friday, 30 September, 2016
Starbucks barista Carina describes how to easily veganise the Starbucks menu, detailing how to make sure you always receive the correct animal-free drink.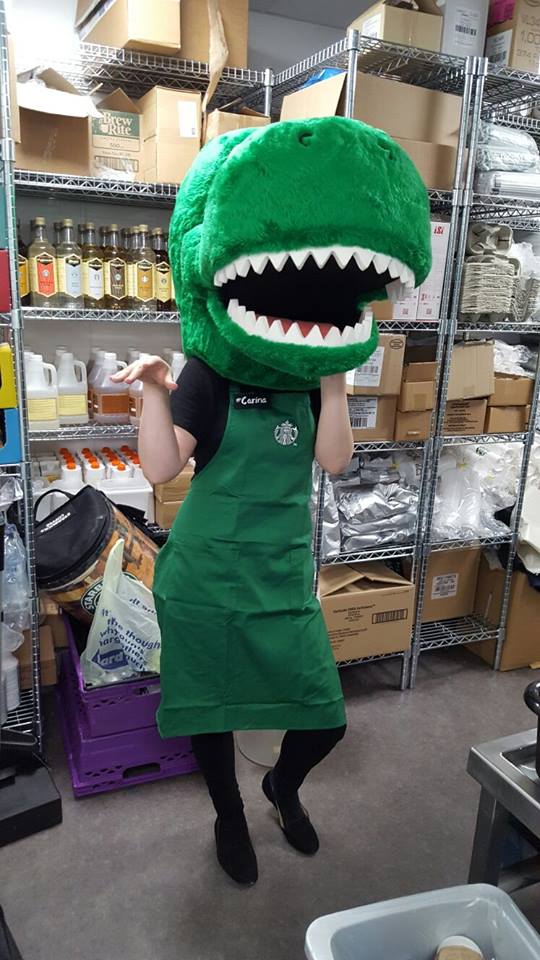 In an ideal world there would be no such thing as multinational corporations with a history of tax dodging, worker exploitation, and long stock lists including endless bottles of milk. In this world, however, most people don't have ethical co-operative-slash-cafés within short distance from their homes, and have to make do with the options that are available to them, both geographically and financially. People also need an income, so please, for the love of all that is good and pure and proper, stop confronting Starbucks baristas about whatever current news story you've just read about the company they work for. It's rather annoying given that we have no say in the matter, especially when followed up by an order complete with paper cup. 
On that cheery note, hello! I'm Carina, a Manchester-based barista with the know-how to help you order the perfect beverage should you decide to drop by your local Starbucks café for a quick nibble or much needed caffeine boost. Though the availability of vegan food options at the chain is laughably poor (with the exception of the soy porridge and the falafel salad you're unlikely to happen upon an option that can fill you up for more than half an hour), the beverage menu holds a surprising array of vegan friendly options, with well over half of the menu being plant-based either by default or through ingredient substitution. 
During my time as a Starbucks barista I have often found that vegan customers will keep their orders safe, sticking to basics like soy lattes and black americanos, or worse, order a soy caramel macchiato under the impression that it will be vegan (disclaimer: it is not). Most baristas should be aware of which items on the menu contain animal and animal by-products, though if ever in doubt the cafés always have an allergens list at handy with its own vegan column. In order to make your quest for the perfect pick-me-up even easier, I have compiled a list of vegan and non-vegan food and beverage options below, alongside guidelines on how to veganise options that include dairy by default. 
Vegan food items 
* Soy porridge (with dried fruit mix)
* Falafel, quinoa and lentil salad
* Fruit pot
* Raw raspberry and nut bar
* Raw peanut and cashew bar (dairy traces)
* Sugar-free spearmints
* Sugar-free peppermints
* Dark chocolate (dairy traces) 
* Sweeties (yes, vegan gummy sweets!)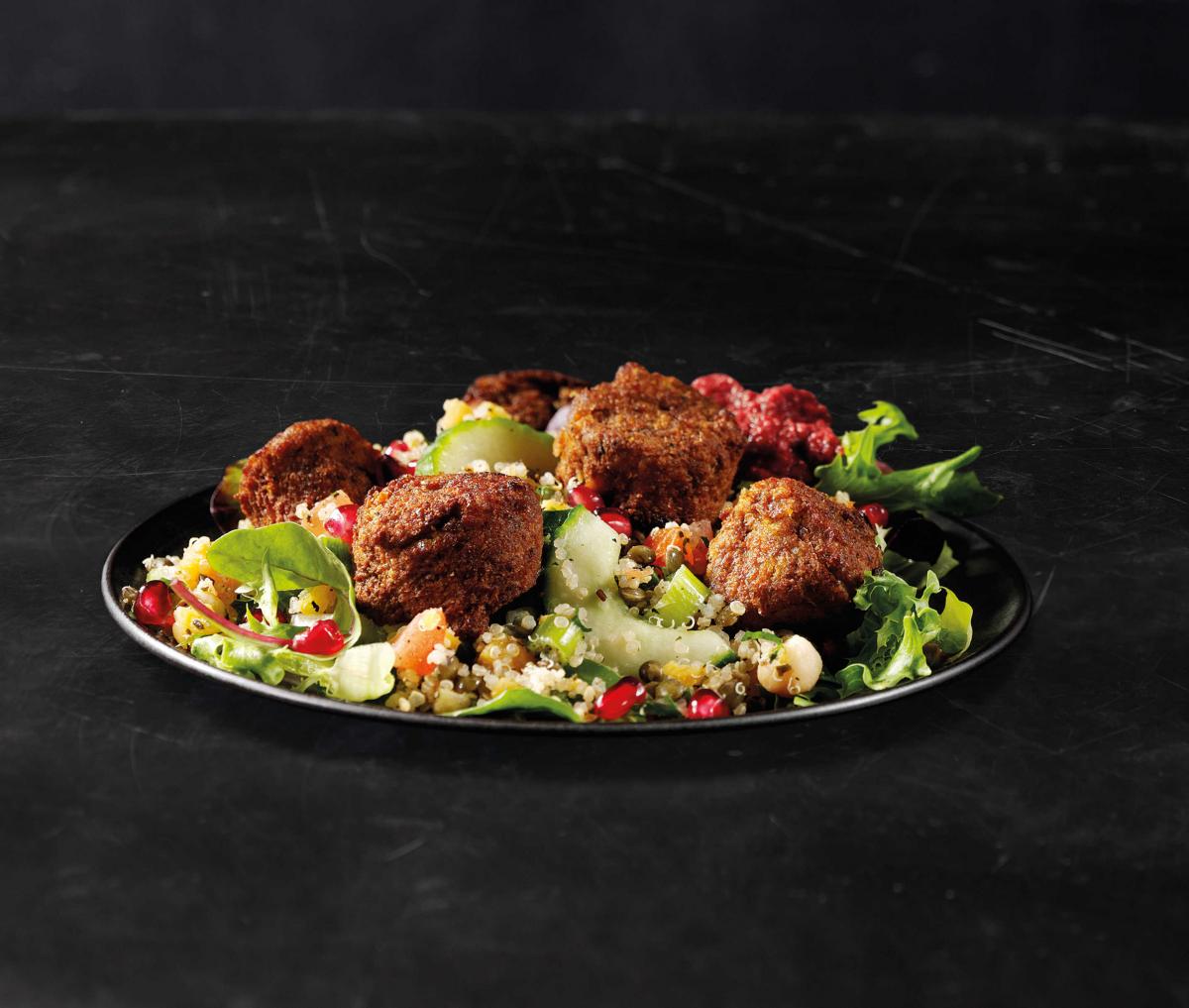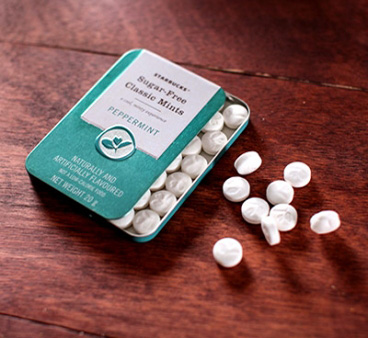 Hot and iced beverages 
Most of the staple items on the Starbucks menu, such as the latte, cappuccino, americano, flat white, espresso (macchiato), hot chocolate and mocha can all easily be veganised by substituting dairy for soy milk (free) or coconut milk (40p extra). All hot beverages are available in iced variants with no change to the base ingredients. Steer away from the caramel macchiato, which contains caramel drizzle (dairy) and anything containing white chocolate or pumpkin spice. With the exception of the chai latte, which uses a chai syrup containing honey, all Starbucks' tea options are also vegan.
Vegan beverage options
These options are vegan by default, and are additionally some of the tastiest things on offer (seriously, mango passion fruit, people).  
* Cool lime refresha (and other refreshers when available)
* Mango passion fruit frappuccino
* Raspberry blackcurrant frappuccino
* Black, green or hibiscus iced tea (lemonade) 
* Peach green tea lemonade
* Blackberry mojito tea lemonade
* Cold brew (black or soy/coconut)
* Americano (black or soy/coconut)
* Filter coffee (black or soy/coconut)
* Tea (black or soy/coconut) 
* Single/double/triple espresso (soy/coconut milk for Espresso Macchiato)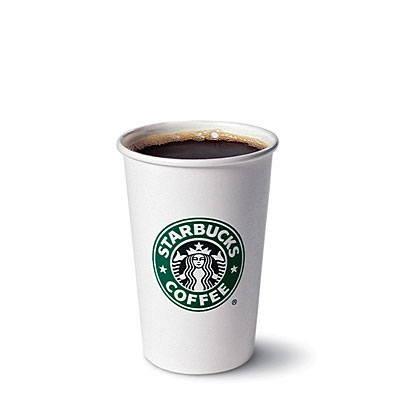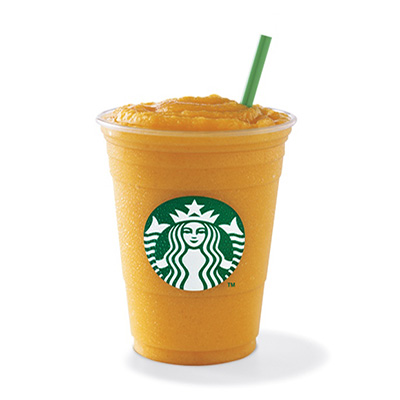 Non-vegan beverage options
These beverages have non-vegan options as base ingredients, and cannot be veganised at all or without losing the essence of the drink itself.  
* Caramel macchiato (dairy) 
* Signature hot vhocolate (dairy)
* White hot chocolate (dairy) 
* Pumpkin spice latte and pumpkin spice frappuccino (dairy) 
* Chai latte (honey). Note: You can ask for a chai latte made with the Teavana Chai and add sweeteners or sugar yourself.
Frappuccinos
Frappuccinos can be a bit confusing at first, as there seem to be roughly 3000 options, all of which appear non-vegan at first glance. Most can however be made vegan, with the exception of light options (the coffee light base contains dairy), options containing java chips, options containing caramel drizzle (note that the caramel frap is good without drizzle, too) and the pumpkin spice frap (the pumpkin spice syrup contains dairy). 
All fraps are made using a similar formula: a starting base (for example frap roast and milk in a coffee-based drink or milk in a cream based drink), followed by syrup (for example caramel or vanilla), a scoop of ice, and a coffee or cream base (syrup). They are then blended, before finally being topped with cream, drizzle, or left bare. The cream and the caramel drizzle both contain dairy, so ensure that your barista knows not to use these. The chocolate drizzle, as well as all regular syrups, are vegan.  
Vegan syrups and bases: cream base, coffee base, strawberry sauce, vanilla and sugar-free vanilla syrup, caramel and sugar-free caramel syrup, hazelnut and sugar-free hazelnut syrup, almond syrup, peppermint syrup, cinnamon dolce syrup, simple syrup, marshmallow syrup and gingerbread syrup. Other 'clear' syrups that come and go depending on the season are also bound to be safe. 
Non-vegan syrups and bases: caramel drizzle (dairy), chai syrup (honey), pumpkin spice (dairy), white chocolate (dairy), coffee light base (dairy). 
Non-vegan frappuccino options 
* Smores frappuccino (dairy)
* Any frappuccino that uses coffee light base (e.g. coffee frap light)
* Any frappuccino that uses java chips (e.g. cookie dough cream, java chip, double chocolatey chip)
How to veganise the Starbucks menu
The below beverages have ingredients that can be substituted for vegan options.
Hot or cold beverages: 
Latte: soy/coconut milk
Cappuccino: soy/coconut milk
Caffe misto: soy/coconut milk
Flat white: soy/coconut milk
Mocha: soy/coconut milk, no cream
Classic hot chocolate: soy/ coconut milk, no cream
Piccino: soy/coconut milk
Frappuccinos: 
Caramel frappuccino (coffee/cream based, soy/coconut, no cream or caramel drizzle)
Chocolate frappuccino (coffee/cream based, soy/coconut, no cream)
Coffee frappuccino (soy/coconut)
Espresso frappuccino (soy/coconut)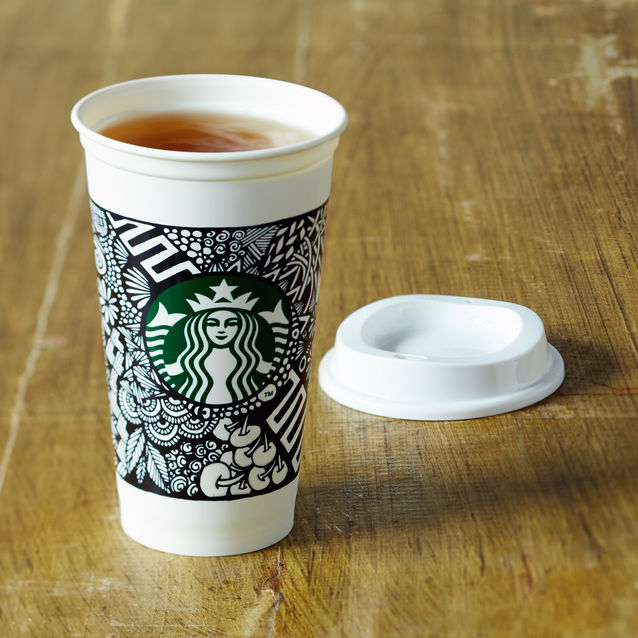 Mocha frappuccino (soy/coconut, no cream)
Strawberries and cream frappuccino (soy/coconut, no cream) 
As a final note, if you're worried about receiving a dairy-based drink by accident you can easily double-check the codes on the side of the cup to ensure that the barista that took your order did so correctly. The little box marked "milk" on the cup informs the baristas what type of milk to use, with the abbreviation 'S' being used for soy milk and 'CO' for coconut milk. Starbucks additionally sell reusable cups for £1 a pop, which you can customise yourself to ensure that you always receive the drink you've ordered (assuming you have a favourite). The reusable cups are additionally better for the environment than the paper cups, and earn you a 25 pence discount every time they're used.
Happy caffeine shakes!
By Carina Strøm Smith
Please sign our petition to make sure agricultural subsidies go towards environmental goods, not unethical animal farming. 
The views expressed by our bloggers are not necessarily the views of The Vegan Society.