Mr Organic is a 100% vegan, organic and palm-oil free brand, creating delicious, nutritious food that can make transitioning to veganism very easy and tasty!

With their dairy and egg-free mayos, pesto, and tortellini range, a speedy, yummy dinner can be on the table on any evening. If you are short of time but big on hunger, you can always trust in the little smiling face of Mr Organic: within less then 10 minutes a bowl of fresh pasta can bring the flavour of Italy to your home. 
If you craving for sweets, their rich, creamy chocolate spreads are the best choice. The combination of chocolate and hazelnuts are bringing joy with every bite. Spread it on a piece of toast, add a spoon full for your porridge, use it as an ingredient in baking or just have it straight from the jar – pure indulgement!
All three flavours of Mr Organic biscuits are palm-oil free. A crunchy little treat, excellent for dunking in a cup of coffee or a mug of tea! Made with solid cocoa bits and Sicilian blood orange marmalade, their Orange & Cocoa biscuit is a delicious snacking option anytime during the day. 
With almost the full range coming in recyclable packaging and been delivered by zero air miles method (no planes, please!) this brand also ensures to be as ethical as possible. 
As their motto says: Live Positive, Eat Positive!
Available at Ocado, Able & Cole and Whole Foods and Planet Organic.
You can find Mr Organic at Facebook, Instagram, Twitter and on their website.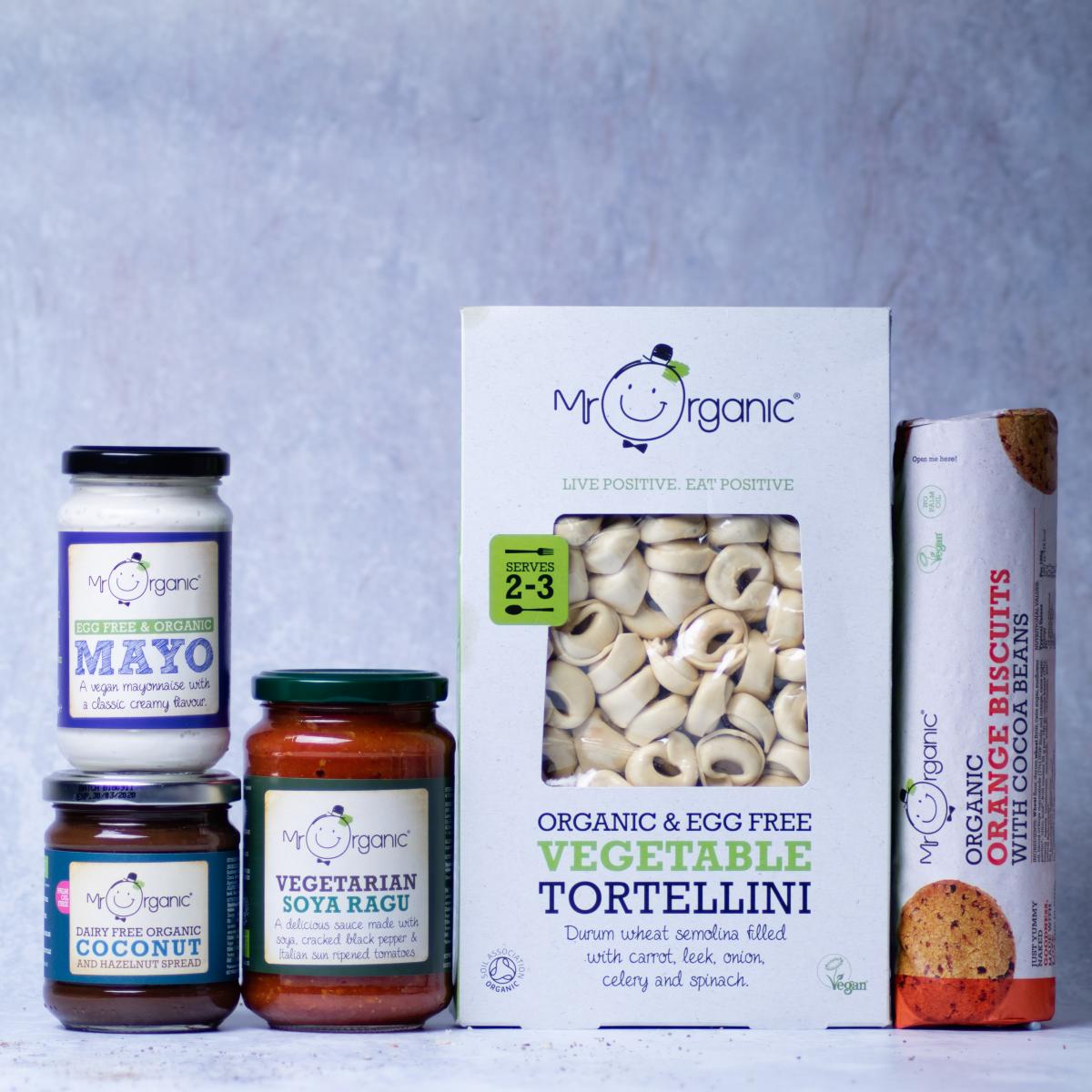 To be in with a chance of winning, simply enter in your email address below.

UK 18+ only. Normal exclusions apply. Closes 10am 31.01.20. 1 x prize winner to win a vegan starter kit:
soya ragu, vegan mayo, vegan palm-oil free chocolate spread, tortellini, vegan palm-oil free biscuits, vegan nut-free pesto and pasta. Winner/s randomly selected and notified by email within 14 days of the closing date. For full terms and conditions click here. Promoter: Vegan Society. Supplier: Mr Organic.