"What can you do in 24 hours?" Says Fiona Oakes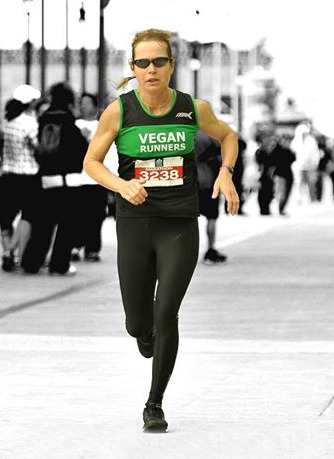 Famous Guinness World Records holder and Vegan Society Ambassador, Fiona Oakes, has come up with a wonderful fundraising challenge for us all!
Fiona held the World Record for the fastest woman to run a marathon on all 7 continents, with a cumulative time of 26 hours and 18 minutes. But after very recently beating two of her World Records by almost 3 hours, Fiona now holds an incredible cumulative time of less than 24 hours for 7 marathons on 7 continents! Now she wants to know, What can you do in 24 hours? 
 Fiona Explains: 
 "Just got back from Rio yesterday and have smashed two of my World Records by almost 3 hours. I did all of this in 24 hours to raise valuable funds for The Vegan Society's 70th Anniversary. And then I thought, 'everyone can do something' – it doesn't have to be running in a marathon; it can be anything you want and anything you like doing, from making loom bands to sell at your local market or school, to having a sponsored silence. I'd love to hear all about what you could do in 24 hours. If we all join together and help raise funds for The Vegan Society we could help them save so many more animals than I ever could in my lifetime.

 By raising these funds you'll help so many animals and enable The Vegan Society to provide information and support, fund vegan initiatives and enable more people to go vegan, taking us closer to our vision of a world where all non-human animals are free from exploitation and cruelty.

 Everything I've done has been for the animals, to try and show the benefits of plant power! Actions do speak louder than words, so give my 24 hour challenge a go!"
Are you going to take up Fiona's challenge? Let us know by sending us an email.
Need a little inspiration? Head to our fundraising page for some tips and ideas.