Race for all life on earth
Let's show the world just how fit and energetic vegans are by running a plant-powered race. Plus it'll help burn off all of those Worldwide Vegan Bake Sale cupcakes! So grab your leather-free trainers and vegan-themed t-shirt and hit the road.
Couch potatoes welcome
Whatever your level of fitness, we'd love you to join our team, whether you're looking for a Charity Place or already have your own place. If you're more of a water baby than a runner, no problem; we'd love you to join our swimming events too. Perhaps take your trainers off for those...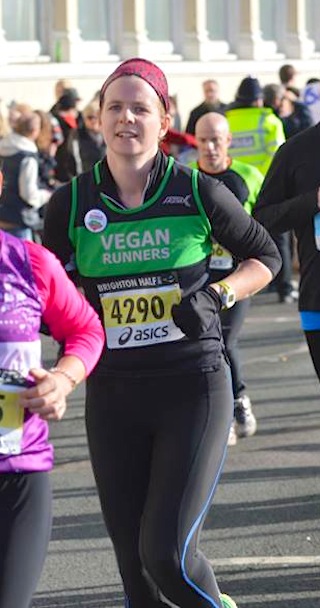 Race places
Great Manchester Run 2014 - Sunday 18 May
Great North Swim 2014 - 13-15 June
Great London Swim 2014 - Saturday 30 August
Great North Run 2014 - Sunday 7 September
Great Birmingham Run 2014 - 19 October
Great South Run 2014 - Sunday 26 October
Can't wait to get going? Here's how to take part:
Choose an event you'd like to take part in and let us know by email. We will then email you a token to allow you to register with BUPA, who will then post you a race pack with all the necessary information.
Why not start a JustGiving page and begin raising money today! This is also a great way for your friends and family to show their support. The JustGiving site is rich in features allowing you to easily update everyone on your training progress, thoughts and ideas.
Don't forget to share photos with us every step of the way, upload photos to our Facebook page and Tweet us. We want to hear all about your success!