We've come a long way!
The Vegan Society was founded in November 1944 and we've made tremendous progress since.
Early vegans
The Vegan Society may have been established 70 years ago but veganism has been around much longer. Evidence of people choosing to avoid animal products can be traced back over 2,000 years. As early as 500 BCE, Greek philosopher and mathematician Pythagoras promoted benevolence among all species and followed what could be described as a vegetarian diet.  Around the same time, Siddhārtha Gautama (better known as the Buddha) was discussing vegetarian diets with his followers.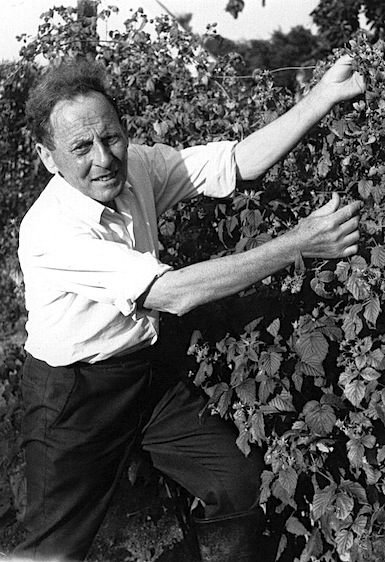 Fast forward to 1806 CE and the earliest concepts of veganism are just starting to take shape, with Dr William Lambe and Percy Bysshe Shelley amongst the first to publicly object to eggs and dairy on ethical grounds.
The first modern-day vegans
In November 1944, Donald Watson (right and below) called a meeting with five other non-dairy vegetarians, including Elsie Shrigley, to discuss non-dairy vegetarian diets and lifestyles. Though many held similar views at the time, these six pioneers were the first to actively found a new movement - despite opposition. The group felt a new word was required to describe them; something more concise than 'non-dairy vegetarians'. Rejected words included 'dairyban', 'vitan', and 'benevore'. They settled on 'vegan', containing the first three and last two letters of 'vegetarian'. In the words of Donald Watson, it marked "the beginning and end of vegetarian."
Delving into Vegan Society archives
Our researcher-in-residence, Dr Sam Calvert, has been hard at work delving into our archives at Vegan Society HQ, discovering how The Vegan Society began and how we have grown over the decades. Her findings are published as a pdf entitled Ripened by Human Determination: Seventy Years of The Vegan Society.  It is available to download here.
A transcript of an interview with Donald Watson from 2002 is available here.

The story continues
The Vegan Society continues to hold true to the vision of our founding members as we work towards a world in which humans do not exploit other animals. We're as determined as ever to promote vegan lifestyles for the benefit of people, other animals and the environment. 
Will you join us to continue the story?
Left and above right: Donald Watson (02/09/10 – 16/11/05)