It was way back in 1944 when Donald Watson and a few like-minded pioneers invented the word 'vegan' and founded The Vegan Society. Today we are the largest vegan society in the world and about to celebrate our 70th anniversary. We'd love you to join us this November!
When's YOUR 'veganniversary'?
Your 'veganniversary' is the anniversary of the date you went vegan. November 2014 is our veganniversary and we'd love to hear about yours, so please email us your stories!
"Mine's in December. I prepared myself (and my fridge) a few days before making the change. I celebrated my 5th veganniversary with a vegan tattoo on my wrist" – Alex

"I went vegan mainly for the planet and my conscience in Sept 2012, yet over time I've come to appreciate many other wonderful aspects to this lifestyle" - Mario

"I celebrate on the 13th of November – usually with lots of cake!" – LiLi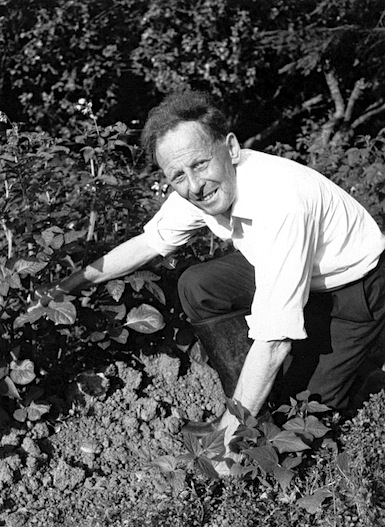 Email us with your full name, where you're from, the date of your veganniversary, and a sentence or two about what this anniversary means to you. We'd love to use your stories in our campaign.
Find out more
Before the big event, we're encouraging people to sign up to our e-newsletter so they can be the first to receive information about our 70th birthday party. To sign up to our newsletter simply pop your email address into the subscription field at the bottom right of our Home page. It's completely free and you can unsubscribe at any time.
Right: Donald Watson  02/09/10 – 16/11/05
Vegan in your 70s?
Our campaigns team is eagerly in search of case studies for our Hidden Histories project. We'd love to document how you became vegan. The story of how The Vegan Society was founded makes a fascinating read... yet what about YOUR story? What part have you played in the history of The Vegan Society? 
Help raise the profile of veganism
Your personal story is far more likely to be picked up by the media rather than a press release filled with facts and figures of how healthy veganism is. The latter is not news anymore, whereas the former is something we all love to hear.
Yet it's more than about publicity and recognition. Hidden Histories is about pulling together those long-forgotten stories of triumph and planning for a future built on the strongest foundations possible. To all those pioneers who have helped us arrive where we are today, we would greatly value you contacting us. Please help us fill the gaps in the archives of veganism and The Vegan Society!
If you are 70 or older, or know a senior vegan who wouldn't mind being contacted by us, please let us know either by email or post.