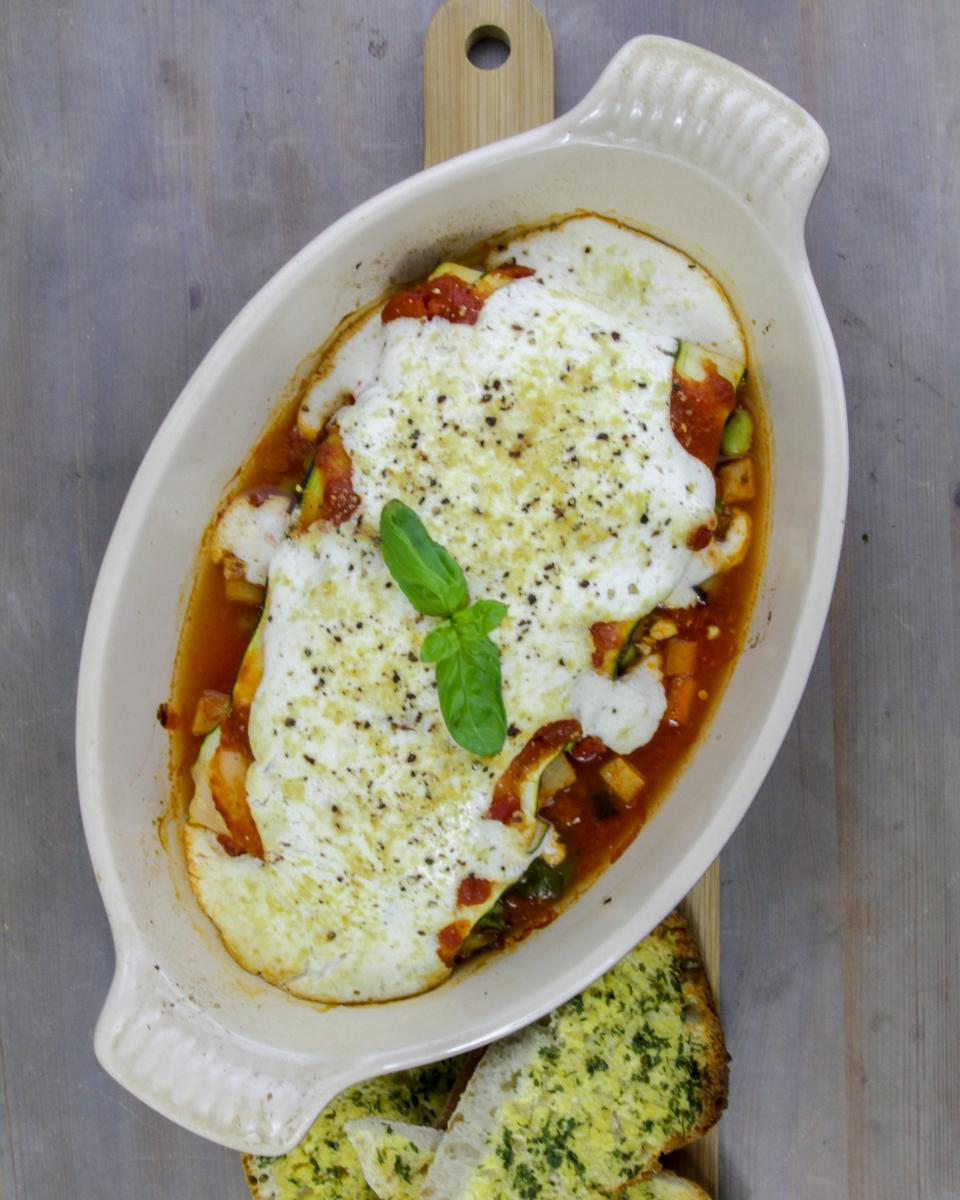 Ingredients

1 aubergine, cut into 5 mm dice
2 cloves garlic, pureed
1 red onion, fine dice
6 vine tomatoes, cut into 5 mm dice
1 tbsp tomato puree
1 tbsp chopped basil
100 g cooked green lentils
1 red pepper, cut into 5 mm dice
Black pepper, to taste
3 large carrots, peeled and ribboned with a peeler
3 courgettes, ribboned with a peeler
100 g calcium-set firm tofu, pressed
100 g soya yoghurt
50 g vegan parmesan cheese
Vegan garlic ciabatta bread, to serve
Method

Put the aubergine, garlic, onion, tomato, tomato puree, basil, lentils and red pepper into a saucepan and cook over a medium heat. Bring to a simmer and then reduce the liquid to make a thick ratatouille. Season.
Blanche the carrot and courgette ribbons in boiling water for 30 seconds and drain. Run under cold water to stop cooking.
On a sheet of baking paper, lay out a few of the courgette ribbons to form a square. The ribbons should overlap slightly. Add a layer of overlapping carrot strips on top. Spoon some ratatouille into the centre of the square, then roll it up to form the cannelloni. Repeat until you have run out of vegetable ribbons.
Put any remaining ratatouille into an ovenproof dish and lay the cannelloni on top.
Blend together the tofu and soya yoghurt and pour over the cannelloni like a white sauce. Top with the vegan parmesan cheese and bake in the oven on 180°C until the top has turned a golden colour.
Serve with vegan garlic bread.
Nutritional analysis per serving (1/4 recipe)
| | | | | | | | |
| --- | --- | --- | --- | --- | --- | --- | --- |
| Kcal | Carbs (g) | Fibre (g) | Protein (g) | Fat (g) | Saturates (g) | Sugars (g) | Salt (g) |
| 400 | 55 | 14.7 | 12.4 | 14.5 | 5.4 | 18.3 | 1.22 |