A growing plant milk market

Figures correct as of September 2019. For 2020 figures please see the 'Plant-based foods in Europe' report.
Whether it's vegan drinks, cheeses, or ice creams, the dairy alternatives market is booming. Across the board, more individuals are enjoying a larger range of delicious vegan products than ever before and our access to data from Grand View Research shows that this is not slowing down.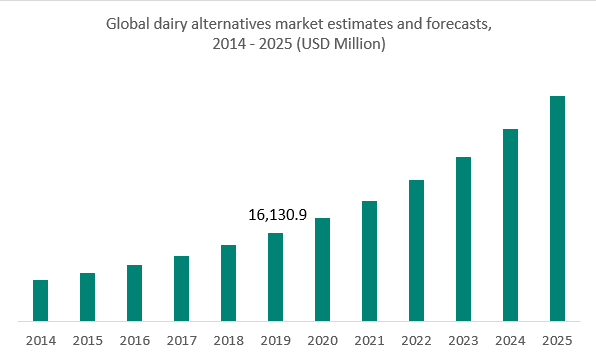 Rising awareness of global issues – including animal rights, environmental concerns, intolerances and other health issues – are just some of the reasons why people across the world are eschewing milk.
This changing consumer preference, combined with innovative product development initiatives by major industry players, has led to huge market growth. In terms of global revenue, this was valued at $16,130.9 million in 2019 and is anticipated to reach $41,061 million by 2025 – advancing a forecasted CAGR rate of 16.7% between 2020-2025. In 2019, soy milk and almond milk each held approximately 40% of the global market revenue. Other plant milks such as rice, oat, hazelnut, coconut and pea took the remaining 20%. By 2025, these global percentages look to remain fairly unchanged, with almond taking a few percentage points from soy.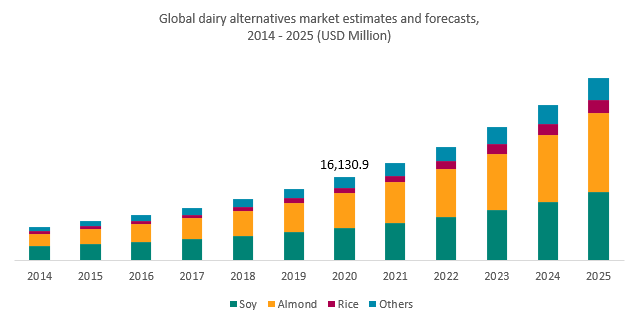 Asia Pacific dominates the industry, accounting for 50% of the market in 2017 and likely to maintain a similar share throughout the coming years. In this region, products such as soy and rice milk have been enjoyed for their freshness and versatility for many years – not just as a 'dairy alternative' but as delicious products in their own right. 
Data from Grand View Research, Inc. 
European plant milk market set for incredible growth

Figures correct as of September 2019. For 2020...(Read More)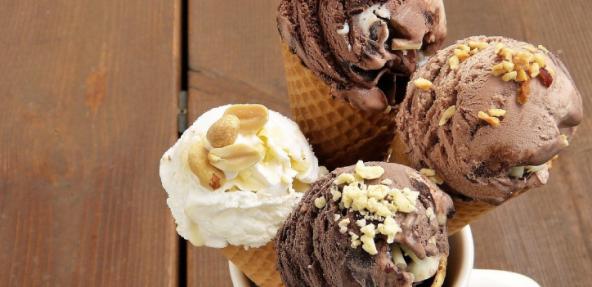 North America is a huge market for plant milks

Figures correct as of September 2019. ...(Read More)