Popular UK supermarkets and what food and drink they offer for vegans

The following lists are provided for information purposes only, and are not meant to be a perfect guide to vegan food in supermarkets. Supermarkets can change their recipes without updating their vegan lists, meaning you should always check the ingredients before you buy. Moreover, many of these items do not carry our Vegan Trademark so we cannot guarantee that these items are vegan and not animal tested. Head to our Vegan Trademark search to search for products that are guaranteed vegan.
If you notice an out of date list or item, please email web[at]vegansociety[dot]com.
Shopping as a vegan doesn't need to be a struggle, thanks partly to the huge increase in the variety of foods stocked in supermarkets, and the growing awareness to label alcohol as vegan or not. Even if your preferred supermarket hasn't brought out a vegan list of the own brand products they offer yet, you can still mine for hidden vegan treasures amongst their entire selection: you'll find some really tasty treats.
---
Aldi   

Aldi provide lots of 'accidentally vegan' foods, such as mint chocolate waves, gooey mint chocolate bars and marzipan logs, season permitting. On the savoury side, choose from vegetable spring rolls, battered onion rings, spicy bean burgers and bacon rasher crisps amongst a few.
Aldi also now stock both soya milk and almond milk at really good prices.
If you're looking for a liquid lunch Aldi offer spiced rum, French chardonnay, Toro Loco Spanish Rose and many more.
Find the full list of vegan-friendly products from Aldi here. 
---
Asda

While Asda do not have an official list, if you type in 'vegan' into their website a range of vegans food appear, including their Free From Caramel Rice Squares and dairy free vanilla fudge. ASDA became the first supermarket to carry the Vegan Trademark meaning that many of their own brand items are now labelled with it, such as their new meat free quarter pounder burgers.They also stock vegan-friendly Quorn products. Hidden gems such as vegan-friendly lemon cheesecake also lurk in the depths of the supermarket's frozen aisle, although you might have to fight your fellow vegans for the last one. In some Asda's can be found Vegan Trademarked Violife cheese, while most stock Lotus Biscoff Spread and vegan-friendly peanut butter with chocolate chips. ASDA also have range of vegan ice cream such as Almond Dream and Swedish Glace. 
ASDA now also offer frozen vegan burgers and own brand soup.
This unofficial Asda list has more information, though it may not all be correct or in date.
---
 

The Co-operative  

You can find many vegan labelled products in store. You'll also find the usual array of vegan friendly samosas, vegetable cous cous and hot cross buns.
Get their own brand vegan alcohol list here. The Co-operative stock a large selection of vegan wines and other alcoholic drinks that are often labelled as vegan. 
---
Lidl

Lidl do not have a specific vegan list but do label their food quite well and are happy to check products if you email them with a barcode. Like Aldi, Lidl offer lots of accidentally vegan chocolate, including mini chocolate eggs full of liqueur around Easter. Lidl stock a number of vegan-friendly bakery options including multigrain loaf, pumpkin seed rolls and a soy sausage protein roll.
Get the Lidl bakery list detailing the ingredients of all their bakery items, correct as of 2015. 
---
Marks and Spencer 

Have a look out for some of their jelly sweets – while most are not vegan due to the addition of beeswax (E901) their veggie jelly bunnies are suitable. They also have Turkish delight and a dairy free chocolate disc collection to name a few. If you're feeling brave their hot chocolate chilli vodka and garden pea and mint vodka is suitable for vegans, but if you want to play it safe they offer dairy-free coconut ice cream to cool you down. On a more surprising note, they also provide beefburger crisps. During the holidays, they also have interesting vegan cream liqueurs. 
They also recently started to sell two vegan lunch options which include a 'Super Greens' and 'Rainbow Veg' sandwich.
Get the official own brand vegan list here, correct as of March 2017. 
---
Morrisons 

Morrisons offer a wide range of unexpected treasures. Whilst they don't do a specific vegan list, they still sell a range of items that are vegan. In the baking aisle you'll discover that they provide ready-made baking mixes such as an indulgent chocolate torte, a lemon drizzle cake kit and the basic sponge cake mix. Their 'Free From' range includes vegan-friendly chocolate chip cookies and chocolate buttons, and for lazy Friday nights you can choose from garlic pizza bread (a good pizza base) and Cajun spiced onion rings amongst many to accompany your vegan main. For a typical student 'feast', their beef and tomato noodle pot just happens to be vegan-friendly, as well as their curry flavoured ones. They now also do vegan chocolate cornettos and in their frozen section you may find Fry's and vegan Quorn meat subs.
Morrisons' dry cider was confirmed by the supermarket as suitable for vegans.
This unofficial Morrisons vegan list has more information, though it may not all be in date.
---
Sainsbury's

Sainsbury's have a fairly extensive range of vegan-friendly food on offer, with a 'Freefrom' range and clear vegan labelling on a number of their own brand products. Unfortunately not all of their 'Freefrom' range is vegan: sometimes products are just dairy and gluten free but not egg free, like their Freefrom Chocolate Brownies.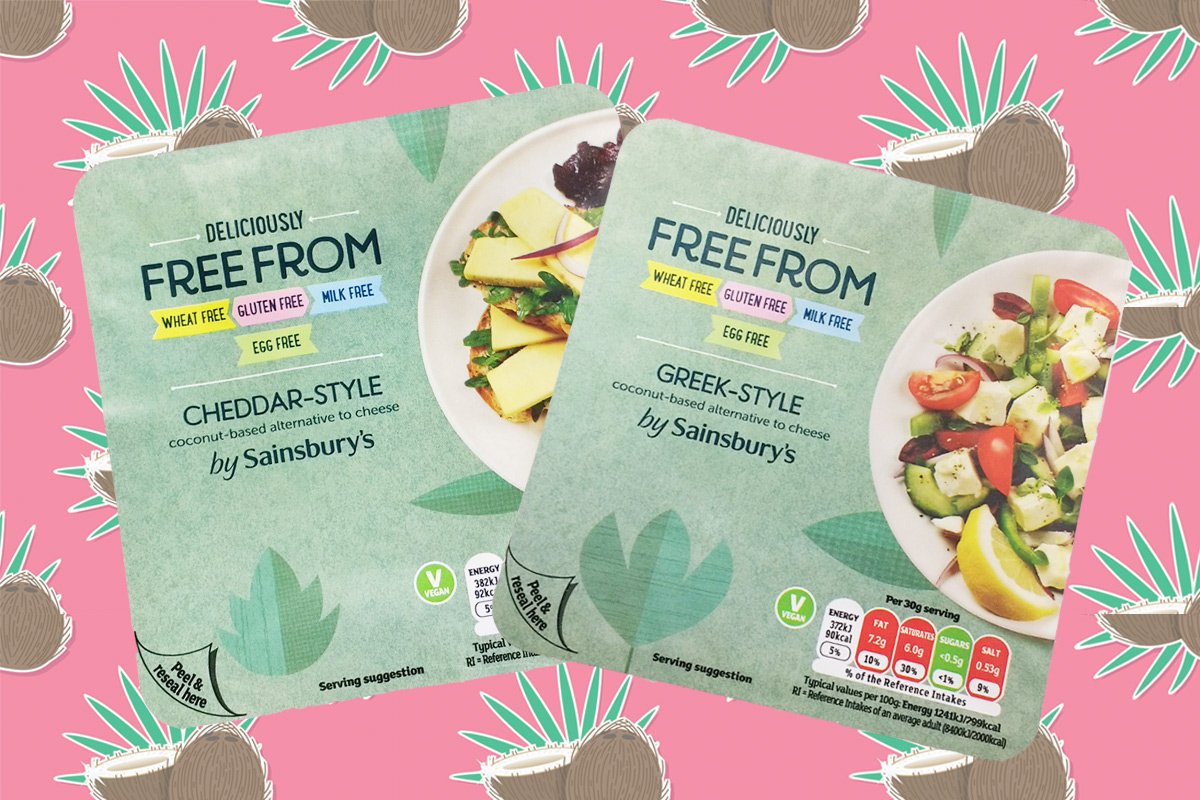 However, they do have other great vegan products available, such as vegan-friendly Freefrom Chocolate Crispie Bars. These are perfect with a cuppa, or if you want something more luxurious, their rose and lemon flavoured Turkish delight goes down a treat: just try and refrain from eating the entire box in one sitting! Sainsburys offer a wide range of vegan ice cream, too, and have brought out a range of vegan cheeses (including feta alternative), made by Bute Island Foods.
They also recently re-formulated their meat-free meatballs and eight pack of meat-free burgers to be vegan which can be found in their frozen section alongside vegan Quorn and vegan-friendly Linda McCartney foods.
Sainsbury's have a wide range of vegan-friendly alcohol, such as their pre-made Cosmopolitan cocktail, perfect for those few precious days in the year when the weather is warm.
The official list of own brand food and drink can be found on this page here. 
---
Tesco 

Tesco offer fantastic vegan cheeses from our Trademark holders Sheese and Violife, the former under the name 'Tesco Free From'. They also offer other dairy alternatives like margarine, yogurt and plant milk, though their dangerously moreish strawberry and vanilla ice cream cones really set the bar high. The supermarket also offers up a good range of frozen vegan foods, such as soya mince, kale and butternut squash nut roasts, vegan strudel, ice cream and falafels. Check out their free from chocolate chip cookies, too.
Find the official list of Tesco own brand vegan products here. 
---
Waitrose

Discover unexpected treats such as mint crumbles, raspberry jelly terrine and convenient ready meals including butternut squash curry and a creamy dal. Ham flavour crisps can also be added to the list of unexpected vegan foods as well as basil tofu and ready to eat vegan hotdogs. They also offer a wide range of vegan ice cream.
Their frozen section has lots of options too, including vegan Quorn and Cauldron products.
Get the official list of own brand food and drink here, correct as of March 2017.
 
Since you're here...
Join us as a member and support the vegan movement from just £2 a month. Since 1944, our members have been integral to supporting us as we spread the vegan message, help vulnerable vegans in need and work with institutions and governments to turn the world vegan. As a reward, you'll receive over 100 vegan-friendly discounts, The Vegan quarterly magazine, podcast extra, access to a vegan dietitian and a community of vegans and much more.