Going on holiday as a vegan

Need to get away for a few days or wish to travel outside your comfort zone? Don't worry – help is at hand. 
For international travellers, many city-based supermarkets carry vegan basics like soya milk and of course you'll always be able to find fresh fruit and veggies. As veganism grows in popularity, vegan and vegetarian restaurants are popping up around the globe and many places that you may have thought wouldn't be vegan-friendly might just surprise you. Don't forget to check apps like HappyCow which are invaluable when it comes to scouting out vegan-friendly restaurants, cafes and shops.
If you're looking to book vegan-friendly accommodation, sites like Vegetarian Vacations and Veggie Hotels will be a great help. 
Plan in advance when it comes to food 

Whether you're travelling by plane, train, boat or bus, if food is provided on your journey, make sure you state your dietary needs when you book. Watch out for non-vegan extras such as non-vegan margarine or coffee creamer appearing with the 'vegan meal' – caterers sometimes don't realise that items like sunflower margarine are not always dairy-free. If you feel let down by your travel company, then remember to file a complaint – they won't improve their services unless pressured to do so. It's almost always far more effective to complain to the customer services department rather than the on-board staff.
It's a good idea to take some food or at least snacks for your journey as well as when you arrive. Some of us have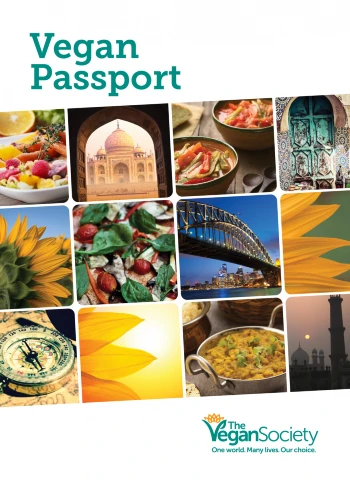 been known to take ready to eat vegan sausages such as VBites abroad to have a handy snack or dinner accompaniment, as well as instant noodles and powdered plant milk: handy if you're only taking hand luggage. If you are taking hold luggage, stock up on 'liquids' like peanut butter and baked beans, which may be harder or more expensive to get abroad. Do some research to see whether the area you are staying at offers plant milk, too. Don't forget to pack your VEG 1 or other supplements, especially if you're worried you won't manage to maintain a varied vegan diet while travelling, as fortified products may be harder to come by.
Don't forget your Vegan Passport

The Vegan Society stocks a number of books for vegan travellers, with the new edition of The Vegan Passport available from our shop for only £4.95. You can also download it as an app for Windows, Android and Apple phones, The invaluable Vegan Passport is a pocket-sized book describing what vegans do and don't eat in the languages of over 96% of the world's population; and it includes, as a failsafe, a pictorial guide. In addition, the Vegetarian Guides series makes available books describing appropriate eating places in many European cities and tourist destinations.
Vegan travel companies

There are more vegan-friendly travel businesses than you might think: have an internet search for the latest travel companies around, such as Veg Voyages and Humane Travel. France Ecotours also offer a range of vegan tours from Brittany to Paris, where you can hit all the French hotspots.
Did you know that our members receive over 110 third party discounts including some for great vegan-friendly destinations? Join today and you'll have access to money off France's Vegan Surf Camp as well as other vegan-friendly holiday apartments across the UK.
If you know of a vegan-friendly destination that would benefit from offering our members a discount, please ask them to contact discount[at]vegansociety[dot]com.