Sandwich, wrap and bagel recipes
Read on for some delicious sandwich suggestions which are sure to tickle your taste buds! These can be toasted as well as made cold on different types of bread, pittas, wraps and bagels. And, unless specified 'homemade', the following links demonstrate where you can buy pre-made ingredients.
Of course, you are free to use homemade or store-bought ingredients for many of the following fillings. Vegan and health food stores, both online and in person, can provide many ready-made ingredients. You can also find out where you can get your hands on our favourite vegan cheeses here, and do make use of our Trademark search to find the best ready-to-eat options.
Quick and easy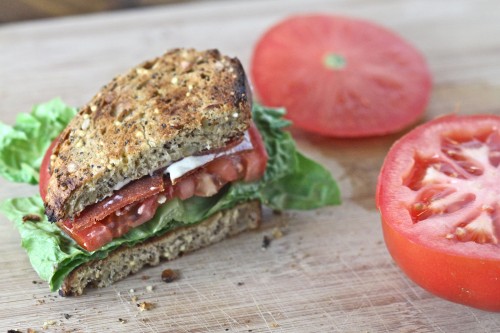 Alfalfa's sake - alfalfa with roast red pepper hummus.
Awesome avo - avocado, mustard, mango chutney and cashews/pine kernels with fresh leaves.
Bloody mary - tomatoes, black pepper, salt and sun-dried tomato paste on olive ciabatta.
'BLT' - Vegan 'bacon'/sandwich slices with lettuce and tomato on thick bread. Optional: include vegan mayo.
Borsch butty - pickled beetroot, caraway, hummus and lettuce.
Chickenless dip - tomato slices and chickpeas mashed with lemon juice, cumin and tahini.
Chocoholic - hazelnut and chocolate spread with banana.
Cool as cucumber - cucumber and cashew butter.
Creamy avocado - hummus, avocado and cucumber.
Eggless mayonnaise - equal amounts of grated vegan hard cheese and grated mushrooms mixed with vegan mayo to taste.
Falafelling about - sliced ready to eat falafel* with spring onions, chilli sauce and shredded lettuce. 
Fungi filler - mushroom pate* with gherkins and red onion.
Greek groove - tomatoes, fresh basil, olives, olive oil and red onion. Optional: make your own vegan feta.
Indian appeal - pre-bought onion bhaji with salad and tahini sauce in pitta bread.
Mock duck - mock duck (or crispy smoked tofu) with black bean sauce, spring onion, shredded Chinese leaves and bean sprouts.
Mole in the hole - guacamole with garlic, sliced vegan sausages (use VBites or other ready to eat brands so you can eat them straight out of the packet!) and salad leaves.
My mate - yeast extract, soft vegan cream cheese and slivers of apple.
Peanut butter and jelly - peanut butter and jam.
Peanut butty - peanut butter with bean sprouts, grated carrots and lettuce. For additional flavour toss the carrot in a little sesame oil.
Pizza di action - red pepper, onion, olives, sun-dried tomato paste, oregano and slices of vegan pepperoni, with or without vegan cheese.
Ploughman's - slices of vegan hard cheese, pickle, sliced apple and lettuce.
Salsa switch - red kidney beans, sweetcorn, jalepeno peppers, tomato paste, onion and gherkins.
Spanish special – vegan chorizo, vegan mayo and salad.
Sweet peanut - peanut butter with grated carrot, raisins and cinnamon.
Tapenade tantalizer - olive pate* with roast red pepper and salad. 
Totally tropical - vegan cream cheese with apricots, pineapple and sunflower seeds.
Tsatsiki tingler - cucumber, plain vegan yoghurt, tahini, mint and garlic with watercress.
Wee willy winkie - vegan sausages with HP sauce and lettuce (hot or cold option).
Wimbledon - homemade vegan cream cheese and strawberries or strawberry jam.
Wonderful waldorf - vegan-friendly mayo*, apple, celery, walnuts and sultanas.
Daring and delicious
Bagpipe bun – Vegan-friendly haggis*, piccalilli (Indian pickles) and salad.
Big burrito - refried beans with lettuce, tomato, avocado and seasoning in a wrap.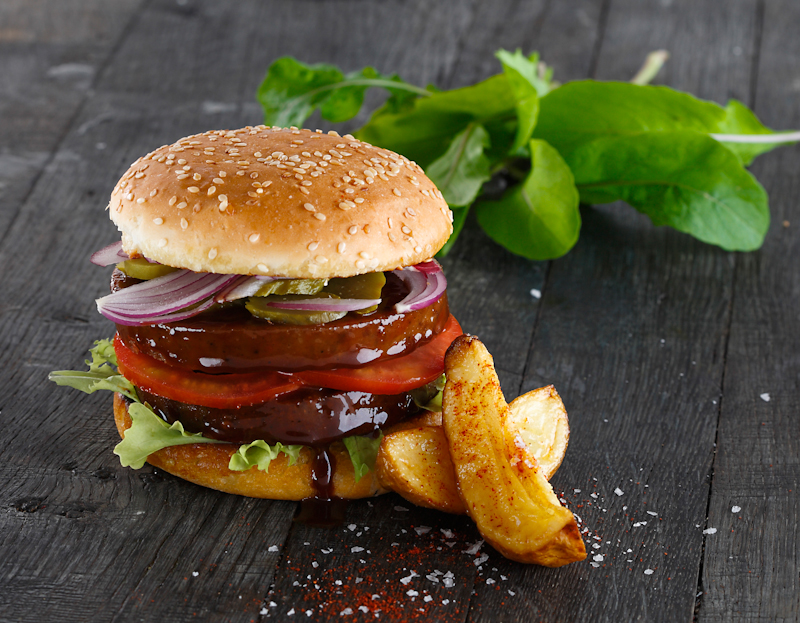 Bounty hunter - creamed coconut, toasted nori, bean sprouts, fresh coriander and lime.
Bubble 'n' squeak - lightly sautéed shredded onion and green cabbage, shredded baked potato, toasted sesame seeds, vegan mayo, black pepper and sea salt.
Burger sandwich - hot vegan burgers with freshly fried onion, mustard and tomato sauce.
Cinderella surprise - grated carrot, red pepper, red onions, zest of orange with toasted pumpkin and coriander seeds, raisins and chillies.
Cocktail cob - strips of smoked tofu*, sweetcorn, lettuce, nori flakes, and capers with prawn cocktail dressing made from vegan mayo, tomato sauce, lime juice, mustard and salt.
Cold dog - vegan frankfurters, sauerkraut*, tomato sauce, mustard and onion. 
Dhal delight - homemade lentil pate with red onion and mango chutney. 
Devil's delight - homemade ginger-marinated seitan with chilli and bean sprouts.
Eggless salad - homemade scrambled tofu, sweetcorn, spring onion, vegan mayo and cress.
Just philly? - soft vegan cream cheese with red peppers, garlic and celery.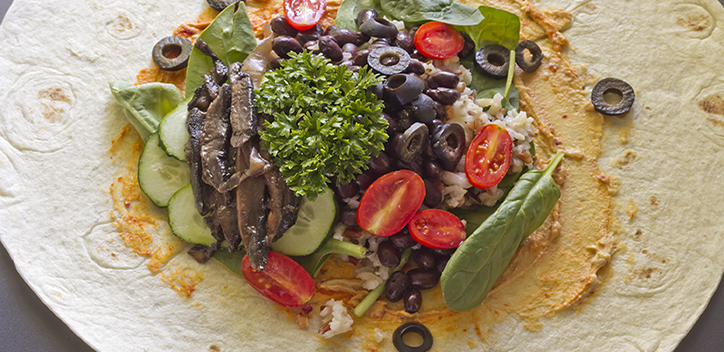 Korma have a go! – Vegan 'chicken' or homemade smoked tofu, curried vegan mayonnaise and crispy lettuce. 
Marinated mushrooms - mushrooms steeped in olive oil, soya sauce, garlic and spring onions for one hour.
Med veg - roast Mediterranean vegetables and hummus on sundried tomato bread.
Monster munch - nut loaf (homemade or bought), salad and pickle. 
Moussaka me gently - roast aubergine, garlic, creamed potato, nutmeg, sundried tomato paste and grated vegan cheese.
Funny bone - homemade olive hummus, red onion and salad.
Polenta pleasure - freshly fried polenta with tomato ketchup and lettuce.
Popeye Picnic - roast spinach, mashed avocado, garlic, salt and black pepper. 
Posh Chip Butty - roast potatoes, rosemary and sesame seeds with watercress. 
Quesadilla - place thinly sliced vegan cheese and tomato between two tortillas making a sandwich (no margarine is required). Toast the tortilla sandwich on both sides in a dry frying pan, cut into quarters and serve with side salad. The tomato will heat and the cheese will melt slightly to produce a quick, delicious snack. Optional: add a can of refried beans too.
Sehr Guttenburger - cashew-nut burger with sauerkraut. 
Squish and chips - fishless fingers and chips with vegan mayo and lettuce.
Sunday roast – Vegan roast, horseradish sauce, alfalfa and red onion.
The day after - leftover bakes/nut roasts etc. with cranberry sauce and salad.
Tuna-friendly salad - homemade flaked smoked tofu, sun-dried tomato paste, vegan mayo and salad.
*Indicates a product which is not Vegan Trademarked. While the company has stated that the product is suitable for vegans, The Vegan Society cannot verify this unless the product is registered with the Vegan Trademark. Why not contact the company asking them to apply for our Vegan Trademark today, so you're secure in the knowledge that their products are free from animal products and animal testing.
Did these help? Why not become a member to support our outreach work - you'll receive great discounts and a magazine, too!
Since you're here...
...please join us as a member and support the vegan movement from just £2 a month. Since 1944, our members have been integral to supporting us as we spread the vegan message, help vulnerable vegans in need and work with institutions and governments to turn the world vegan. As a reward, you'll receive over 120 vegan-friendly discounts, The Vegan quarterly magazine, access to a community of vegans and much more.