European plant milk market set for incredible growth

Figures correct as of September 2019. For 2020 figures please see the 'Plant-based foods in Europe' report.
The markets for all types of plant milk in Europe are on the rise. Well-established companies such as Alpro have positioned themselves as market leaders within Europe and led the way for newer brands, such as Rebel Kitchen, to flourish.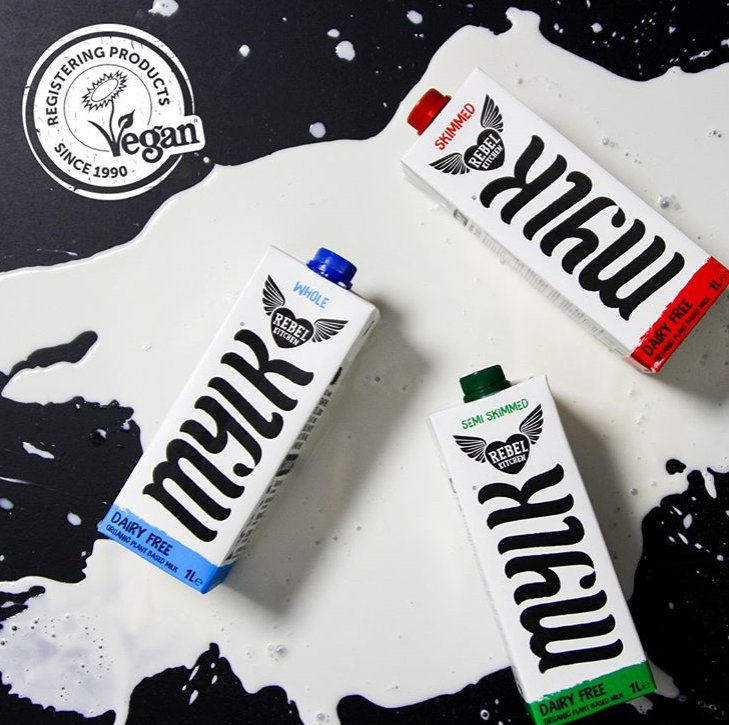 Beverages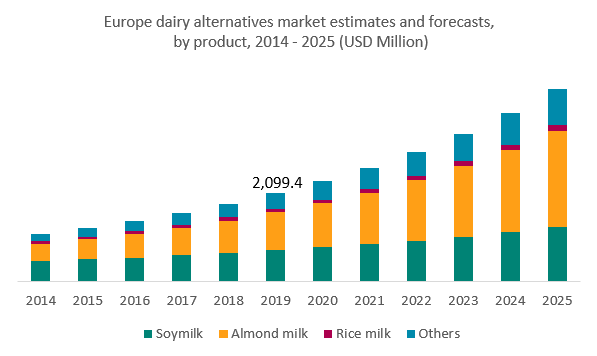 In 2019, data suggested that almond milk led the way, with an estimated CAGR of 16.7% between 2020-2025. Almonds in their edible form are renowned for health benefits, which resonates with other almond products. Almond milk is thicker and creamier than some other plant milks, making it adaptable for both beverages and food products.
Just behind with a forecasted CAGR of 15.2% between 2020-2025 is the 'others' category, comprising of products such as hemp, pea, hazelnut, coconut and cashew milks. Lack of consumer familiarity with these products could have hampered prior growth of the market, particularly as plant milks can have a higher price point. However, there is a large demographic that favour novelty and are more spontaneous in their purchase decisions – millennials. This group is responsible for driving market trends as they are yet to remain in fixed shopping habits. Additionally, as this age group is a growing demographic within the vegan movement, they are crucial consumers within this market.
Next is rice milk with an estimated CAGR of 10.1% between 2020-2025. Despite having a strong market presence within other parts of the world, the popularity of rice milk within Europe is not to the same effect. This is perhaps because rice milk is thinner than other plant milks and used less within the hot drinks that Europeans love.
Finally, there is soy milk. Despite dominating the market until 2015, growth is now slower than other categories, with a forecasted CAGR of 9.6% between 2020-2025. Soy milk is one of the longest-standing plant milks within the market, but perhaps lacks the excitement of novelty compared to other plant milks. However, it is well established and will continue to hold a significant share.
Foods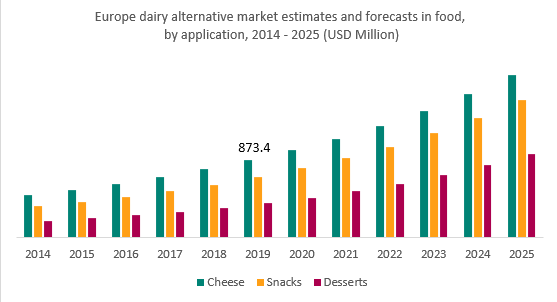 Despite holding the smallest market share, vegan desserts are set for the strongest growth with an estimated CAGR of 15.9% between 2020-2025. The rising availability of indulgent vegan desserts and innovation from industry giants has helped to shape a market for modern consumer tastes. 
Next in terms of forecasted CAGR is the snacks category, just behind with a growth of 14.55% between 2020-2025. This category has varied scope and consists of products such as; yogurts, snack bars, dressings, condiments and sauces.
Finally, the vegan cheese category holds the strongest market share but is growing with the lowest CAGR of 13.0% between 2020-2025. This may be due to regional differences. For example, Germany leads the European vegan cheese market, with it valued at $117 million in 2019 and forecast for a CAGR of 13.3% between 2020-2025. However, uptake is slower in countries where levels of cheese consumption is already very high, such as France. The French vegan cheese industry is valued at $22.5 million in 2019 and is estimated to grow at a CAGR of 11.9% between 2020-2025.
Data from Grand View Research, Inc. 
In August we celebrated World Plant Milk Day 2022, read through our guide to find the best vegan plant milk alternatives and what we would recommend!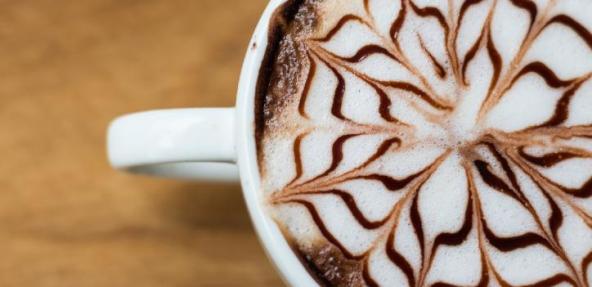 The UK is leading the way

Figures correct as of September 2019. For 2020 figures please...(Read More)