It's Plant Milk Day! This year, we thought we'd update our previous guide to the best plant milks to give you some more information on which vegan milk is best for which purpose, as well as answer some of the top questions about plant milk.

According to research, plant milk is far more sustainable than cow's milk, as producing it requires less water and land. Plant milk production also releases fewer emissions, which is great news for both animals and the planet. The environmental impact of different plant milks is different, however, as illustrated in the chart below. Luckily, there are plenty of different varieties to choose from – and more vegan milk alternatives are hitting the market every year.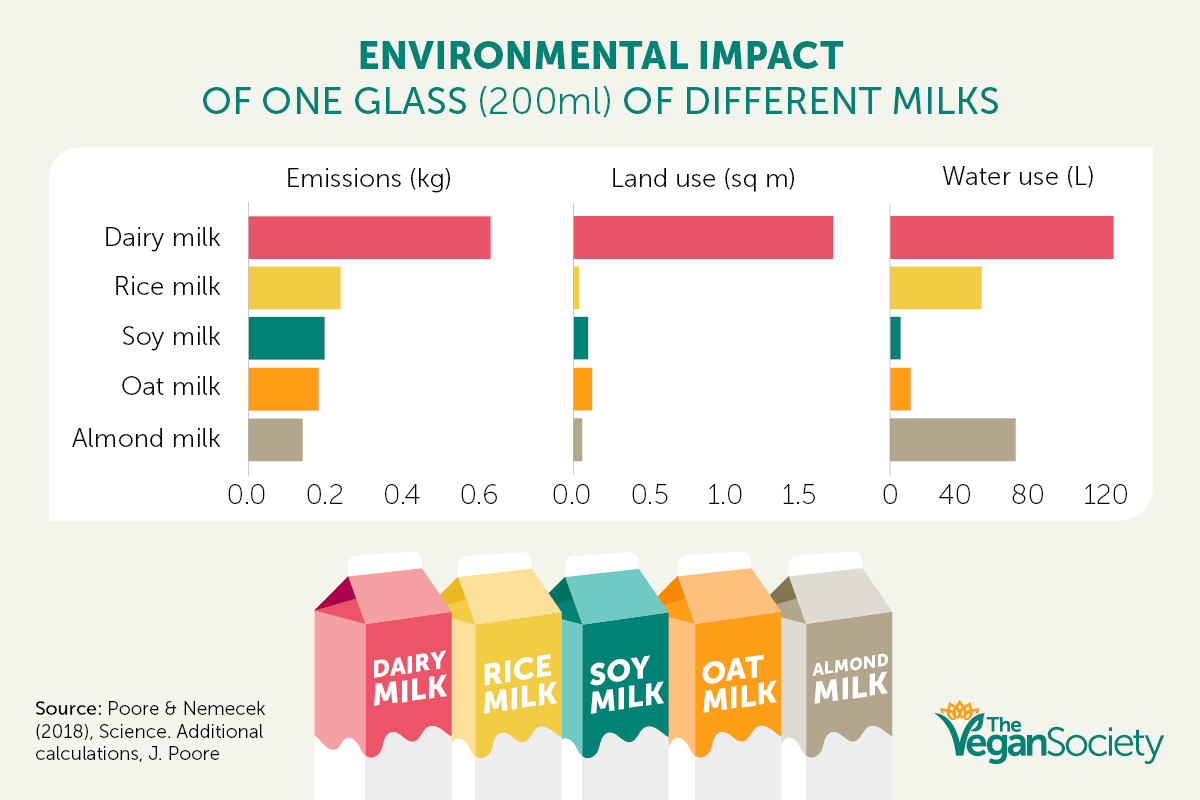 With well over 300 plant milks certified with the Vegan Trademark, it's now easier than ever to choose an alternative to dairy, whether you're a pea milk purist or an oat milk obsessive. When you see the Vegan Trademark used on a product, it means that our skilled team has checked all the ingredients and the making process to ensure they meet our strict standards of being free from animal products.
What vegan milks are there?

Which vegan milk is best for coffee?

Lots of brands are releasing barista versions of their own plant milk alternatives, which are made to be more suited to coffee drinks. Barista products usually contain different additives compared to their regular counterparts, which are there to help with frothing.
There are plenty of Vegan Trademark options for you to try, including Minor Figures Barista Oat, ASDA Oat Barista and  Provamel Oat Barista.
Which vegan milk is best for baking?

Many people suggest that the more versatile plant milks, such as soy, oat and almond, are best for baking, as these have a less watery texture than some alternatives. With higher protein content, they can be a great nutritional addition to your home baking.
Does vegan milk contain enough vitamins and minerals?

If you're thinking of ditching the dairy and opting for plant milk instead, it's great to note that many plant milks are fortified with essential minerals such as iodine. If you're still worried about getting enough vitamins, The Vegan Society's VEG 1 contains essential vitamins and minerals, such as B12, D3 and selenium.
Whether you're looking to make the switch to vegan milk or just want more information on the best uses for plant milk alternatives, we hope this blog was useful for you. Using plant milk in your recipes? Make sure to tag @vegantrademark on Instagram or Twitter to join in the conversation. We'd love to see your ideas!
By Jo Cassin, Brand Marketing Officer
The views expressed by our bloggers are not necessarily the views of The Vegan Society.