Friday, 18 February, 2022
Unsurprisingly, "Februdairy" didn't quite hit it off like the dairy industry intended. We've seen many counter-campaigns over the years, notably: Joaquin Phoenix speaking passionately about the emotional and physical distress dairy causes for the cows and calves involved, not to mention the destruction to the planet in his 2020 Oscars speech. It was even explored more recently in the BBC's February 2022 Panorama episode, 'A Cows Life: The True Cost of Milk?'.

Not only is plant milk better for the animals and you, but research suggests it is also more sustainable than cow's milk. Compared to non-dairy milks, producing a glass of cow's milk results in nearly three times more greenhouse gas emissions, according to a University of Oxford study, as well as significantly more land use.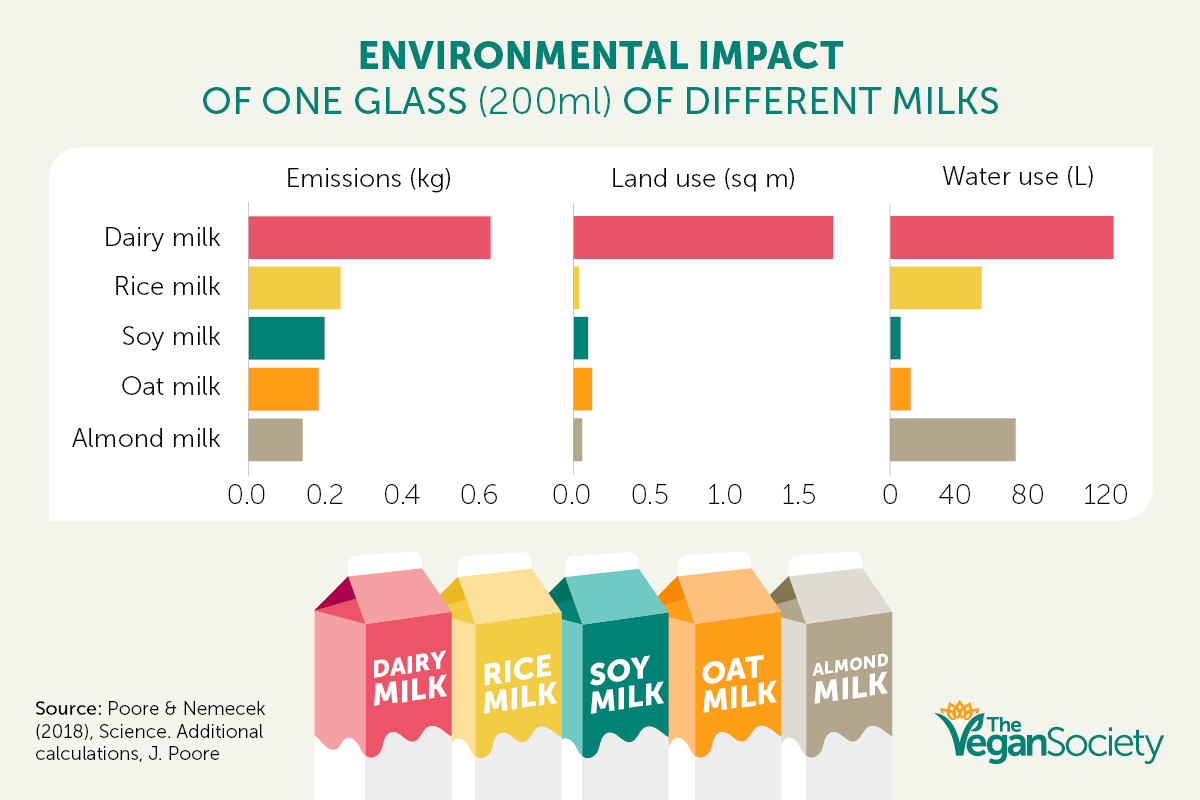 As if we haven't listed enough good reasons to ditch dairy, the array of vegan alternatives available for you to explore and experiment with means it couldn't be easier, or more delicious, to make the switch! We currently have over 300 plant milks certified with the Vegan Trademark, ranging from soya to pea milk, and all widely available – from large supermarkets and cafés to your independent corner shops.
To celebrate this great variety and help you find some new favourites, we've put together a round-up of certified vegan milks (and may or may not have got carried away with giving them personalities)!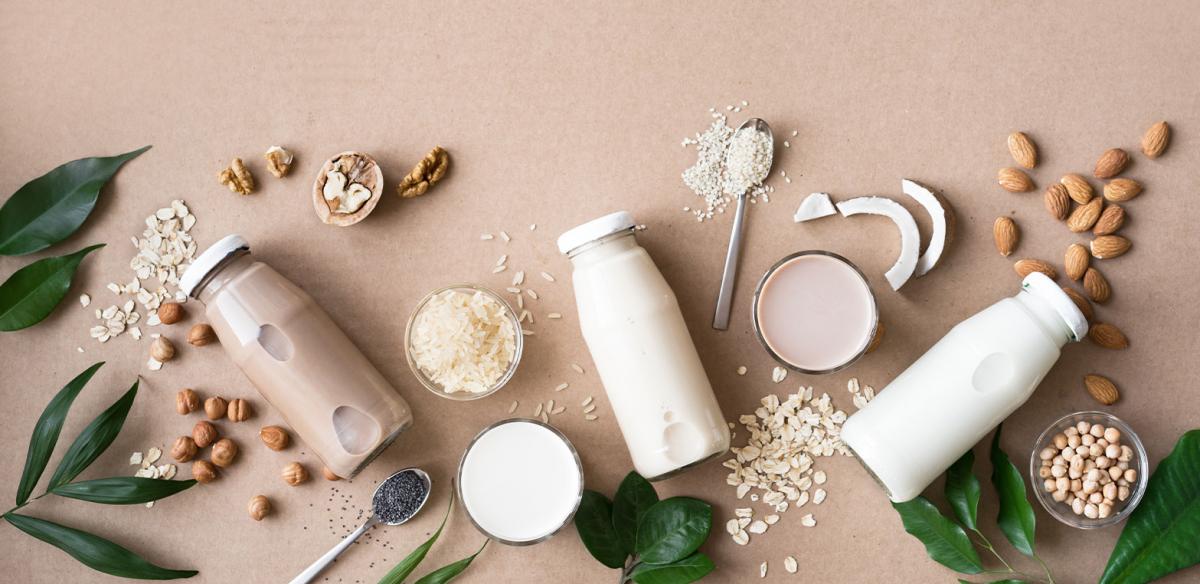 Soya Milk: the trusty old friend

With soya milk being the first product ever registered with the Vegan Trademark, we had to mention this first. Soya milk is a firm favourite the world over and among vegans, and its versatility means it can be used for any purpose, from making a brew to baking a cake. Here is a handful of vegan verified options to try: ASDA's Free From Sweetened Chilled, Sweetened Long Life and Unsweetened Long Life soya milks, Alpro's Soya Original, Organic Unsweetened and Growing Up for your little ones.
Oat Milk: the loveable hipster

It's got everyone talking, many rolling their eyes, but you can't deny it's a pretty robust coffee partner and has taken the world by storm. In fact, it was the most popular plant-based milk of choice in the UK in 2020. Excitingly, one of our newest Vegan Trademark certified additions is Minor Figures Barista Oat. It's not just the quirky packaging and eye-catching ads that make it one to reach for, it gets major figures for sustainability, too. Not only is oat milk one of the most planet-friendly plant milks, requiring a fraction of the water and land needed to produce cow's milk (no methane burps here!), but Minor Figures is also Carbon Neutral and uses recyclable packaging.
Other verified oat milks include: ASDA Oat Barista and Chilled, Ecomil Oat Drink, Provamel Oat Original and Oat Barista, and Alpro Oat Original, No Sugars and Growing Up.
Almond Milk: the sophisticated one

It's reported that the earliest document seen that mentions almond milk was in 1266, as an ingredient in Kitab al-tabik [A Baghdad Cookery Book], by al-Baghdadi et al. A timeless classic you could say! And if you ask us, adding almond milk to anything (chocolates, tea, desserts...) always gives it a little bit of a sophisticated edge. Check out Innocent's Almond Dairy Free, ASDA's Free From Unsweetened Chilled and Unsweetened Long Life almond milks, and Alpro's Almond Original, No Sugars and Caramelised for an intensely creamy option!
Alpro My Cuppa: your brew bestie

Last year, Alpro launched a plant milk they were so confident was perfect for a classic British cup of tea that they called it 'My Cuppa'. Made with a unique blend of soya, vegetable oils and fats and chicory root fibre, it's designed to be your brew bestie, whether you like it dark, stand-a-spoon-in-it strong or a delicate shade of pale.
Coconut Milk: the versatile one

Whether you utilise it in your hot drinks (hot chocolates in particular!), cereal, smoothies, cocktails, baking, desserts or simply on its own, this versatile plant milk wears lots of hats. And if you've never tried it in a vegan version of the Indian rice-pudding style dessert, Kheer, it's a must! Now for some suggestions; try Koko Dairy Free's Original and Unsweetened coconut milks, Vita Coco's Coconut Milk Original, Rebel Kitchen's coconut-based Whole Mylk, ASDA's Free From Chilled and Long Life coconut milks and Alpro's Coconut Original, No Sugars and Chilled No Sugars.
Cashew Milk: the heavy-duty one

This thick, creamy plant milk will not only make your drinks and cereals richer and more indulgent but it's great for elevating your cooking and desserts, too. Many have commented on its taste being the most similar to cow's milk, in comparison to other nut milks. For vegan verified options, check out Alpro's Cashew Original and Ecomil's Cashew Drink Sugar Free.
Hazelnut Milk: your cool new pal (trust us)

If you're nuts about hazelnuts, or even if you're not – you need to give hazelnut milk a go! You know it tastes good in chocolate, but adding this nutty deliciousness to your tea, coffee, cereal and more is going to be like the cool new pal you just can't get enough of. But don't just take our word for it! Try Innocent's Hazelnut Dairy Free, ASDA's Free From Hazelnut Drink, Ecomil's Hazelnut Drink Sugar Free or Alpro's Hazelnut Original, and let us know what you think.
Hemp Milk: the hippy

If there were a milk that wore only organic cotton, lived off-grid growing its own food and told you all about the benefits of CBD, we'd say it was hemp the hippy! You might dismiss the taste of this seemingly kooky herbal milk, but it has a surprisingly light and nutty flavour which makes it great for smoothies and cooking, as well as your tea and cereal. Try these options: Good Hemp's Seed Milk and Barista Seed Milk.
Pea Milk: the one you didn't know you needed in your life

Another one you might have dismissed! Newer to the scene, and as some of us here at The Vegan Society have found, it can be hard to convince people of the wonders of pea milk. We think it has the potential to be another versatile classic like soya milk. Look, all we are saying is give peas a chance! Dip your toes in (not literally) with Wunda Plant Based Not Milk in Original and Unsweetened, powered by protein from yellow split peas. They're both gluten-free and low in salt and fat, with Wunda Original being low in sugar and Wunda Unsweetened being sugar-free.
Let's talk about iodine

Cow's milk is a source of iodine and if you're thinking of ditching dairy, you may be worried about getting enough. Fear not! Iodine fortification of milk and yoghurt alternatives is becoming more common. ASDA's Vegan Trademarked soya, oat, almond, coconut and hazelnut milks are all fortified with iodine. But please note, you will need to consume around 500ml of iodine-fortified plant milk daily to get enough of this essential nutrient. Alternatively, The Vegan Society's multivitamin VEG 1 has you covered! Great for vegans and non-vegans alike, it contains 150µg which is 100% of your daily recommended iodine along with other essential vitamins and minerals like B12, D3 and selenium. With seven essential nutrients rolled into one chewable tablet, VEG 1 is the hassle-free way to ensure that your nutritional needs are being met.
We hope you've enjoyed exploring plant milks with us and found some new favourites amongst them! There are, of course, so many more. If there's a Vegan Trademarked plant milk we haven't mentioned and that you absolutely love, let us know about it and tag @vegantrademark on Instagram and Twitter to help others discover some new gems, too.
By Vegan Society Brand Marketing Officer, Nishat Rahman.
The views expressed by our bloggers are not necessarily the views of The Vegan Society.