There is something unique about how much some people like chocolate. Nowadays you can find cake recipes that have 'double', 'triple', or even 'quadruple' next to the word chocolate in the title, and although this sounds already excessive in most cases, I bet that if we let this trend go on for a few more years, we might actually end up in double digits.
Since we are really passionate about flavours, it is our understanding that a good chocolate ingredient doesn't need anything else to express its full potential, and for that reason it is best enjoyed on its own, or in combination with a few other ingredients. For this reason, we always liked this recipe, because despite the fact that it only has cocoa powder to give it a chocolatey flavour, it is really quite delicious, and it has now been tested a few hundred thousand times by people from all over the globe, with great results.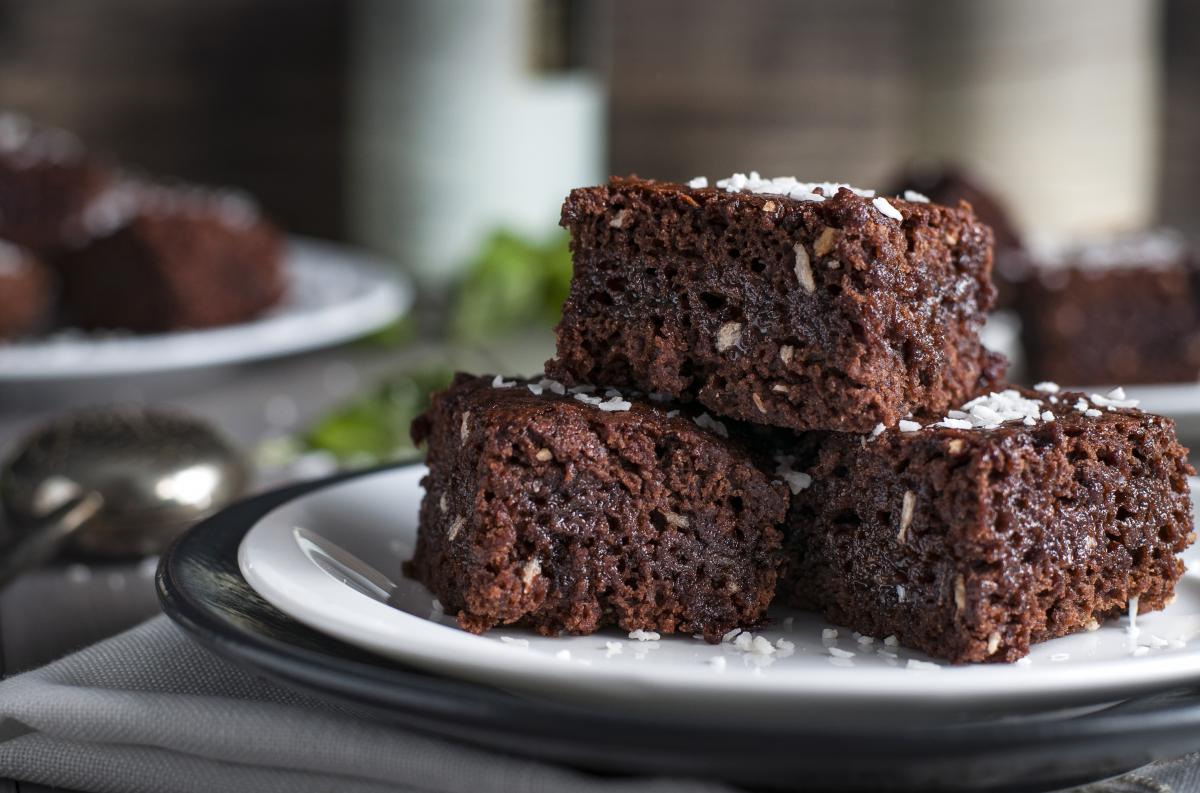 Ingredients

110g (3.9 oz) plain flour
20g (0.7oz / 1⁄4 cup) cocoa powder
¾ tsp baking powder
10g (0.3 oz / 2 tbsp) desiccated coconut
190g (6.7 oz / 1 cup) granulated sugar 
50g (1.7 oz / 2 tbsp) golden syrup 
120g (4.2 oz / 1/2 cup) soy milk 
5 drops vanilla extract
Method

To begin with, preheat the oven to 180°C (360°F).
Sift the flour, the cocoa powder, and the baking powder into a bowl.
Add the coconut, the sugar, the syrup, the milk and the vanilla into the bowl, and whisk the ingredients to combine them, and complete the batter.
Pour the batter into a greased 20 centimetres (8 inches) round pan, and bake the brownies for 20 minutes in the preheated oven, remembering to rotate the pan halfway through the cooking time.
Before removing the brownies from the oven, pierce them with a toothpick to ensure that they are cooked. If they are, the pick will come out dry and with no mixture on it.
Recipe taken from The Best of The Corner - Proven to Be Good (e-book) by The Vegan Corner. 
A video version of this recipe is available here. 
If you'd like to buy The Vegan Corner's e-book, you can do so here.