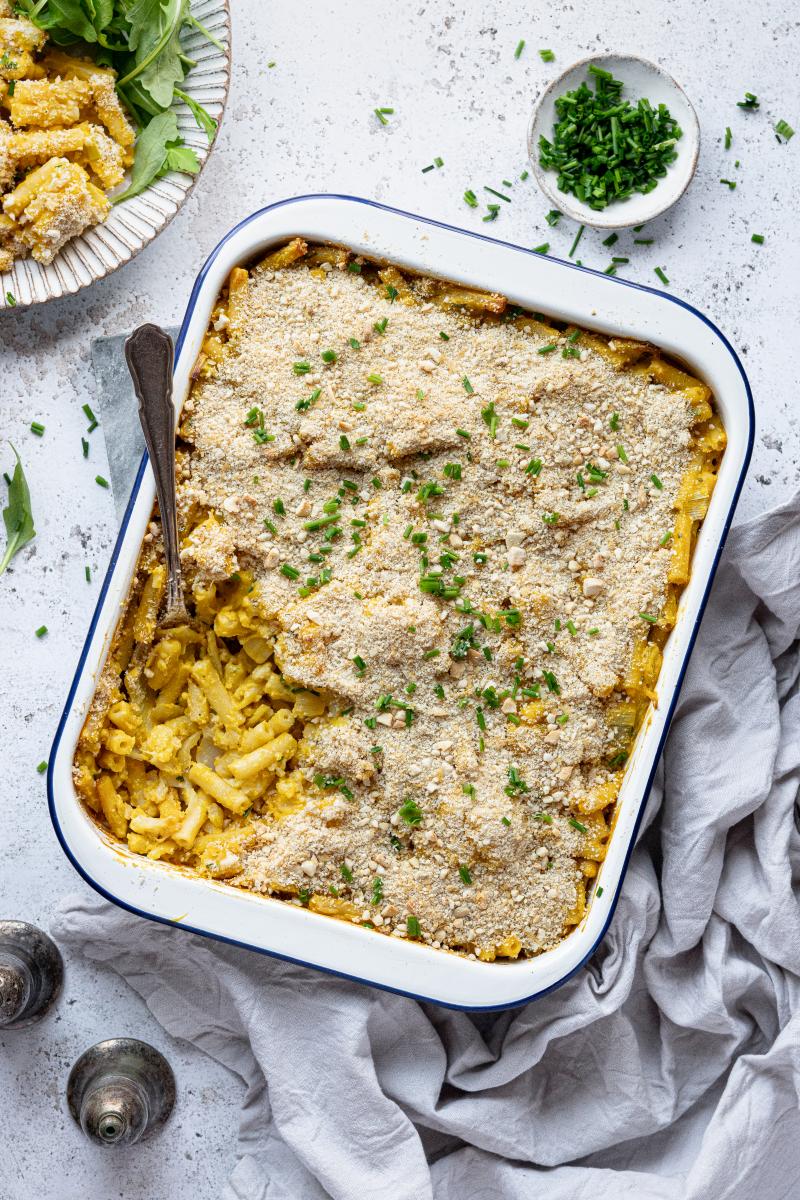 Serves 4 people
Preparation Time: 20 minutes
Cooking Time: 35 minutes
Ingredients

300g dried macaroni
1 head of cauliflower
1 medium carrot (chopped/diced)
100g cashew nuts
100ml aquafaba (juice from 1 can of chickpeas)
3 tbsp corn flour
1 tsp coconut oil
1 small onion (diced)
½ leek (washed and diced)
2-3 cloves of garlic (crushed)
1 bunch of fresh chives (finely chopped)
2 tbsp breadcrumbs
3 tbsp nutritional yeast
Method

Place carrot and 60g cashews in a pot, cover with water and bring to boil. Cook for 20 minutes until soft.
Heat oil and sauté onions, leeks and garlic in a pan until soft.
Separate cauliflower into florets. Boil macaroni and cauliflower separately, until al dente.
Drain carrots and cashews, reserving water. Add carrots, cashews, aquafaba, corn flour, coconut oil and nutritional yeast flakes to a blender, blend until a smooth creamy texture. Add reserved water as needed, season with salt and pepper.
Combine mixture with the onions, leek, garlic and chives and mix well.
Combine the cauliflower and macaroni and coat with the creamy sauce mixture. Place in a casserole dish.
Combine 40g crushed cashews, breadcrumbs and nutritional yeast flakes and sprinkle over the macaroni and cauliflower mix.
Place in a preheated oven at 180◦C for 10-15 minutes until topping has browned.
Sprinkle with remaining chopped chives and serve with a side of your choice.
Photo credit: Hannah Hossack-Lodge, https://domesticgothess.com/