Serves: 4-6
Cooking Level: Easy-Medium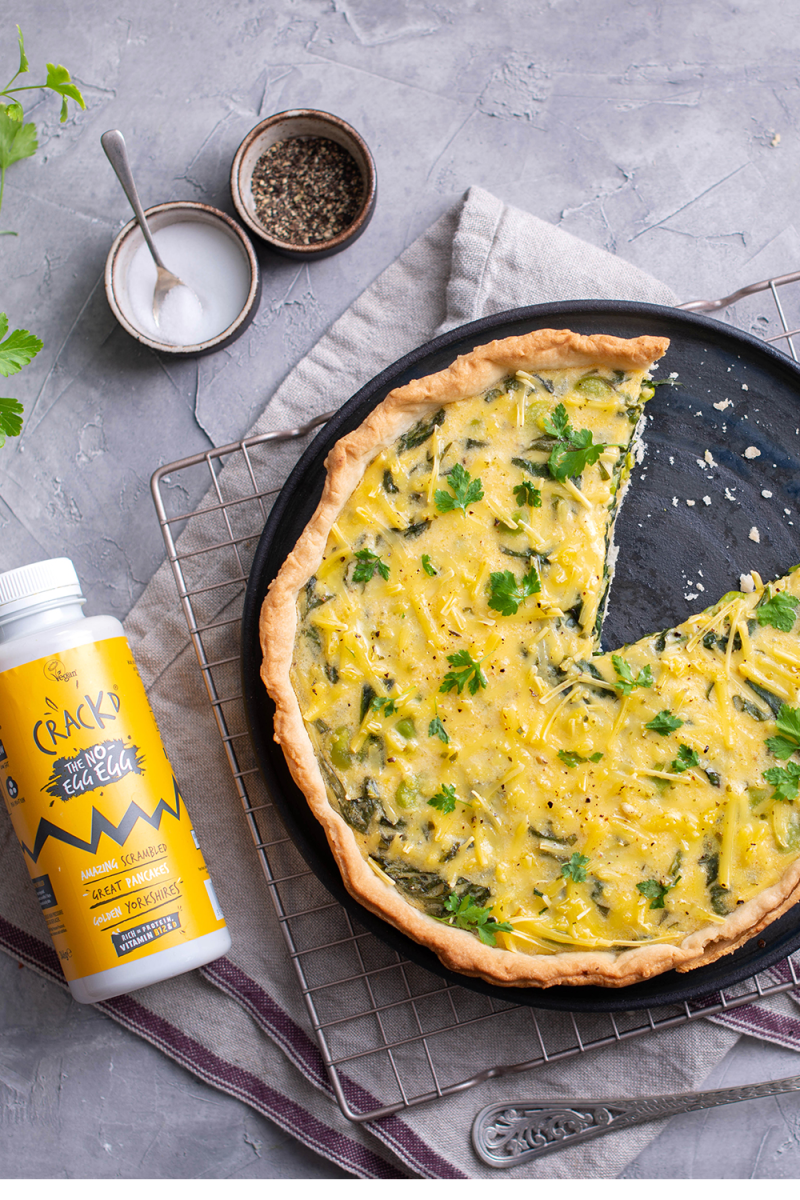 Time: 80 minutes
Ingredients

For the pastry:

125g Plain flour
50g Plant based butter
2 tbsp Plant based milk
Pinch of salt
(Or 250g ready rolled short crust pastry)
For the filling:

240g Crackd The No-Egg Egg
180g spinach lightly chopped
100g Plant based double cream
100g Vegan grated cheeze (we used Applewood)
60g cooked broad beans (skin removed)
2 tablespoon cornflour
1 tablespoon chopped fresh tarragon.
½ teaspoon nutmeg
½ teaspoon salt
¼ teaspoon ground black pepper
Method

To make the pastry sieve the flour and salt into a bowl.
Add the butter and rub together with your fingertips until you get a breadcrumb like texture.
Add the milk a little at a time and bring the ingredients together into a dough.
Cover and rest in the fridge for 30-45 minutes.
Roll out the pastry and line a 20cm flan tin with the pastry, return to the fridge for a further 30-45 minutes.
Line the pastry case with greaseproof paper and fill with the baking beans before placing into a pre-heated oven at 190°C.
Bake for 15 minutes before removing the baking beans and greaseproof paper, set the pastry case to one side and reduce the oven temperature to 140°C.
Place the spinach in a dry pan with a lid on and gently heat until the spinach has wilted (approximately 5 minutes), drain off all excess water and place on a couple of sheets of kitchen paper to absorb as much moisture as possible.
Beat together the Crackd The No– Egg Egg, plant based cream, 70 grams of the cheese, cornflour, salt, pepper and nutmeg until smooth.
Add the spinach, broad beans and tarragon to the Crackd mixture and stir together until evenly mixed.
Pour the mixture into the pastry case and sprinkle the remaining cheese on top.
Place the quiche on the middle shelf of the oven and bake for 45 minutes until set and golden.
Recipe by Crackd.