A comfort food classic with a twist from the wonderful Tiff Williams of @veganattiffs.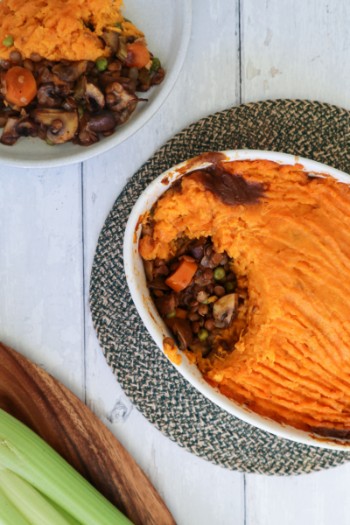 Ingredients

850 g sweet potato, peeled and chopped
30 g vegan butter
1 tbsp cooking oil
1 medium brown onion, finely chopped
2 garlic cloves, finely chopped
2 carrots, chopped
1 celery stick, chopped
450 g chestnut mushrooms, roughly chopped
1 tbsp dried thyme
1 tbsp all-purpose seasoning
Salt and ground black pepper
1 tin green lentils, drained and rinsed
100 g frozen peas
1 tbsp tomato paste
250 ml vegetable stock
TIP: Find all-purpose seasoning in the World Foods section of your local supermarket, or in Asian and African/Caribbean shops
Method

Boil the sweet potatoes in a pot until soft (roughly 25 minutes). Once soft, mash them with the butter and set aside.
Preheat the oven to 180 °C. Meanwhile, add the oil to a large, deep pan. Add the onions and garlic and fry them until they are fragrant. Then add the carrots and celery, and fry for a further 3 minutes. Then add the mushrooms along with the dried thyme, all-purpose seasoning, salt and pepper (to taste). Continue to stir throughout and allow to fry for another 7 minutes.
Add the lentils and peas to the pan. After 2 minutes, add the tomato paste and vegetable stock, mixing it all together. Allow everything to simmer for around 15 minutes.
Butter your baking dish, and transfer the mushroom and lentil mix into it. Top it off with the mashed sweet potato.
Bake the pie in the oven for 25 minutes and allow it to cool before serving.