As a vegan Latina, palmito (the Spanish nickname for hearts of palm) ceviche is my go-to 5-minute recipe that is protein-packed, nutritious, easy to make, and culturally appropriate.  
Palmitos are a staple in many Latinx households. I'm Uruguayan-American and grew up eating hearts of palm straight from the can with salsa rosa – a mixture of ketchup and mayo. As hearts of palm were usually served as an easy appetiser, I had always assumed the heart of palm was just empty calories as they are quite watery and lacked a strong flavour.  
I spent the first few years of the pandemic in my fatherland (world-famous for meat consumption) and I struggled to find adequate protein sources. Heart of palm was regularly available and was easy to use as a fish replacement. I'd often make a palmito 'tuna' salad. I found that on the days I ate hearts of palm I felt full for longer and had more energy. This led me to look into the nutritional value of the heart of palm. I found that this plant is low-calorie and jampacked with nutrients that are critical for a healthy plant-based diet including protein (containing 17 amino acids), fibre, iron, zinc, magnesium, antioxidants, and more. 
Better yet – the food is extremely versatile. When I moved to Mexico, I saw several places that used lentils to make ceviche. Inspired, I decided to try making a vegan ceviche using hearts of palm in a similar method that I was already utilising to make the 'tuna'. Palmitos are a great protein-rich, vegan substitute for ceviche as they can be prepared to have a fish-like texture when pulled apart by hand or pulsed in a food processor for a few seconds. I dress up the ceviche with chunks of mango and avocado slices. Even without these additions, the dish is very reminiscent of fish ceviche with lime, red onion, nori sheets and coriander. 
Palmito absorbs flavour well and even non-vegans who have tasted my vegan ceviche are shocked to learn it is fish-free. It is my favourite thing to bring to parties as it's low-cost and always a crowd-pleaser, even amongst my Mexican friends who grew up eating fish ceviche. Vegan ceviche makes for a flavourful and nutritious meal. Traditionally, ceviche is enjoyed with corn tortilla tostadas. As I'm allergic to corn, I prefer to serve mine with plantain chips.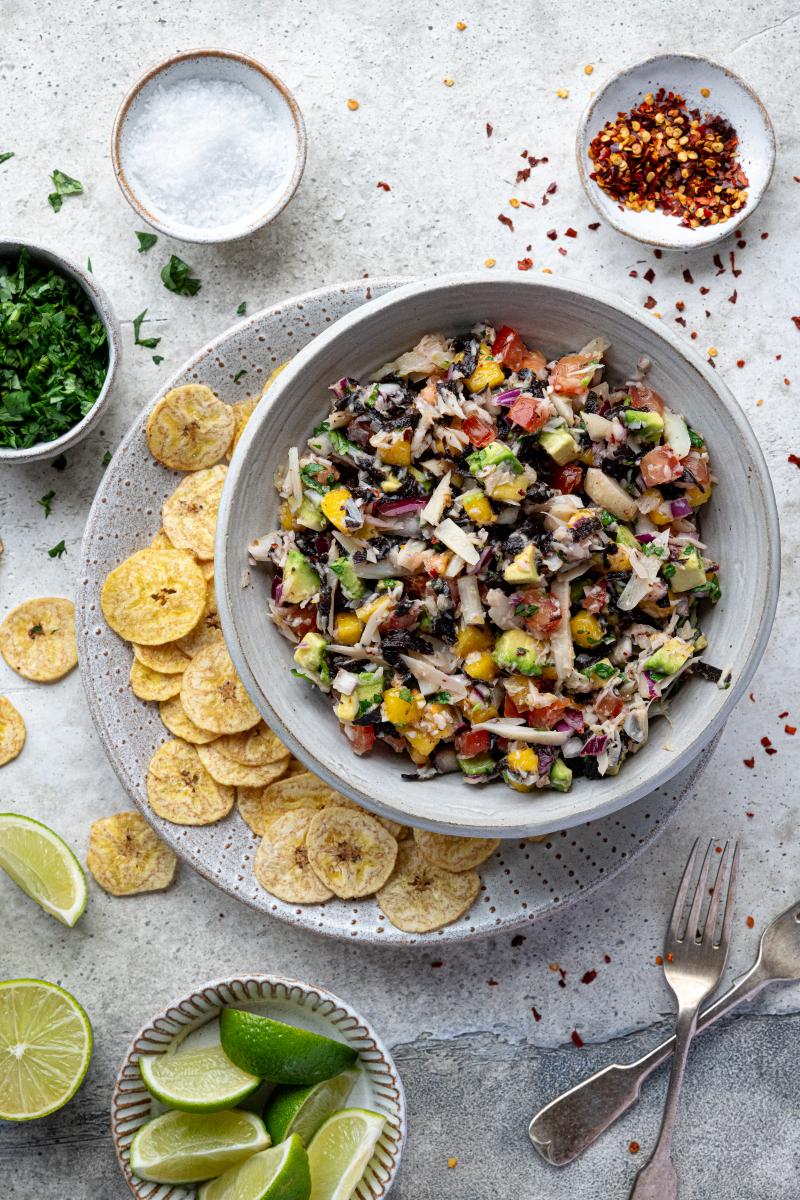 4 servings
Ingredients 

1 can heart of palm (400 g) 
1 pack seaweed sheets (10-20g) 
1 small red onion 
1 medium-sized mango  
1 tomato 
2 limes 
1 avocado 
1 tsp red chilli flakes 
1 tbsp fresh coriander 
Salt to taste 
Method 

Drain the hearts of palm and mash with a fork or place in a food processor and blitz for several seconds. The goal is a shredded-fish-like texture, similar to canned tuna. Move to a medium-sized mixing bowl. 
Juice both limes and pour the lime juice over the heart of palm in the mixing bowl. 
Chop the tomato and add to the mixing bowl. 
Dice the red onion and add to the mixing bowl. 
Cube the mango and add to the mixing bowl. 
Tear, or use sanitised scissors to cut the algae into small strips. Add to the mixing bowl. 
Add red chilli flakes and salt to taste. 
Stir everything into the mixing bowl until all ingredients are well-coated in lime. 
Cover the mixing bowl and place the vegan ceviche in the fridge to marinate for at least an hour, or overnight. 
When you're ready to serve, cube the avocado and mix it into the ceviche.  
Chop the fresh coriander and mix it into the ceviche. 
Serve with corn tortilla chips or plantain chips. 
Prepare small bowls of salt, chilli pepper flakes, lime and coriander so your dinner guest can adjust the taste to meet their preferences, as needed! Enjoy!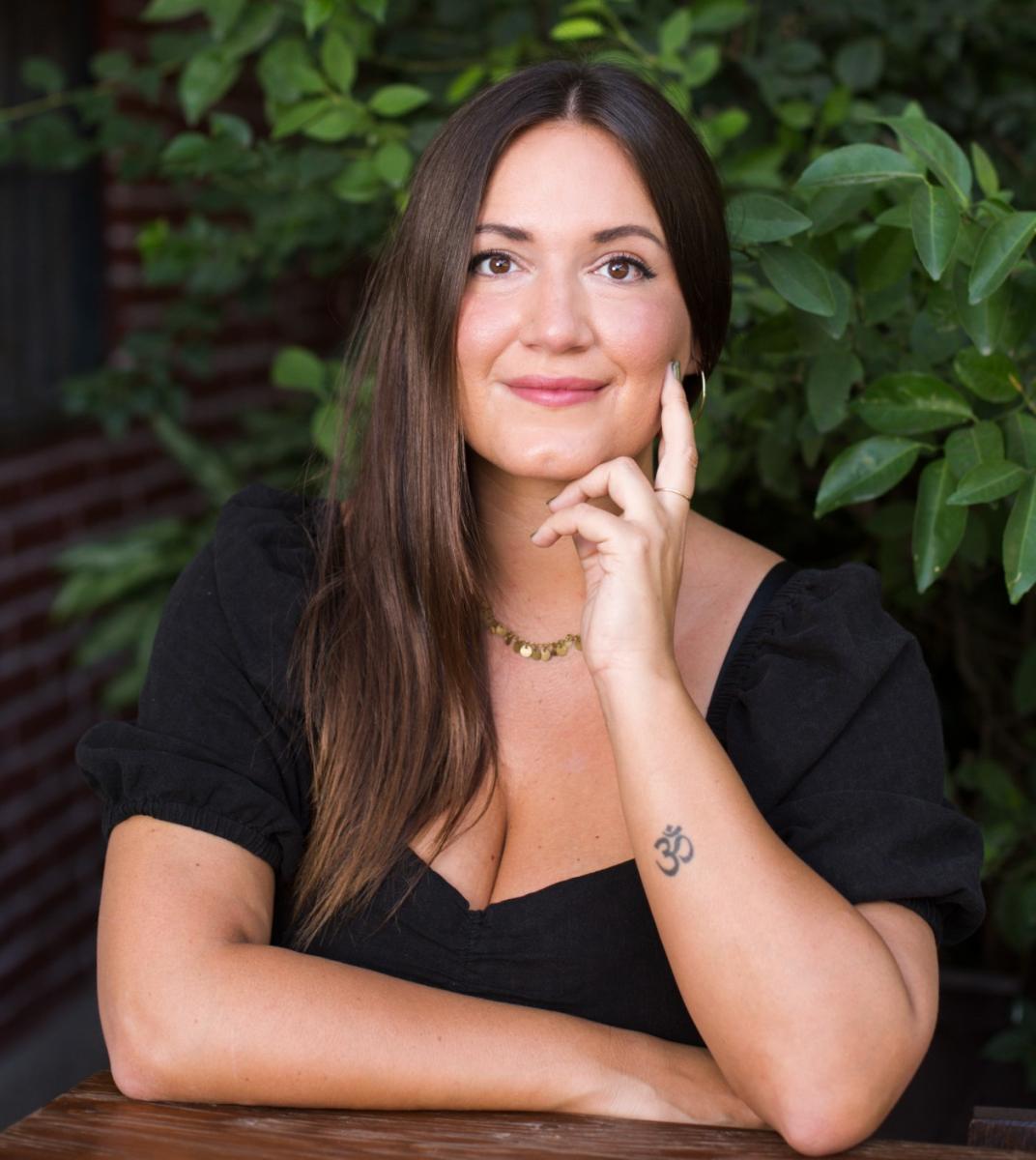 By Lola Méndez 
Lola Méndez is a Uruguayan-American freelance pansexual journalist. She writes about veganism, sustainability, travel, culture, and wellness for many print and digital publications such as CNN, USA Today, InStyle, and Refinery29. In addition to her responsible travel blog, you can follow her on Instagram, Facebook and Twitter @LolaAnnaMendez.