With lockdown restrictions in the UK easing and the days getting longer and brighter, it's time to start getting excited about Easter! We're all about the chocolate, but if you're looking for other Easter-themed treats or an Easter gin (yes, really!), then we've got you covered.

This may be your first vegan Easter, or you may be so seasoned that the options available now are overwhelming, but wherever you are in your journey, The Vegan Society is here to highlight some great options for you or your vegan loved one to enjoy this Easter. All of the products mentioned are registered with the Vegan Trademark so you can shop with confidence, knowing we have ensured they are suitable for vegans.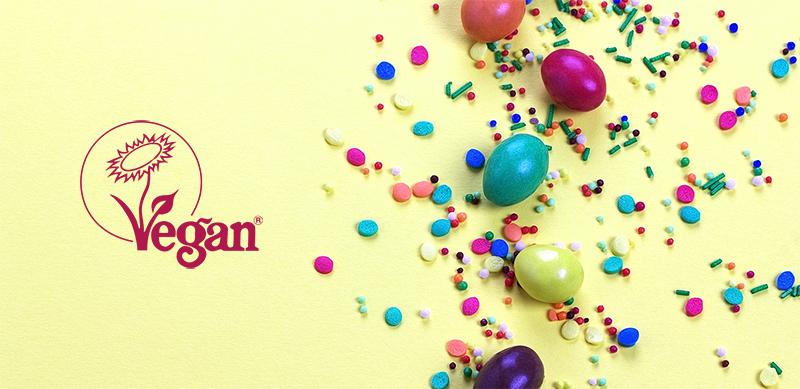 Chocolate

What would Easter be without an overindulgence of chocolate? There's such a range available to vegans now that you're definitely not going to be missing out on your favourite treats this Spring.
Mummy Meagz

Mummy Meagz have added some new Easter treats to their line-up this Spring! The Sunnycomb bar is a delicious, vegan take on classic chocolate-coated crunchy honeycomb bars. There is also the Dark Choccie Orange Easter Egg and Bar, and the Smoove Moove Easter Egg: sumptuously smooth dark chocolate blended with vegan mylk chocolate. Available at Holland & Barrett or directly from Mummy Meagz.
Asda

Asda is swiftly becoming a go-to destination for Vegan Trademark products with a wide selection that is affordable and widely available. If you're planning an Easter hunt, you could check out their Free From Easter Egg Selection, which has three eggs: choc with raspberry pieces, white choc with vanilla, and one dark chocolate with cocoa nibs. A fun addition to the hunt would be the Free From Choc Easter Bunny, so why not embrace the fun and plan an Easter egg hunt in your garden this year? Also available at Asda is a selection of large Easter eggs in delicious flavours, including Choc Honeycomb and Choc Orange. Browse the full range here.
Ananda's Easter Round Up

For a snack, you could try an exciting vegan alternative to the British favourite: wagon wheels. Ananda's Easter Round Up is a limited edition treat with aromatic maple marshmallow sandwiched between two chocolate biscuits with a blueberry jam centre and rolled in Belgian chocolate. Available direct from Ananda and other stockists.
Moo Free

An oldy but a goody, Moo Free's delicious and affordable Easter range is widely available across UK supermarkets. You can choose from various flavours, but they currently have a special offer of 20% off on their Organic Cherry or Mint Egg flavours with the code Easterpremium! If that's not egg-citing (I'm sorry), I don't know what is!
Divine Chocolate

Divine Chocolate's growing collection of Vegan Trademark certified Easter eggs are not only kinder to animals but are also Fairtrade, and the egg boxes are now plastic-free too. You could try the Hazelnut Truffle Egg, Raspberry Egg, Luxury Dark Chocolate Egg with Mini Eggs, or Dark Mini Eggs. They're all palm oil-free and available at Ocado, Waitrose, Wholefoods and divinechocolate.com. You can now also find the Hazelnut and Raspberry eggs at Tesco.
Costa Coffee

Level up your Costa Coffee take-out order with their vegan Hopping Bunny Gingerbread. This cute new addition is widely available across the UK. They have also welcomed a new chocolate treat in collaboration with BOSH! – the Ultimate Chocolate Slice. It's made up of a tiffin base with toppings of chocolate, fudge and cookie pieces.
Savoury Treat

If you're more of a savoury snacker, then Lakeland Bake's Easter Bunny Crumpets are just the thing. They're light and fluffy and who doesn't love a novelty shaped crumpet? Enjoy them for breakfast (lunch, and dinner) with the family, topped with Naturli's Vegan Spreadable for an indulgent, buttery taste. And if you just can't resist a sweet addition, Sweet Freedom's chocolate spread or syrups are a great choice.
Easter Tipple

So you're not a sweets person? That's cool. Or you are, and you just want the perfect grown-up treat for your chilled out Easter Sunday? Also cool. Tappers Eggcenctric Gin is a floral juniper gin with hints of dark chocolate and vanilla that would pair beautifully with clementine tonic and an orange peel for a refreshing spring drink. If you're feeling more adventurous, try your hand at a homemade cocktail for your (safe) garden gatherings. For an Eggspresso Martini mix 45ml Eggcentric Gin with 30ml freshly brewed espresso coffee and 20ml coffee liqueur.
We hope this blog has been a helpful round-up of some of the great vegan options available to you this Easter, and thankfully, we managed to keep the Easter puns to a minimum! If we've missed your favourite Vegan Trademark certified Easter treat off this list, tag us in your social media posts and tag @vegantrademark on Instagram and Twitter to help others discover new products.
We wish you a safe and happy Easter however you're spending it!
By Vegan Society Marketing Assistant, Charis Collier
The Vegan Society does not endorse brands that register with the Vegan Trademark but seeks to inform consumers on some of the vegan options available to them. We encourage consumers to make their own purchasing decisions.
The views expressed by our bloggers are not necessarily the views of The Vegan Society.