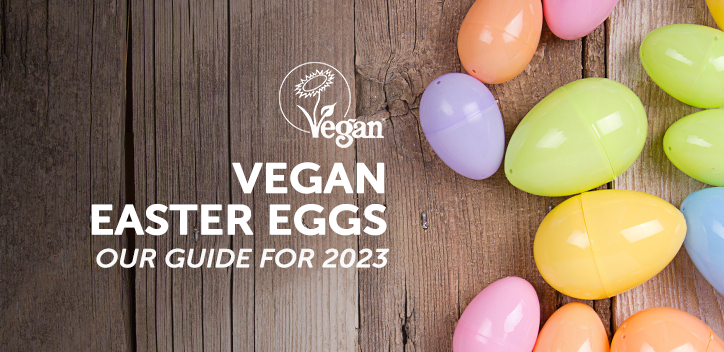 Thanks to growing demand for vegan Easter egg alternatives, many vegans are now spoilt for choice with the options available.⁠
From classic chocolate eggs to spring-themed treats, we've highlighted some great options for you to enjoy or gift to another vegan this Easter.
As always, the products we've mentioned are certified with the Vegan Trademark, meaning you can be confident that we've checked each one thoroughly to ensure they are suitable for vegans.
We've also highlighted where you can buy them in supermarkets across the UK or online, so it's quicker and easier than ever to grab what you're looking for!
Vegan Easter Eggs

What better time to explore a new vegan chocolate option than Easter? There's such a huge range of dairy free chocolate Easter eggs available that now, you'll be able to choose from a variety of different flavours, meaning you don't have to miss out on the chocolate indulgence this Easter, whether you're a fan of dark chocolate decadence or the creamy texture of vegan milk chocolate.
Moo Free Chocolate Eggs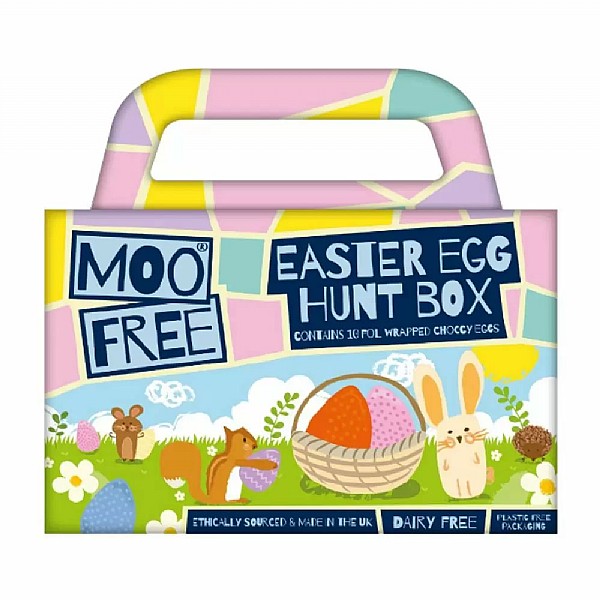 Moo Free have a broad range of delicious and affordable Easter treats and vegan Easter eggs to try this spring. Plus, they're widely available across supermarkets nationwide in a variety of options, including "Bunnycomb", Orange, and they even offer a dairy free, vegan Easter Egg Hunt box.
Divine Dark Chocolate Vegan Easter Eggs

Divine Chocolate have a wide array of indulgent dark chocolate vegan Easter eggs that are also registered with the Vegan Trademark. Not only are these dark chocolate Easter eggs vegan, but they're also Fairtrade, and come in plastic free packaging. If this sounds like something you or a loved one would like, try their Dark Chocolate Egg, Dark Raspberry Egg, Luxury Dark Chocolate Egg with Mini Eggs, or Dark Chocolate Mini Eggs. What's more, they're all palm oil free, and many are available at Ocado, Waitrose and Wholefoods. To shop the full range, you can visit divinechocolate.com.
Mummy Meegz Chuckie Egg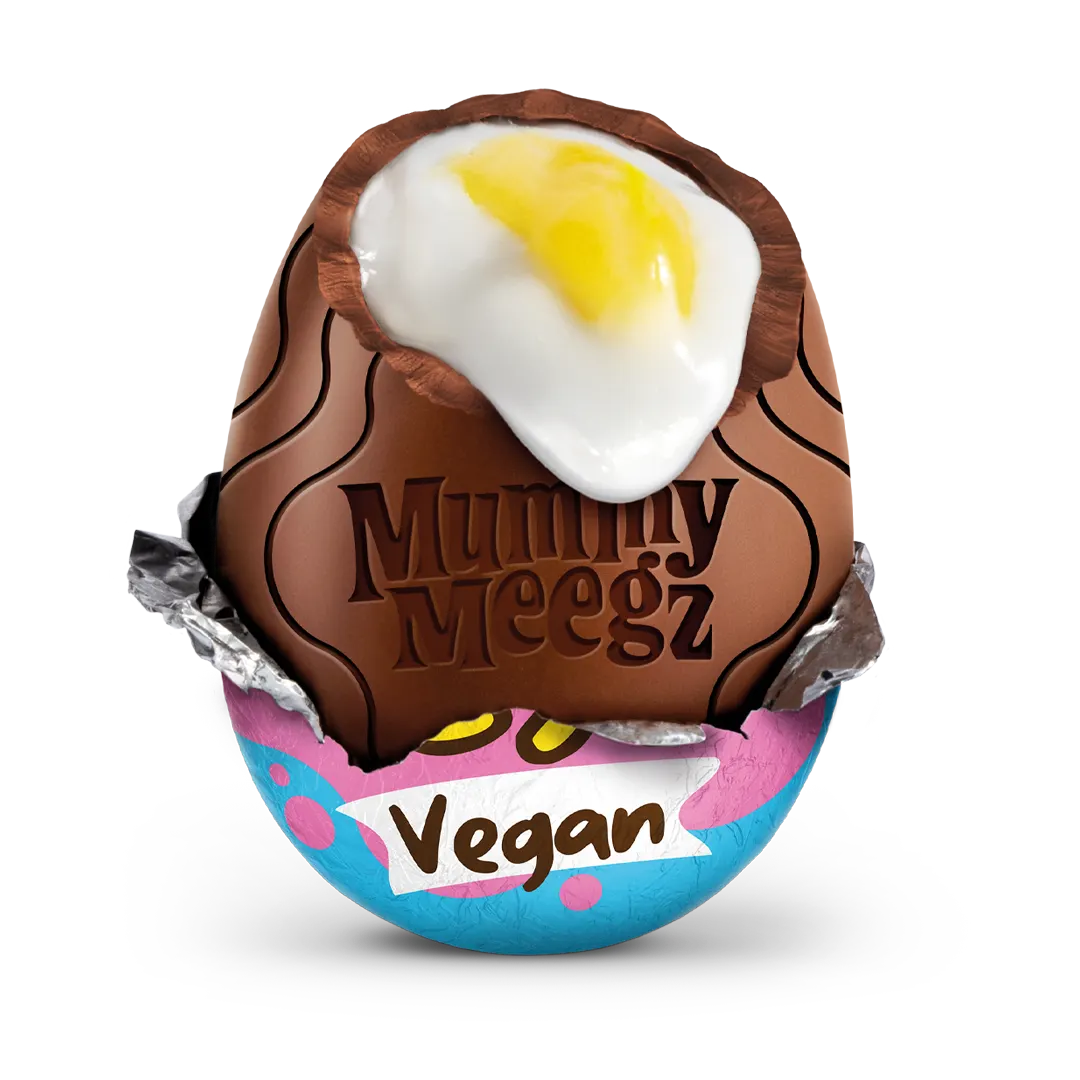 For those looking for a mini vegan Easter egg treat Mummy Meegz are one to try! Their creamy oat milk vegan chocolate egg is filled with a gooey fondant centre, and is perfect for hiding in a vegan Easter egg hunt. These little treats are available at Morrisons Daily, The Range or directly from Mummy Meagz.
Vegan Chocolate Treats

If you don't want to opt for a vegan Easter egg this year, there are plenty of options out there for you to taste instead. From vegan dark chocolate treats to creamy milk free alternatives, there's a vegan chocolate choice to suit every tastebud.
Booja Booja Vegan Truffles

If you're looking for a little extra luxury, why not try Booja Booja's range of vegan chocolate truffles, packaged in beautifully wrapped eggs - which are perfect for a vegan Easter gift this year!
Moo Free Bunnycomb Vegan Chocolate Bars

Want to switch up your Easter chocolate treats this year? Moo Free offer a Vegan Bunnycomb Bar, which is perfect for little ones (or big kids alike!) to eat this spring as a dairy free, egg free and palm oil free vegan chocolate Easter alternative bursting with delicious honeycomb.
Ananda's Easter Round Up

Looking for something a little different? Ananda's Easter Round Up offers aromatic maple marshmallow sandwiched between two chocolate biscuits with a Wild Blueberry jam centre, all finished in Ananda's signature vegan Belgian chocolate!
Other Treats You Can Try This Easter

If you're craving more of a savoury snack this Easter instead of chocolate, you don't have to miss out on all the fun. Why not opt for something a little different to put your own spin on what Easter treats mean to you this year?
One option you could try is a Hot Cross Bun from Costa Coffee. This classic treat can't be overlooked, and when paired with melted vegan butter, it makes for a wonderfully tasty alternative (or addition - we didn't say you couldn't have both!) to the chocolate feast this Easter.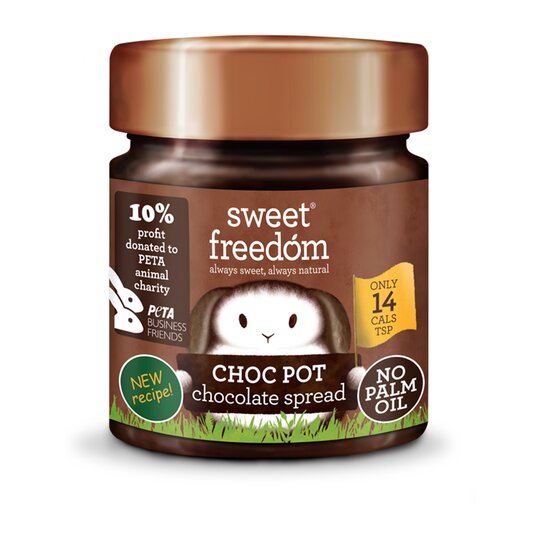 Looking for a chocolate twist, but without the chocolate egg? Sweet Freedom's chocolate spread is a great option to try on toast, bread, or in desserts (why not try swirled over vegan ice cream?) this spring.
We hope you've found some new favourites in this Easter egg round up, and that it's been helpful if you're looking to choose an option for yourself or gift one to a loved one. If you're looking to start an Easter egg hunt, there are also plenty of options in this list you could try!
Whether you've just started your vegan journey, or have been vegan for a while, we'd love to see pictures of the treats you've chosen this Easter. Make sure to tag us on social media to let us know what you've been up to.
Also, if we've missed your favourite Vegan Trademark certified Easter treat off this list, make sure to tag us in your social media posts and tag @vegantrademark on Instagram and Twitter to help others discover new products.
Finally, we wish you and your loved ones a very happy Easter, no matter how you'd like to celebrate.
By Jo Cassin, Brand Marketing Officer
The views expressed by our bloggers are not necessarily the views of The Vegan Society.