Wednesday, 6 October, 2021
In honour of Vegan Trademark holder Nourish London's 10th Birthday, we sat down with founder Dr Pauline Hili to ask a few questions about her brand:

What inspired you to create your own skincare brand 10 years ago?
Having been in the industry for many years, I felt that there was a need for a clean beauty range, which used high tech ingredients to produce clinically proven formulas. Improvements that would make a big difference to the health of the skin. I had been a Research Director for many years and really needed a big challenge. As a scientist, I am always looking to make a difference. At the time, there were very few organic and vegan beauty brands marrying those criteria, hence Nourish London was born.
Why did you decide to create a vegan skincare brand? Tell us about the importance of certification.
Organic and vegan are in my DNA as a formulation scientist. I have seen incredible transformations in people's skin health by switching to organic and plant-based skincare. The Vegan Society's certification schemes are really important because they provide a really robust process to ensure ingredients and products are produced with Sustainability principles at their heart.  Certifications allow the consumer to shortcut to products, which align with their values. As a company, we are committed to supporting the consumer to find the best products for their needs.
The principles of conservation, biodiversity and supporting the communities we engage with are at the heart of what we do.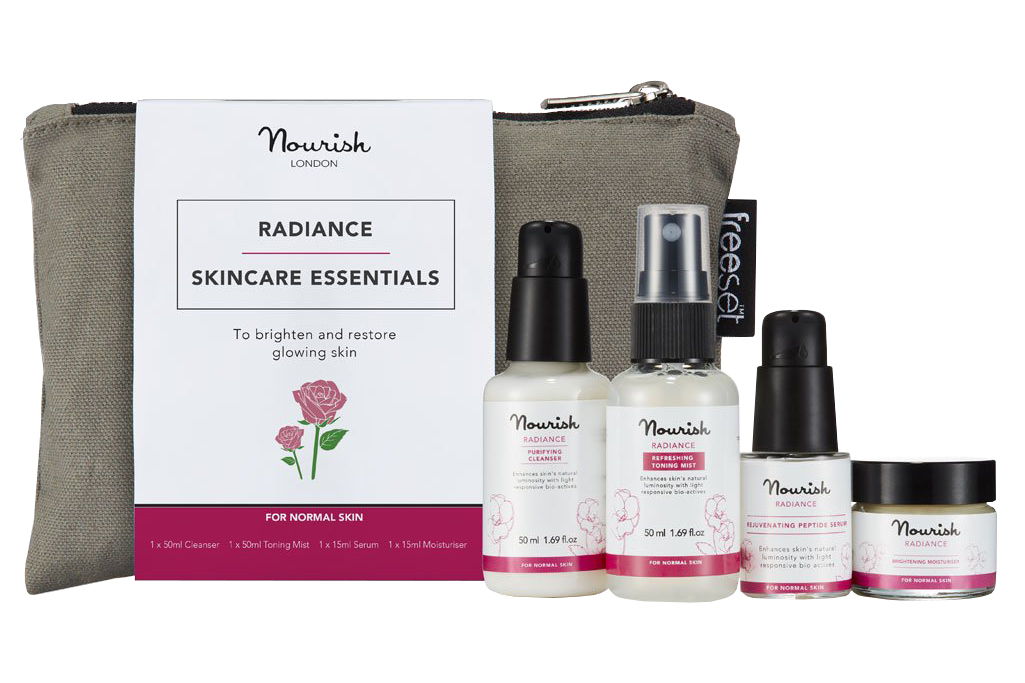 What are the benefits of carrying The Vegan Society's Vegan Trademark on Nourish London products?
The Vegan Society's Trademark provides many benefits. It is an internationally recognised standard that helps vegan customers around the world find us, it is one of the most rigorous standards available ensuring the integrity of our supply chain and the quality of our products and The Vegan Society do a tremendous job of educating consumers about the benefits to switching to vegan products.
What is your company ethos?
Our ethos is being Healthy, Effective and Kind (HEK)– to your skin and the planet.
At the heart of our ethos is health – health of your skin and health of the planet.  We use research and our scientific expertise to create better solutions for your skin and the planet. Small steps make a difference and as a small, independent company we are committed to being part of the bigger dialogue to make change happen.
WE STAND FOR - The physical and mental wellbeing of people and planet told through skin.
BELIEF - Our skin is a barometer of both our physical and mental health, and the wellbeing of our planet. Skincare isn't just about what we put on our bodies, but what we put in it and how we nurture our mental and environmental wellbeing.
How has the vegan industry changed over the past 10 years?
The vegan industry has moved from being niche to being mainstream in the past 10 years.  It is great to see consumer awareness so high and to be able to make choices that are healthier for the skin and the planet. It is also great to see more and more plant-based alternatives become available to the supply chain, increasing the choices for vegan formulators.
What are you doing to celebrate Nourish London's 10th Birthday?
As part of our 10th Birthday celebrations, we are launching a Nourish London New Limited Edition - Celebrating 10 Years of Green Beauty Collection that features our skincare favourites, including Nourish London's Kale 3D Cleanse, Antioxidant Peptide Mist, Argan Anti-Ageing Peptide Serum, Argan Skin Renew Moisturiser and Probiotic Multi-Mineral Repair Mask in an organic handmade toiletry bag from fair trade organisation Freeset to mark our 10th Birthday. We have also some wonderful collaborations and celebrations coming up. It has been a very difficult time for the whole world over the past 2 years and it is really nice to have something positive to celebrate. We are greatly appreciative of all our customers, retailers and suppliers for their support over the past ten years.
It's probably hard to choose, but what is your current favourite Nourish London product and why?
We are just finishing work on a new product that will be released in March 2022, which I am extremely excited about and forbidden by Amanda our Product Manager from revealing. It's always the product development that I get most excited about. My favourite current product is our Nourish London Radiance Firming Facial Oil - it provides a cocktail of ceramide rich oils to protect the skin, antioxidant rich extracts and an algae extract to firm skin and rejuvenate natural elasticity and tone.
What is next for Nourish London?
We want to continue to be a centre of excellence for the creation of innovative, organic and vegan skincare. We want to inspire young people in industry, science and beauty, and to continue to build strong relationships with our sustainable supply chain and research partnerships. As a team, we want to have fun and enjoy doing the work we love.
*Credit: Dr Pauline Hili is the Founder of Nourish London organic and vegan skincare - Nourish London is an award-winning, clinically tested certified organic, vegan and cruelty-free skincare range that is powered by plant-based ingredients, designed to enhance skin health, made in Battersea, London.
The views expressed by our bloggers are not necessarily the views of The Vegan Society.