Recently, Vegan Society Dietitian Heather Russell spoke to residents of Thorn Cross Prison and Catering Manager Danny Daniels about vegan nutrition and catering. In this week's blog, she explores how to go about meeting vegan catering needs in a prison setting.

Imagine having little or no control over what you eat for your breakfast, lunch and evening meal. This is a reality for people living in institutions like prisons. They rely on catering services to provide nutritious food.
So, what's it like living in prison if you're vegan? When it comes to institutional catering, most of my knowledge and experience relates to providing food in hospital. Therefore, I was excited to be invited to speak to Catering Manager Danny Daniels and some residents of Thorn Cross Prison recently. It was a perfect opportunity to learn more about meeting vegan catering needs in this setting.
A change of scene

For the first six years of my career as a dietitian, I worked for the NHS and spent much of that time working with ward patients. There are similarities and differences between catering in hospitals and prisons. Both institutions have to be careful about how they allocate their tight budgets, but a prison service has to cater for long-term residents who are generally well and healthy.
The Eatwell Guide & supplementation

I talked to Danny and the residents about how to apply to the healthy eating principles of the UK's Eatwell Guide to vegan diets. This table gives you an idea of my general advice:
| | |
| --- | --- |
| Food group | Suggested intake |
| Fruit and vegetables (fresh, tinned, frozen or dried), including orange varieties and leafy greens | At least 5 x 80g portions per day (30g for dried fruit) |
| Starchy foods – ideally higher fibre choices, such as oats, sweet potato, wholemeal bread, wholewheat pasta and brown rice | Every meal |
| Protein-rich foods, such as beans, lentils, chickpeas, soya products and peanuts | Most meals |
| Nuts and seeds, especially those rich in omega-3 fat, such as walnuts and ground linseed | Daily |
| Calcium-rich foods, such as calcium-fortified foods and calcium-set tofu | Example: 400ml of calcium-fortified plant milk provides about two thirds of the recommended daily calcium intake for adults |
We also talked about nutrients that deserve special attention – vitamins B12 and D, iodine and selenium. This table provides suggestions about how these nutrients can be obtained from vegan diets:
| | |
| --- | --- |
| Nutrient | Suggestions |
| Vitamin B12 | Eat fortified foods at least twice a day providing a total of at least 3mcg (micrograms), use a daily supplement containing at least 10mcg, or use a weekly supplement containing at least 2000mcg. |
| Vitamin D | Supplement during autumn and winter (or year-round if you do not regularly expose your skin to sunlight or you have darker skin). Vitamin D3 from lichen and vitamin D2 are vegan-friendly. Recommended dose is 10mcg per day. |
| Iodine | Arguably, a supplement is the best option. Recommended intake for adults is 140mcg per day. |
| Selenium | Eat a couple of Brazil nuts daily or supplement. Recommended daily intakes for adults are 60-75mcg.   |
During the session at Thorn Cross Prison, we came to the conclusion that using a specially designed supplement like VEG 1 is a particularly good idea for vegans in prison. Although it is possible to get vitamin B12, iodine and selenium from carefully selected foods, it may be challenging in a prison environment.
On a budget

In prisons, the amount of money available to feed one person for one day might be just £2, meaning catering managers have to spend their money wisely. If you want the most nutritional bang for your buck, some food groups deserve special attention.
Nuts and seeds are valuable sources of nutrition in vegan diets. It's particularly important to consume a rich source of omega-3 fat on a daily basis. If you can buy linseed in bulk and grind small batches as needed, this might work out a lot cheaper than offering walnuts.
Soya tends to be the cheapest variety of plant milk available. Offering fortified soya milk could be the most economical way of ensuring that vegans in prison have access to a really rich source of calcium.
Catering for all

A prison service has to cater for a wide range of dietary requirements. One of the advantages of offering vegan food is that it can be enjoyed by most people:
Vegetarians
People who eat fish
People who eat meat
People with allergies to egg and/or milk (if free from these allergens)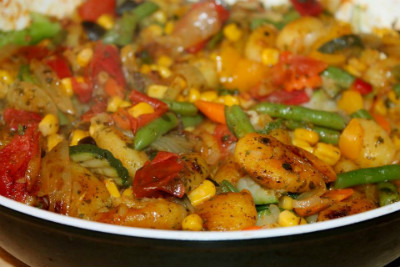 Vegan options may also be acceptable to people or who eat Halal or Kosher food, but this should be discussed on an individual basis.
Danny and I discussed the benefits of serving animal-free food options as standard. For instance, you can keep the vegetable soup of the day dairy-free, and it's easy to create puddings without using dairy products and eggs.
Making vegan dishes available to everyone can have a positive impact on their dietary intakes. An 80g portion of beans, chickpeas, lentils or pigeon peas counts as one of your 5-a-day, providing fibre as well as protein. These foods represent nutritional value for money.
In addition to potential nutritional and cost benefits, a strong vegan offering helps to make catering services sustainable. Research has shown that going vegan can cut your food-related carbon footprint by up to 50%.
Vegan menu & pack

For a vegan living in an institution for months or years, variety is important. Thorn Cross Prison currently uses a four-week menu to provide totally plant-based meals for 16 people. The vegan menu features over thirty different dishes, from curries to chilli. Vegans are also provided with a pack of extra food supplies to help them meet their nutritional needs. These include peanut butter, walnuts, fortified alternatives to milk and yoghurt, and yeast extract rich in vitamin B12.
Danny and the rest of the Thorn Cross team are clearly putting a lot of effort into making their catering vegan-friendly – keep up the good work!
Beyond food

It's not just food that prison services need to consider in relation to meeting vegan needs. Clothing, toiletries and activities need to be suitable too.
Tips for prison services

Here are our top tips about meeting vegan needs in a prison environment:
Provide a variety of balanced vegan meals, and consider making them available to everyone
Strive to avoid cross-contamination from animal products during food preparation
Ensure that nuts or seeds rich in omega-3 fat can be consumed daily, such as walnuts or ground linseed
At least 3 litres of fortified plant milk should be available weekly to every vegan
Provide dairy-free spread
Ensure that vegans can obtain a supplement designed for vegans like VEG 1, which provides reliable intakes of vitamins B12 and D, iodine and selenium
Provide clothing that does not contain animal products
Provide toiletries that do not contain animal products and have not been tested on animals
Do not expect vegans to engage in activities that involve the use of animals or animal products
Consider providing staff training about veganism
What if you need further support?

The Vegan Society works hard to ensure that vegans are catered for in any institution, and that their rights are protected. We're available to advise institutions directly, or to help those receiving catering from institutions.
If you have any questions or concerns about meeting vegan needs in a prison environment, please get in touch with us on 0121 523 1730, or email advocacy[at]vegansociety[dot]com.
By Dietitian Heather Russell
Would you like to write for our blog? Read our guidelines then send your pitch to web[at]vegansociety[dot]com.
The views expressed by our bloggers are not necessarily the views of The Vegan Society.