Ali Ryland and Elena Orde recap their week of sun, sandwiches and surfing (read: tumbles in the sea) at France's Vegan Surf Camp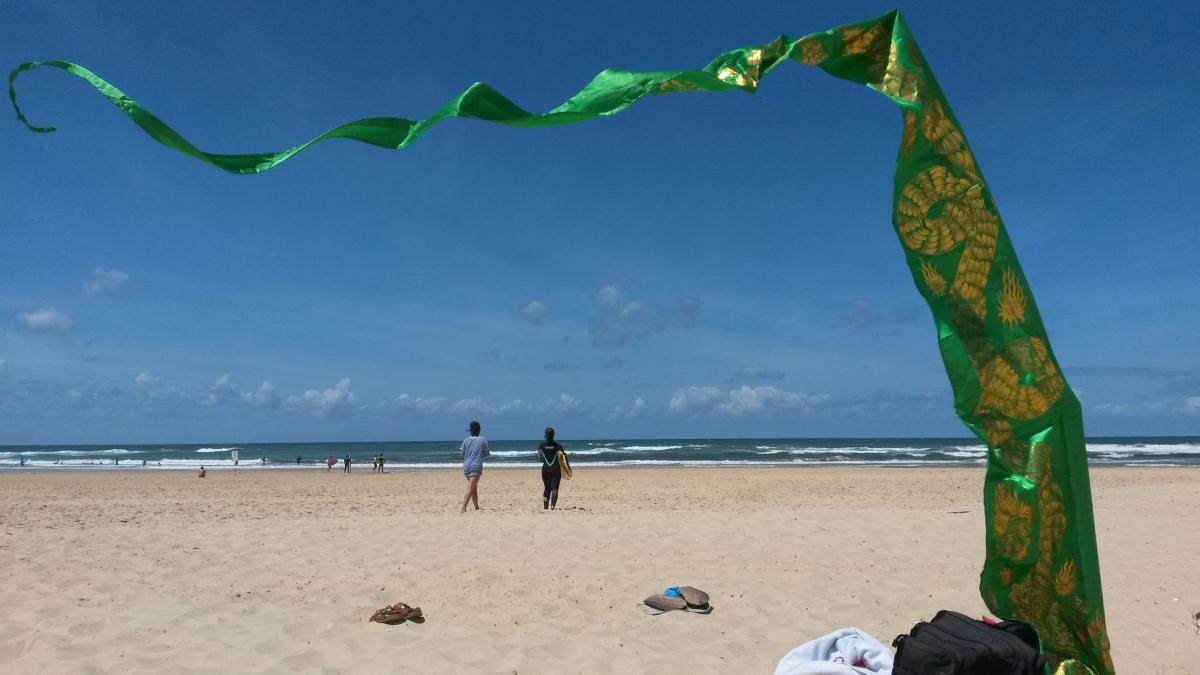 A few years ago, a group of vegan surf-loving friends from Germany, France, Greece and Britain decided that they'd had enough of holidays which didn't cater to their diet. Vegan Surf Camp was created and has since gone from strength to strength, this year hosting around 80 people a week for the whole of July and August. Located in Moliets-Plage in the south of France, the wide beaches are perfect for newbie or seasoned surfers, but there are also plenty of things to do in the area for non-surfers. We recommend woodland walks, relaxing in the shade with various drinks, and befriending local dogs being walked on the beach.
The camp itself has a great layout. In the midst of the pleasantly roomy tents, there were rainbow-striped hammocks slung between trees, a rustic outdoor bar and recycled decking with home-made cushions and umbrellas. These made comfy shaded patched for reading, drinking, chatting and playing cards. There are organised activities in the evenings which everyone is free to join in with, from ping-pong tournaments to film nights to sunset surfing and social drinks.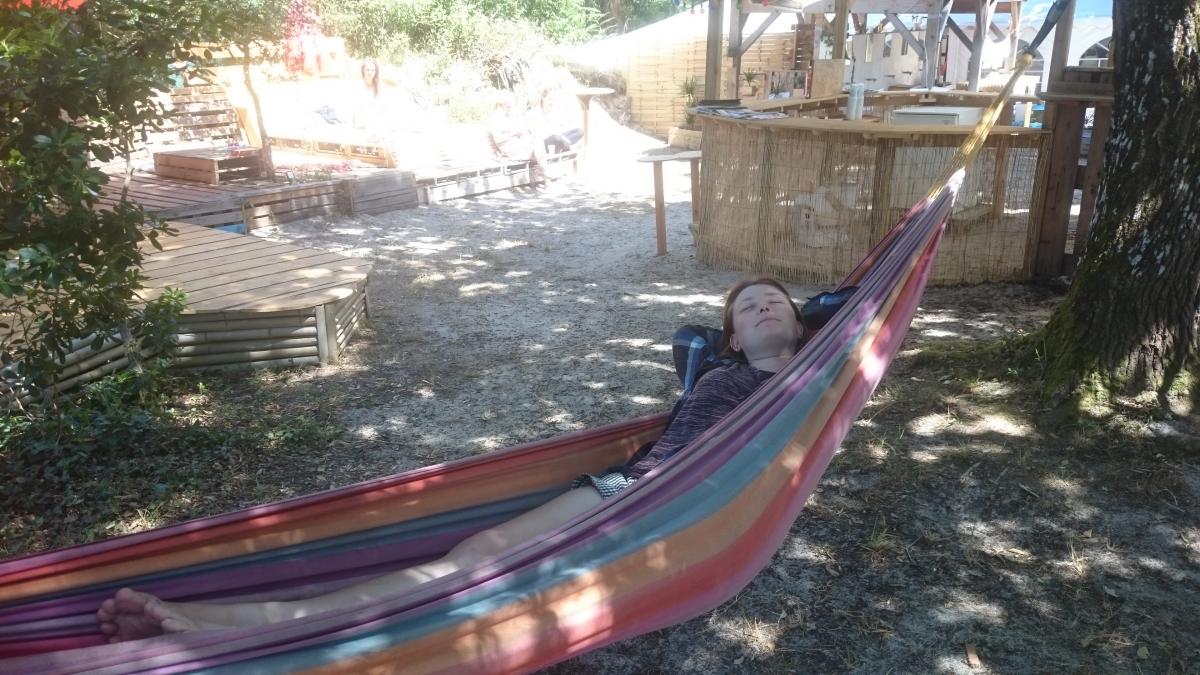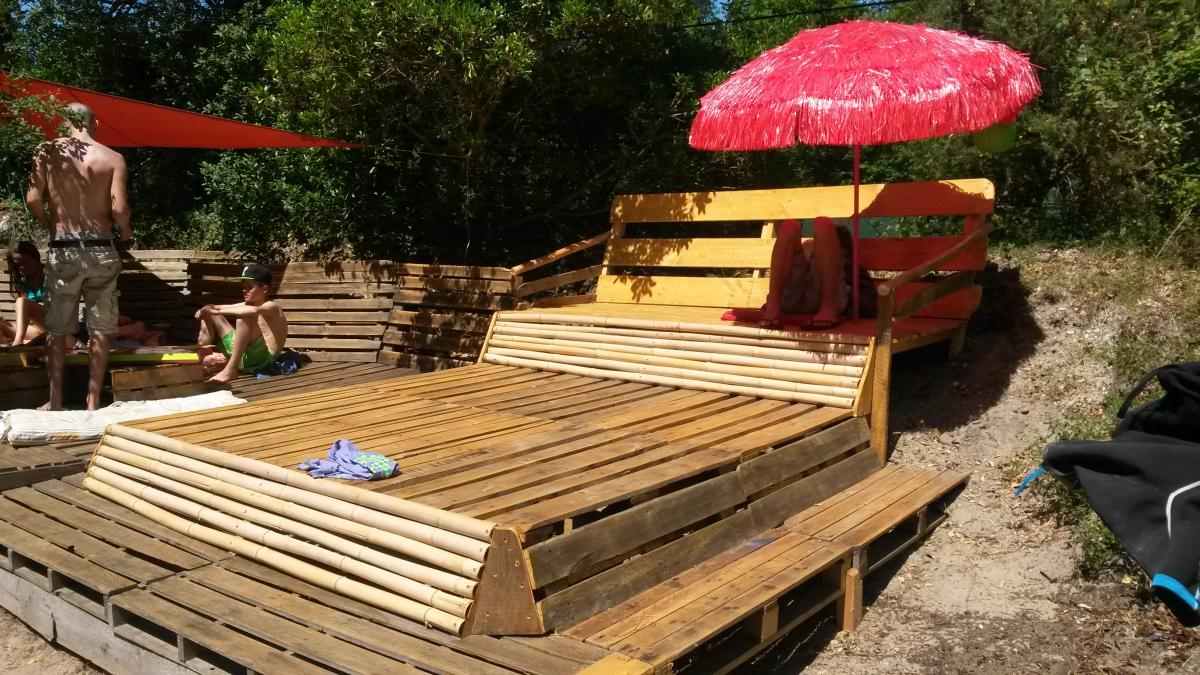 Getting there
Our flight from London to Bordeaux was at 7am, so we sensibly decided to pull an all nighter rather than catch an hour's sleep ten miles out of the centre of London at our prospective crash spot. While this had ramifications – Ali lost her sleeping bag in a 4am sleep haze while Elena was plagued by increasingly uncomfortable positions when attempting to nap on the airport chairs – by the time we got to Bordeaux we were happy and hungry enough to sample a local vegan buffet-style eatery in the city, named Smart Green Corner. While the wholesome salad and oh-so French potato gratin was just what we needed, unfortunately we were caught out by the fact that not all the ice cream was vegan, which the staff neglected to tell us the first time around. Friendly reminder folks – even if it says the café is vegan on Happy Cow, remember just to check anyway. At least in France! 
Having filled our bellies, we boarded the train to Dax, where we were met off the train by two of the camp organisers, Inja and Michel. After our car journey and a visit to the beach – with a pit stop in Spar to buy a new sleeping bag and yummy dark chocolate that tasted very similar to Vego   –  left us too tired to go to the planned rave in the organiser's nearby vegan surf shop that night. Luckily there were plenty of other nightly activities planned, as we spent our nights either watching Despicable Me (free popcorn!) or joining socials, including one very special Bastille Day celebration, where we were lucky enough to witness fireworks on the beach. On some nights we just wanted to chill out and nurse our food baby, as did we mention… all you can eat? 
Food
Arguably the best part of Vegan Surf Camp, every night the staff lay on a beautiful home-made spread. This includes a different soup every day, sides ranging from garlic bread to vegetable tempura and several main options. Some favourites of ours included a mushroom and seitan stew, a tomato and feta-style salad made with tofu, fried rice burgers and the camp's delicious home-made mayo. Ali, a big French pastry lover, was slightly disappointed that there wasn't the same range for dessert, but Elena wasn't too fussed after eating roughly a kilo of main course and then going back for seconds.
Breakfasts were simpler, being a huge pot of rice porridge with various toppings available, plus crusty baguettes and jams. A variety of sandwich fillings were also laid out at breakfast time, allowing campers to make lunchtime sandwiches to take away with them.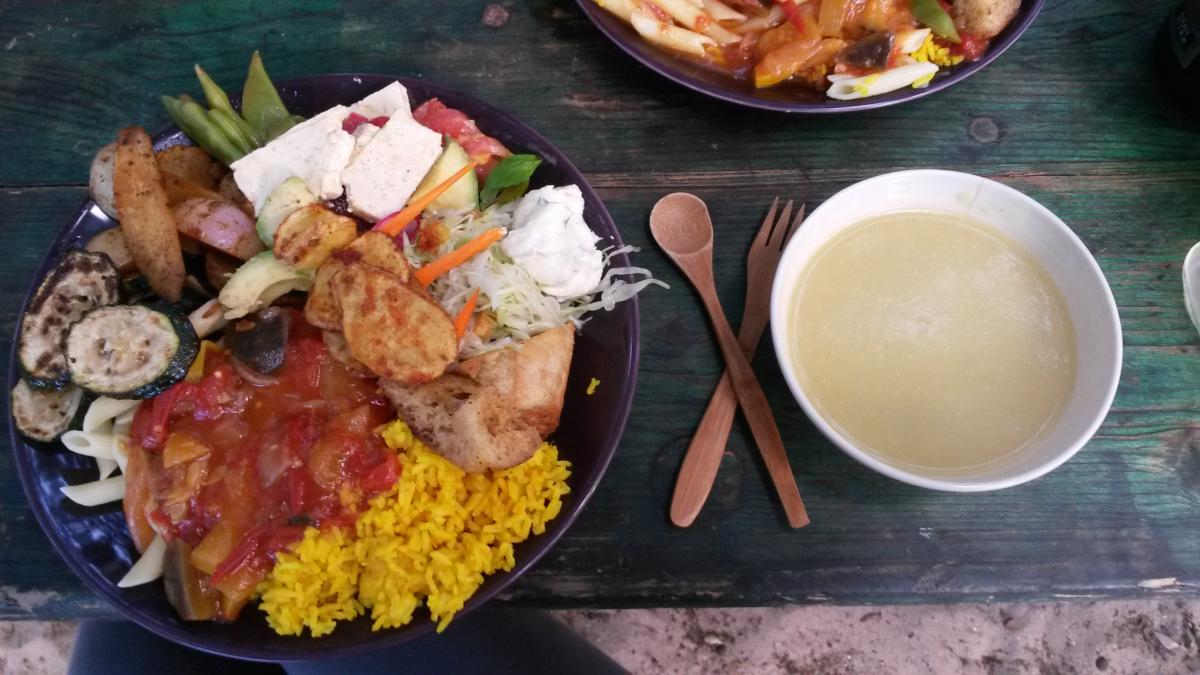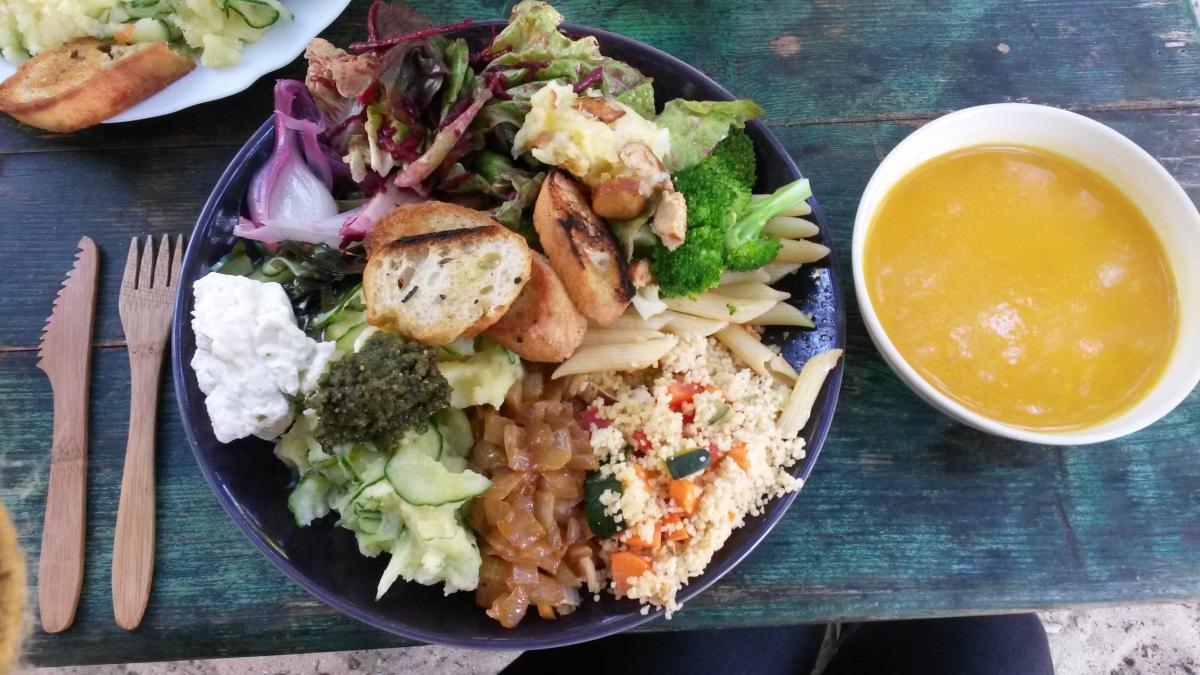 Surfing
As two surfing newbies, we weren't sure if we'd take to surfing but were definitely keen to give it a go. Numerous episodes of crashing down into the waves later, followed by a fair bit of accidental ocean drinking, we both managed to stand up on the board (separate boards, we didn't get that good) for a few seconds. Surfing aside, it was a great feeling to just bob around in the sea, appreciating the lack of desk in front of you.
Unfortunately on the last day Elena sustained a small injury when she got her toenail caught underneath one of the plastic discs which hold the surfboard together. Due to being EXTREMELY hardcore she carried on regardless, and only realised when returning to the beach that there was actually quite a lot of blood and grossness. Handily, our instructor was on-hand to help out with a first aid kit. Yay for health and safety!
Yoga
Another activity which the camp offers is yoga, which took place in the morning and afternoon each day. Mornings are obviously for sleeping, so we went along for a couple of afternoon sessions. Attendees ranged from ridiculously flexible yoga pros to extremely wobbly beginners, but everyone was made welcome which made for a nice non-intimidating atmosphere.
The best part was that yoga took place outdoors in the woods. The chirruping of birds and cicadas and the smell of pine definitely made for a much more relaxed atmosphere than a sweaty yoga studio.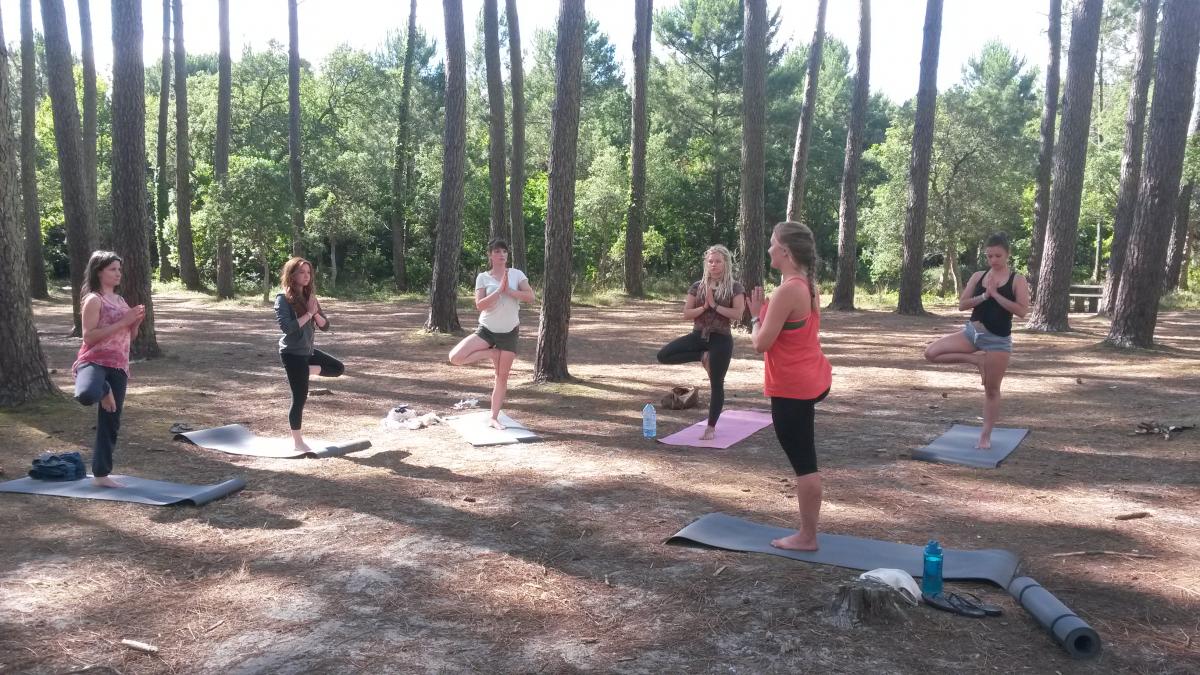 Walking and cycling
Moliets-Plage is situated in Aquitaine, a beautiful part of the country, and as such there are plenty of walks. While not a hilly area, you can walk alongside river Courant d'Hucher, taking in the sparkling ocean in the backdrop as well as the green splendour around you. But if you decide to take a pleasant stroll through the nearby sandy woods on a cool evening then don't forget to bring your mosquito repellent – we're still itching from the bites the little terrors gave us.
 While we decided not to rent bikes and go cycling due to time constraints, the area is very cycle-friendly: wide cycle paths accompany all the roads, while plenty of young children enjoyed safely cycling next to cars. It's a far cry from the dangerously narrow paths in the UK, which all too often turn into parking spots and bus lanes. 
Would we go again?
Yes! And you can too. There are still places available for the last week of the camp, starting from 20 August. You can book here – members of The Vegan Society get 5% off! Just enter that you are a member in the booking section and, when paying your invoice at camp, show your membership card. If you're unable to go this year, you can always join Vegan Surf Camp for their 5th year next summer. Bon voyage!
By Ali Ryland and Elena Orde
Become a member of The Vegan Society today and receive access to tons of great discounts, as well as our quarterly magazine.
The views expressed by our bloggers are not necessarily the views of The Vegan Society.