New research from The Vegan Society shows a large number of Brits have been cutting back on the amount of animal products they're consuming since the start of the Covid-19 pandemic.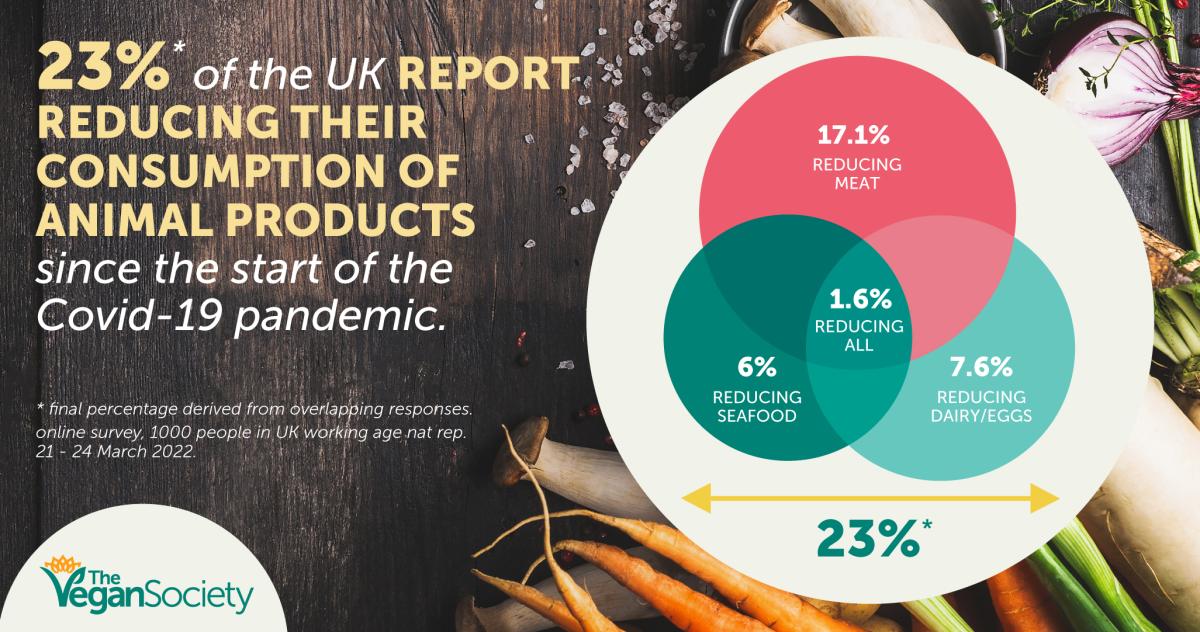 Since the first national lockdown in March 2020, the society has been running consumer research to better understand how people's shopping and eating habits have changed, and what that means for the movement going forward.
Our latest research from March 2022 [1] discovered that 17% of Brits have actively reduced the amount of meat they're consuming, while eight percent have cut back on dairy and/or eggs. Three percent say they've cut back on both. For the first time this year, the survey also asked respondents about their fish intake, with six percent revealing they've cut back on the quantities of fish and seafood they're buying and consuming. In total that means almost one in four of us (23%) have minimised the amount of animal products on our plates.
When comparing this to our Changing Diets During the Covid-19 Pandemic report from the same time last year, we can see that the number of shoppers cutting back on animal products has remained steady since the pandemic started. This was also prevalent in our initial Covid-19 survey, which ran in April 2020, showing that one in five had cut down on meat consumption.
While the pandemic, Brexit and the cost-of-living crisis have all been cited as having a significant impact on our shopping habits, the top three reasons respondents gave for cutting back on animal products included health concerns (36%), environmental reasons (28%) and animal rights issues (20%). Twelve percent said it was the cost of animal products that had motivated them to cut back, compared with eight percent in 2021, highlighting the UK's spiralling cost of living crisis.
In 2020, The Vegan Society launched the Live Vegan for Less campaign in response to growing financial concerns during the Covid-19 pandemic. This campaign has recently been relaunched to showcase that vegan living can be affordable for all as many households face rocketing energy and food bills.
Louisianna Waring, Senior Insight and Policy Officer at The Vegan Society, said: "All three pieces of research show how the events of the last two years have highlighted to shoppers that there are more ethical and compassionate ways we can live - and these days supermarkets are only too happy to provide them."
When it comes to what consumers are popping in their shopping baskets, it appears more and more are trying vegan alternatives for the first time with many seeing them as the 'new normal' as things return to business as usual
In a second survey [2], run in conjunction with the first, we asked 1,000 animal product reducers what vegan alternatives they have been trying. Fifty three percent said they had tried meat alternatives over lockdown, such as vegan sausages, burgers, and bacon, with more than three-quarters (78%) stating they would continue to purchase them again in the future. 
Pulses are also proving popular, with 33% of reducers trying them over lockdown, and 69% planning to buy them again. Plus, 20% of reducers told us they tried tofu for the first time during lockdown, with 61% saying they will continue buying it.
Other interesting findings include one in four (25%) trying vegan chocolate for the first time, with more than half (52%) looking to buy it again, and nine percent giving egg replacements, such as aquafaba or Crackd, a go, with 40% of those planning to purchase them again.
Feeling inspired? For vegan recipe ideas using meat alternatives, pulses and tofu head to: Vegan Recipes | Main meals | Snacks and Sides | Baking (vegansociety.com)
For the full report visit: Changing Diets During the Covid-19 Pandemic Wave 3 Report
[1]"Change in behaviour during the COVID-19 pandemic", conducted through Attest in March 2022, 1,000 respondents, nationally representative.
[2]"Change in behaviour during the COVID-19 pandemic", conducted through Attest in March 2022, 1,000 respondents who said they were cutting back on animal products.