TheVeganKind (TVK) is as synonymous with vegan food as bread is to a baker.

Founded in Glasgow in 2013 by Scott and Karris, the duo behind the online-only vegan supermarket and subscription box service work hard to scout out the best vegan foods, drinks and cosmetics for their lucky customers. Now boasting nearly 5,000 products in their range, TVK Supermarket shipped over 130,000 orders and generated £2.5 million in revenue last year.
Prior to the Covid-19 pandemic, business was already booming. In February 2020, TVK launched a Seedrs campaign to help with business expansion. Thanks to over 2,000 investors it hit the £300,000 target in two days and went on to become the 9th most supported raise that has ever existed on the platform, raising over £650,000 in the process.
But we have suddenly found ourselves living in a new world. With shelves in retailers around the globe stripped bare, more people than ever before are looking online for their essentials. And hence, smaller online retailers that may seem niche compared to the likes of Asda are caught in a balancing act of catering to a huge influx of new customers, keeping existing customers happy, maintaining business needs and ensuring themselves and their staff are happy and healthy.
In a moment of calm, we caught up with Scott (co-founder and CEO) to discuss his thriving business and the way they have managed to navigate through the Covid-19 crisis to come out even stronger.
A booming business

Scott believes purely online shopping is the future of retail. For customer convenience, for changing shopping habits and for lifestyle preferences. TVK has a strong online presence, amassing over 300,000 followers across Facebook, Twitter and Instagram, plus a further 300,000 on the @accidentallyveganuk Instagram page which they also manage.
Their return customer rate is nearly double the average and reviews across all platforms are glowing. Thanks to a dedicated team of vegan staff, they have a successful history of managing busy periods including Christmas shopping and throughout Veganuary, with systems already in place to ensure the business runs smoothly.
Managing panic buying 

With access to the outdoors now limited, a flood of new customers – both vegan and non-vegan – have found themselves on the TVK supermarket website for the first time. Whilst the team managed with the influx for the first week, word spread fast as orders quickly escalated to ten times the normal amount. In fact, Scott clearly remembers a day at the end of February where the website took the same amount of orders in ten minutes as it would usually do in a day. At this point, things had to change.
Because TVK is a purely online business, orders don't just need to be picked and packed, they also need to be safely couriered to customers, meaning an absolute maximum of 1,000 orders can be sent daily. Once at this limit, Scott temporarily closes the website to allow restock, reorder and for the pressure to be alleviated from his dedicated team as they manage what is already massively inflated volumes. Utilising this operating model allows TVK to still offer a Next Day delivery service, where most others cannot. Although the site is closed for portions of each day – when you do gain access to site, you can get your vegan goodies the very next day. You just need to keep an eye on the site and take heed of the expected next opening time. Additional measures include restricting all orders to £100 and limited all stock to 5 per customer.
The pressure of providing people with essential items is high, but Scott knows that his business and team is strong enough to deliver. With the weight of the successful Seedrs campaign behind them, Scott negotiates with wholesalers on more serious terms, allowing him to regularly order more stock than ever before. That being said, this comes with its own operational difficulties. When we spoke, 50 pallets had arrived at their warehouse in just a few days. With the unpacking, scanning, storing and website updates to be made before customer shipments, there simply are no corners to cut. One of the biggest challenges is the need for space. TheVeganKind has only been in their warehouse for a year, but with orders remaining at maximum capacity, they may have to seek an additional site. This can be a difficult process at the best of times, let alone when Government advice can change daily.
The hurdles go far beyond making sure items are in stock. Scott must also consider the more mundane, but essential, task of sourcing increasing amounts of ice packs, packaging and cardboard boxes as well as warehouse supplies including scanning guns, high vis vests and handwash. Customers never see this side of the business, but it's essential to keep things running safely and smoothly.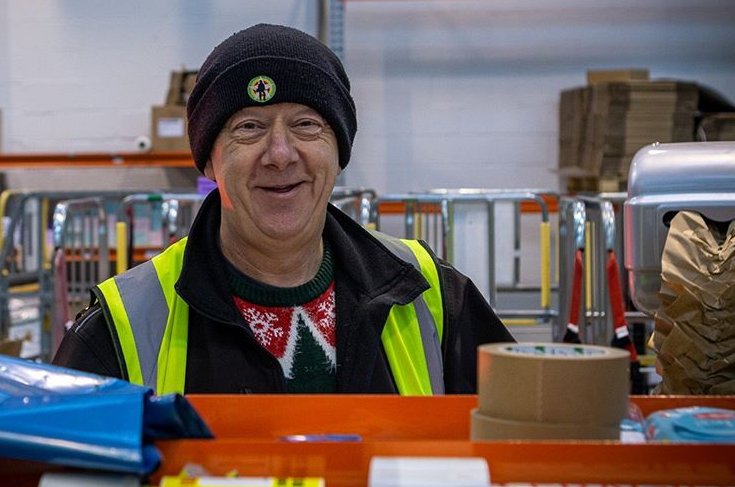 Maintaining staff wellness

The average order value is up by 40% and since the Covid-19 outbreak, TheVeganKind has tripled their warehouse staffing. The company is vegan to the core and proud to say that every member of their staff – from founders to newbies – are vegan. This can be a challenge for vegan businesses and was achieved through reaching out to local vegan restaurants who have had to temporarily close due to the pandemic. Many people are now without work and Scott's business acumen is helping to alleviate the financial pressure that local residents are facing.
Staff safety and wellbeing has always been a priority for the business. The implementation of safety measures in accordance with Government guidelines is extensive and includes staggering break times, daily disinfecting of shared spaces and implementing social distancing measures in the warehouse. The legalities of working hours and overtime must also be managed, which has previously never been an issue for the business. There are also several key team members now working from home.
Scott and Karris are also in the midst of several bits of recruitment, with a new Financial Director soon to be joining Team TVK, as well as a Creative Content Designer and a further Customer Service Coordinator. They recently made two internal promotions; Head of Customer Services and Processes, plus a second Warehouse Supervisor.
What are we ordering?

So, with TheVeganKind's extensive range of food and drink of offer, what are people buying?
Perhaps unsurprisingly, convenience foods such as vegan 'meats', ready meals and tinned soups are in high demand – and of course, toilet roll. The only snack product to make the top ten is chocolate – in uncertain times, individuals take comfort in treating themselves and their loved ones to a sweet treat.
For the vegan cheese lovers amongst us is may come as no surprise that Applewood (in collaboration with VBites) tops the list for the most ordered item. Launched just last year, it's become a firm vegan favourite and was already in high demand. Both their original and sliced variety can be ordered directly from the TVK website.
Another product topping the list is the ultimate comfort food – Suma baked beans and vegan sausages. Best enjoyed with toast, they're easy to prepare and kids love them, in turn making them nostalgic and comforting for adults. With the long shelf life, they're a great addition to any cupboard.
If 2020 will be remembered by one product, it will be toilet roll. Despite TVK being coveted for vegan food and drinks, they too have had the toilet roll frenzy. In fact, one order in particular required intervention. Scott said:
'One order came through for 27 lots of 9 pack toilet roll… luckily there's a website which can work out how long this will last you in quarantine. When we called to explain this would last several years and we would have to reduce the order to be fair to other customers, they understood'. But what exactly is vegan toilet roll? There's only one toilet roll registered with the Vegan Trademark and that's by The Cheeky Panda. Their products are sustainable and plastic-free, but for the sake of others, please only order what you need.
Key message

The key message that Scott would like to convey is to be patient, aware and kind. As key workers in a changing landscape, the team is doing everything they can to ensure customers' needs are met. By choosing to close the site each day for a short while, they are choosing to put the customer first and ensure they can offer Next Day delivery where other sites cannot deliver goods for as much as five weeks into the future. The supply chain is starting to get better, but still, having limits on orders allows TVK to serve the maximum number of customers each day. Over ordering doesn't just take away products from those that need them, it adds pressure across the whole supply chain and there is so much going on behind the scenes that we, as customers, may not ever truly understand.
If you are interested in ordering from TheVeganKind Supermarket please keep an eye on their website for opening hours. And don't forget to check out their Subscription Boxes – it is often said that receiving them is "like having a birthday every month".
Images sourced from @thevegankindsupermarket