Nurture Brands is a business filled with an entrepreneurial spirit that keeps people and the planet at the core of everything they do.

The Nurture portfolio currently consists of Rebel Kitchen (plant milk and beverages), Ape Snacks (sweet and savoury snacks) and Emily (fruit and vegetable crisps). Additionally, just last month they acquired The Primal Pantry, a brand which specialises in high protein snacks with few ingredients. They are hoping to become the fastest-growing vegan snacking and beverage business in the UK.
One of the names behind the brand is founder Ben Arbib – owner and co-founder of Rebel Kitchen. The journey of Nurture Brands began when he purchased Ape Snacks in November 2018 and then merged Ape Snacks and Emily the following March. Ethical business commitments are the foundation of Nurture Brands. These include donating 1% of their revenue to good causes through the 1% For The Planet Foundation, ensuring all brands are 100% carbon neutral certified and ongoing sizeable food donations. In March this year they provided 14,000 vegan milkshakes to hospitals and food banks as a contribution to relief efforts during the Covid-19 crisis, and in 2019 they donated the equivalent of 50,000 meals to FareShare.
We caught up with Ben to see how Nurture Brands is adapting to the Covid-19 pandemic and to hear about any lessons learnt along the way.
Emily: turning a marketing woe to a win

Between February and March this year, a combination of panic buying and increased at-home eating led to UK shoppers making 8 million more shopping trips than they did in the same period in 2019, spending an additional £2 billion on food and drink. But despite some stating the food and drink industry is 'cashing in' on the situation, the industry is not only defined by how much shoppers are spending, as much of this spend has gone online and to the major grocers. Brand advertising is an area that has had to be hugely reworked within multiple industries, including for Nurture Brands. April is usually a prime time for outdoor advertising due to better weather and a long bank holiday, but with public access to the outdoors limited, many businesses chose to cancel or postpone promotional campaigns. Despite the change in circumstances, Emily found a way to adapt to the situation and gain new fans along the way. The previous campaign, 'ditch dull, eat bold', has been replaced with taglines including 'our first ever poster, seen by a runner and one pigeon… typical'. The humour is topical, honest and strikes exactly the right note with consumers – something that many other brands have been struggling with in these uncertain times.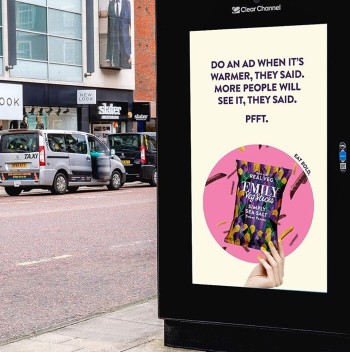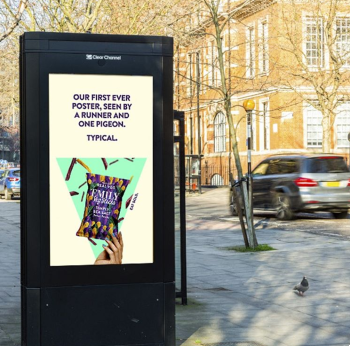 Tackling the snacking aisle

Whilst it is clear many of us are spending more in supermarkets in general, the amount we are spending varies greatly from category to category. A sense of normality around food is slowly reappearing, with empty supermarket shelves thankfully becoming a distant memory. But apprehension remains when people venture outside their homes, and customers are more likely to pick up their essentials and get their shopping done as quickly as possible, rather than staying to browse.
In UK households, snacking is still an important food occasion, often seen as a treat for both adults and children, the majority of whom are largely now working under the same roof. However, many supermarkets have had to adjust their layout for crowd control and reduced contamination, which has had a knock-on effect for the brands behind the products. The aisle where Emily and Ape Snacks are usually placed is often the impulse section – the items you grab while queuing for the till. Because these areas are some of the most highly exposed to human contact, many retailers have removed these aisles for the time being, which puts smaller impulse brands in a vulnerable position.
The Government have now stated that sections of the hospitality industry – such as the independent Cafés where Nurture Brands products are sold – could reopen as early as July. But the reality remains unknown, and it will take a long time for out-of-home eating to truly recover. As the founder of Rebel Kitchen, and with four brands under one portfolio, Ben has a long history of working with entrepreneurial businesses. Their strong brand presence and loyal customer base make Ben optimistic about the future and certain that Nurture Brands will come out the other side of the global crisis. But optimism aside, with question marks around every corner, he estimates the return to normality for out-of-home eating stretching into 2021.
Nurturing the future

Ben is currently focused on the retail side of business and acknowledges that Nurture Brands are not experts within the e-commerce landscape. Hence, where some businesses have been pushing direct to consumer online sales, Emily and Ape Snacks do not have online stores and Rebel Kitchen have recently chosen to close theirs. This decision primarily comes down to logistics – with their products being so weighty, it is difficult to get these to consumers without large postage costs. This is certainly an area that Nurture Brands is looking at developing, and has recently started listing items on Amazon for purchase.
The vegan business landscape holds a unique position within the economy, as those within the industry share a variety of common values and goals. Mutual support between brands helps to build the vegan market, increasing the accessibility and variety of vegan products for all consumers. But despite a strong network, in this fragile economic landscape, we have unfortunately seen independent vegan brands struggling to make ends meet. Ben says there is always the possibility of acquiring new brands in the future, however it is essential that they are in line with the values that have built Nurture Brands into the vegan-snacking powerhouse it is today.
If you would like to learn more about Nurture Brands, you can do so here.
You can also find stock lists for Rebel Kitchen, Ape Snacks, Emily and The Primal Pantry by following the links.