Monday, 20 September, 2021
Award-winning British confectionery manufacturer, Choc Affair has launched the UK's first range of oat milk chocolate bars registered with The Vegan Society's Vegan Trademark.

The delicious plant based bar flavours include classic milk, salted caramel, lemon & raspberry and orange & rhubarb.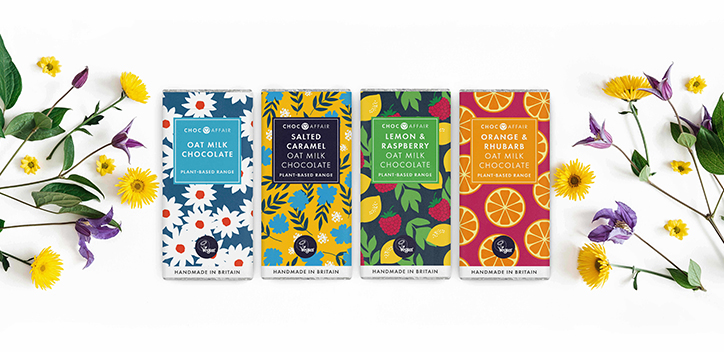 Choc Affair was started by mum Linda Barrie in 2006 after discovering her two young daughters had an intolerance to milk. While interest in veganism and dairy-free products is at an all-time high, back then fewer options were available. Linda decided to get creative and started experimenting with soya milk, dark chocolate, and raw sugar and soon launched Choc Affair's first product - a dairy-free hot chocolate on a stick. Since then the business has gone from strength to strength and now employs a team of 23 people and has 88 different products including gin chocolate bars, chocolate buttons and chocolate flakes.
The demand for more plant-based chocolates was the driving force behind Choc Affair's new range of confectionery.
Ericka Durgahee, Marketing Manager at The Vegan Society, said: "The Vegan Trademark team are delighted to see that Choc Affair have added to their already amazing vegan lineup of chocolates with the new oat milk bars. Not only do they carry our trusted mark, but they're a first amongst over 54,000 products to use an oat milk base; congratulations and we can't wait to try them!"
The bars are all made by hand in the Choc Affair chocolate factory based in York and they are available to buy from their website now.
Linda Barrie, founder of Choc Affair, added: "We are delighted to be introducing the first oat milk chocolate bar range registered with the Vegan Trademark. There has been a really positive shift in consumer behaviour in recent years with people becoming far more ethically minded and diet conscious, and I believe that as a business we are perfectly aligned with our values to support this shift. By continuing to work closely with our chocolate supplier, we have the assurance that all our chocolate is sustainably sourced, palm oil free and is having a positive impact on people, communities and the planet."
 "Producing all our chocolate on site provides us with the opportunity to experiment with different flavours for our oat milk range, and we've enjoyed some great tasting sessions before deciding on our final choice of flavours for this launch, and we're looking forward to introduce more to this range early next year."
There are currently around 865 chocolate products registered with The Vegan Trademark including chocolate bars, truffles, chocolate eggs, lollies and hearts.
There's plenty more information about Choc Affair's Vegan Trademark oat milk range online. You can also read more about the Vegan Trademark.