Plant-based world champion triathlete Kate Strong has become the first woman to complete a 24-hour cycling marathon on a static bike, which saw her pedal 433.1 miles in a day.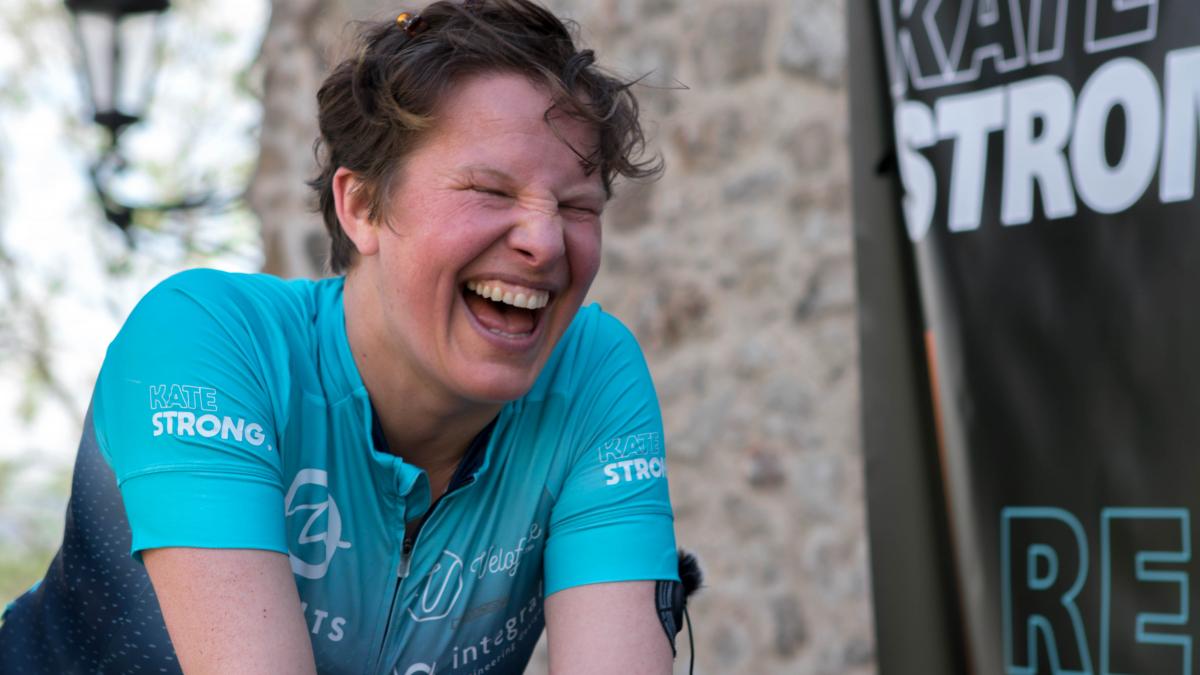 Kate's challenge started at 3pm on 26 May at Clifton Observatory in Bristol and saw her cycle a distance of 24.2 miles in the first hour and 232.1 miles in 12 hours. Kate's times exceed her previous one-hour world record of 23.94 miles, which she broke on 7 January 2021, and the current record for 12 hours, which is 216.24 miles achieved by Slovenian athlete Tina Ternjak in 2012.
Keynsham-based Kate is also the first female athlete ever to achieve a record for a woman cycling on a static bike for 24 hours – although a male record exists. Kate's intention with this challenge was to level the playing field and demonstrate that there is a place for women to pioneer and lead in sport, business and life.
Kate's world record attempts will be officiated by Guinness over the next three months.
Kate Strong said: "I'm so grateful and honoured to have attempted this challenge and earning three world records is a huge privilege. Being a 42-year old plant-based woman cycling a bamboo bike, most people would think what I attempted was impossible. I'm proud to be redefining what's possible." 
"Personally, it's not about the records, it's about the people that held the space for me to elevate and grow, as well as the person I have become during these past 16 months of training. Since I took up sport alongside my professional career, I keep finding new ways to demonstrate that we are far greater than we could imagine and to hopefully inspire others – especially women – to step up and strive for greatness."
Kate, who only started training for athletic success in her early 30s, supported The Vegan Society's Vegan and Thriving campaign with this challenge, and attributes her success in part to a plant-based diet.
"I went vegan in 2012 after realising that my lung capacity was holding me back. As an asthmatic, I had often struggled with a shortness of breath but after removing dairy from myr diet Ifound that within weeks I was no longer wheezy and was able to run much faster. In addition, it also cleared up my eczema and improved my sleeping pattern.
Elena Orde, spokesperson for The Vegan Society, added: "We're delighted that Kate chose to use this challenge to support our campaign. We created Vegan and Thriving to share the message that vegans can not only survive, but truly thrive, without eating animal products. Kate is the perfect role model for Vegan and Thriving as she is an inspirational athlete who is always pushing herself to achieve amazing things.
"Everyone at The Vegan Society was cheering her on from the sidelines and we're so pleased she smashed all three records – she's made vegans everywhere very proud!"
More and more athletes, from boxers and footballers to tennis players and Formula 1 drivers, are noticing a huge positive difference in their athletic achievements once they make the switch to a vegan diet – and perhaps you will too.
There are plenty of fantastic resources to explore at www.vegansociety.com/thriving including recipe videos, tips from dietitians and much more.

Picture/Thumbnail credit: Sarah Aboubakar