The Vegan Society sent Head of Business Development Steve Hamon and Marketing Manager Ericka Durgahee to the local Pieminister in Birmingham, to talk more about the Vegan Trademark and learn about their summer campaign in conjunction with Forestry England; Eat Pies: Plant Trees. Ericka tells us more about the day.

Neither Steve nor I are from Birmingham, and since we have been working from home for the last year, we got a bit lost trying to find our local Pieminister to meet Kaz, the restaurant manager. We eventually found the store down a closed-to-cars road and, thankfully, Kaz didn't mind that we were a touch late! We'd arrived just in time for a spot of lunch, so we got some menus and started looking out for Vegan Trademark items to try out.
The great news is that Pieminister have a decent selection of registered items, and they detail all the vegan options on their menu with a 'vg'. All the vegan pies, patties, gravy and Pieminister lager, has been certified by The Vegan Society, including their new 'Evergreen' pie (which just won 3 Gold Stars at the Great Taste Awards, yum!). Steve and I went classic and had a 'Mock-a-Doodle' pie each, which was as delicious as I remember having before!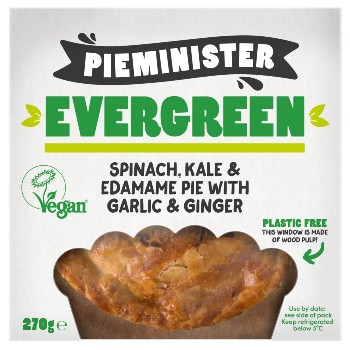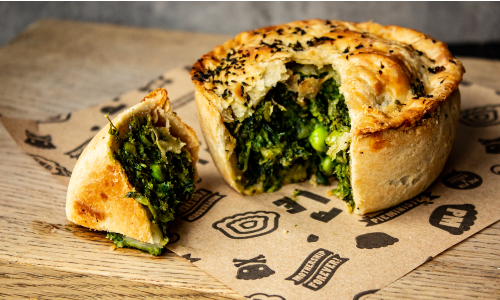 The main reason for wandering over from The Vegan Society HQ was to give Pieminister a copy of their registration certificate. Kaz put it up in the Birmingham store to proudly display the work they've done to ensure that the vegan options are verified as having no animal ingredients and that cross-contamination is minimised, amongst other standards set in gaining verification with the Vegan Trademark.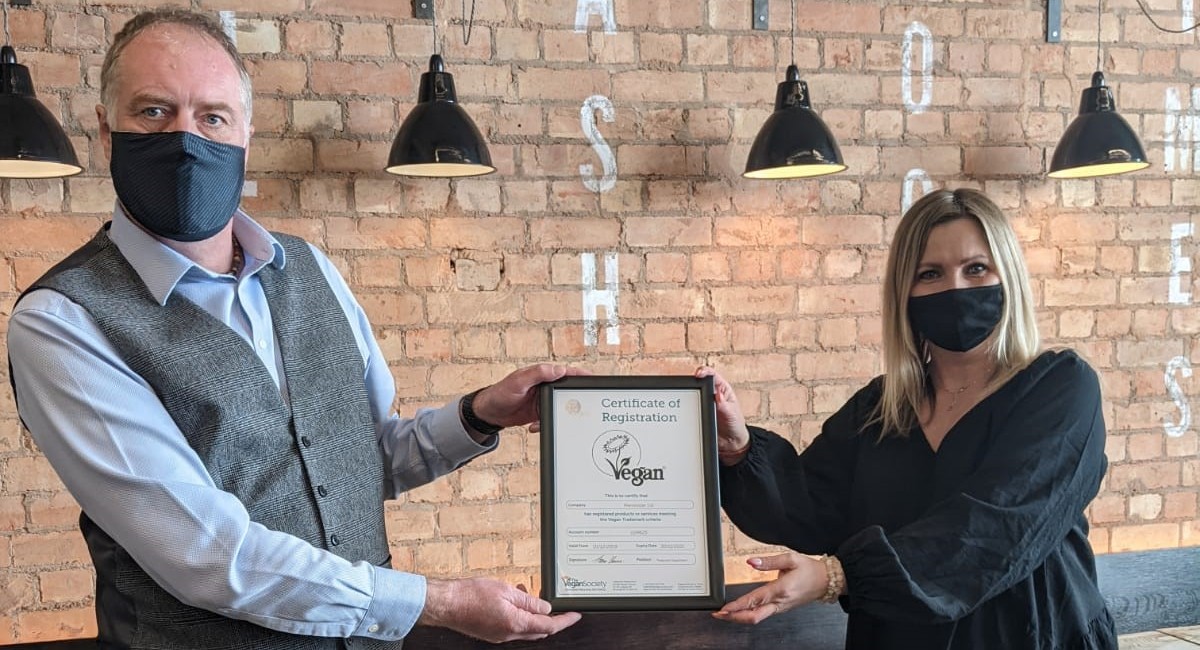 While chatting, we learned about the success and continued growth of vegan options at Pieminister. The restaurant teams know about the Vegan Trademark registration in their training. They use this knowledge to help vegans and their families look for clarification and give non-vegans some tasty options to consider. Pieminister registered their first pie 'Kevin' in 2017 and have steadily increased their options ever since. You can read more about their vegan journey when Vegan Food and Living caught up with them last year. Their products are available in both their restaurants and on supermarket shelves across the UK, including Waitrose, Sainsbury's, Morrisons, Wholefoods and Ocado, and to buy direct from Pieminister online.
We timed our visit perfectly with the easing of lockdown restrictions and the return of restaurant dining outside, paired with the new campaign Eat Pies: Plant Trees. The Pieminister team wanted to encourage customers to eat more plant-based options (including the pies, patties and Pieminister Lager) to help them plant a new forest in Kent, England, in Autumn 2021, in partnership with Forestry England.
So what does this mean? Every time you purchase a Pieminister plant-based option between April and September 2021 (either carrying the sticker in the shops or labelled on the menu in the restaurants) you'll be helping to fund the purchase of trees to plant on Pleasant Farm. Forestry England recently acquired the site, and are currently planning the best species of trees for the soil and climate to support habitats for wildlife.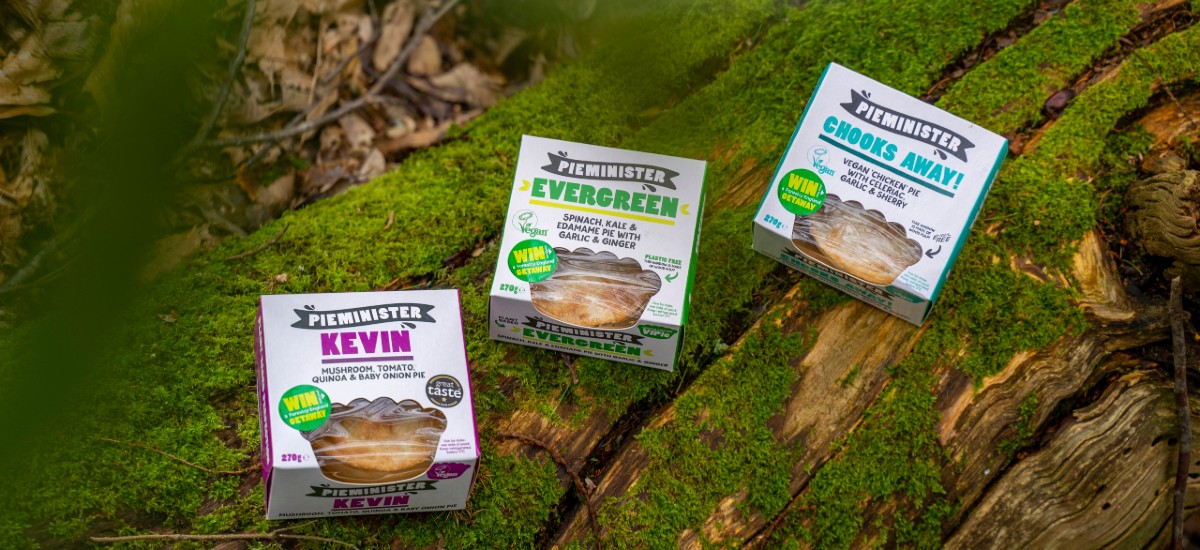 The team also have some giveaways planned this summer. The stickers on supermarket packs will lead you to more information about the campaign, plus a code for the chance to win a forest getaway with Forest Holidays and Go Ape, which you can find out more about on their website.
These campaigns are all part of the family business' sustainability goals to hit before 2025. The plans include expanding the plant-based offer, ensuring their packaging is plastic-free (which it is!) and that the products are made with deforestation-free ingredients.
Jon Simon, Pieminister Co-founder, said,
'We want to help customers choose sustainably, which is why we're increasing the number of plant-based products we make.  Eating plant-based and planting more trees are two simple things we can all do for the health of our planet, so we're delighted to bring these two actions together this summer through Eat Pies: Plant Trees.  And we couldn't be happier to be doing this in partnership with Forestry England.  After all, they've been caring for forests for over a century, so we know they're the people to plant and nurture our new forest for generations to come.'
Steve Hamon, The Vegan Society's Head of Business Development, said,
'Thank you for inviting us to your restaurant to talk Vegan Trademark, Forestry England and the benefits of choosing plant-based options with Pieminister. Choosing to work with charities such as The Vegan Society and agencies like Forestry England goes a long way to supporting consumer considerations. We'll certainly be back on staff trips when we're allowed to return!'
Written by Vegan Society Marketing Manager, Ericka Durgahee