The Vegan Society says you can 'Live Vegan for Less'

The Vegan Society is marking World Vegan Day on 1 November with the launch of budget tips, a recipe hub, blogs and cost comparison research on its website www.vegansociety.com/liveveganforless – to help hard-pressed Brits to manage on limited incomes during these difficult times.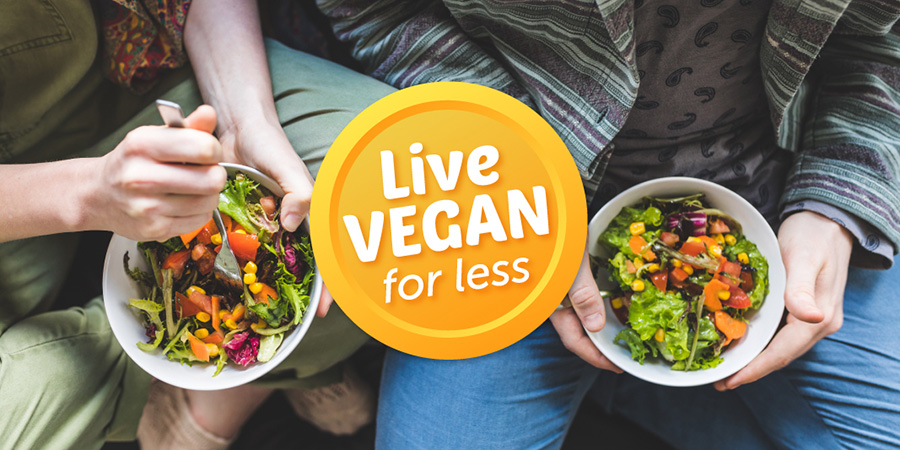 Covid-19 has led to many struggling to manage on reduced incomes following a reduction in hours or redundancy.  Many more people have used lockdown as a time to look at ways to reduce their expenditure on food while maintaining or improving their diet.
Many people still believe that vegan food is always more expensive than non-vegan food. While some of the latest ready-made or processed plant-based alternatives to meat and cheese are exciting, the cost can also add up. At The Vegan Society, we know from experience that being vegan doesn't have to break the bank. Live Vegan for Less aims to demonstrate a more cost-effective way of preparing nutritious vegan meals, showing that vegan living can be affordable for all.
The Vegan Society's research shows that plant proteins are in fact some of the most affordable sources of protein on the market:
| Product | Average cost per portion |
| --- | --- |
| Baked beans | 9p |
| Dried split red lentils | 11p |
| Peanut butter | 14p |
| Frozen chicken portions | 14p |
| Cashews | 18p |
| Fresh chicken thighs | 19p |
| Tinned chickpeas | 23p |
| Kidney beans | 24p |
| Eggs | 25p |
| Frozen chicken breast fillets | 32p |
| Firm tofu | 45p |
| Lean steak mince | 50p |
| Lean beef mince | 56p |
| Canned tuna | 69p |
| White fish fillets | £1.19 |
| Salmon | £1.98 |
*Research has been conducted by calculating the average price per portion, across eight major supermarket retailers in the UK. Price data is correct, as of April 2020. Full methodology available here.
Sabrina Ahmed, Campaigns & Policy Officer, said:
"World Vegan Day is usually a time of celebration, however it felt more appropriate to bring to light the challenges that many of us are facing during these difficult times. The Live Vegan for Less campaign aims to inspire those on a budget with tasty and affordable recipes, whilst countering the notion that a nutritious vegan diet is more expensive than its non-vegan counterpart."
"We've worked alongside Sustainable Kitchen to explore the multiple cost-effective uses of vegan staples."
"We hope our Live Vegan for Less resources will be of help to both vegans and non-vegans alike."
---
Notes to the editor:

World Vegan Day began on the 1 November 1990, as a time to celebrate the vegan community and the steps that have been taken towards making veganism mainstream.
For more information or to arrange an interview please contact media[at]vegansociety[dot]com or call Sam Calvert, Head of Communications on 07967 042050 (including out of hours).
The Vegan Society is the world's oldest vegan organisation whose founders coined the word 'vegan' in 1944. We are a registered educational charity (No. 279228 England & Wales and SC049495 Scotland) that provides information and guidance on various aspects of veganism, including to existing and potential vegans, caterers, healthcare professionals, educators and the media.
WVD was created by Louise Wallis in 1994 to celebrate the 50th anniversary of the society.
For more information visit: www.vegansociety.com/liveveganforless