Everyone loves a big fat bakery cookie. These are even better cause Sara added a secret ingredient that gives it the perfect crispy texture on the outside with the gooey soft chocolate center. And they are HUGE so you can complete your sugar fix and return to life as normal.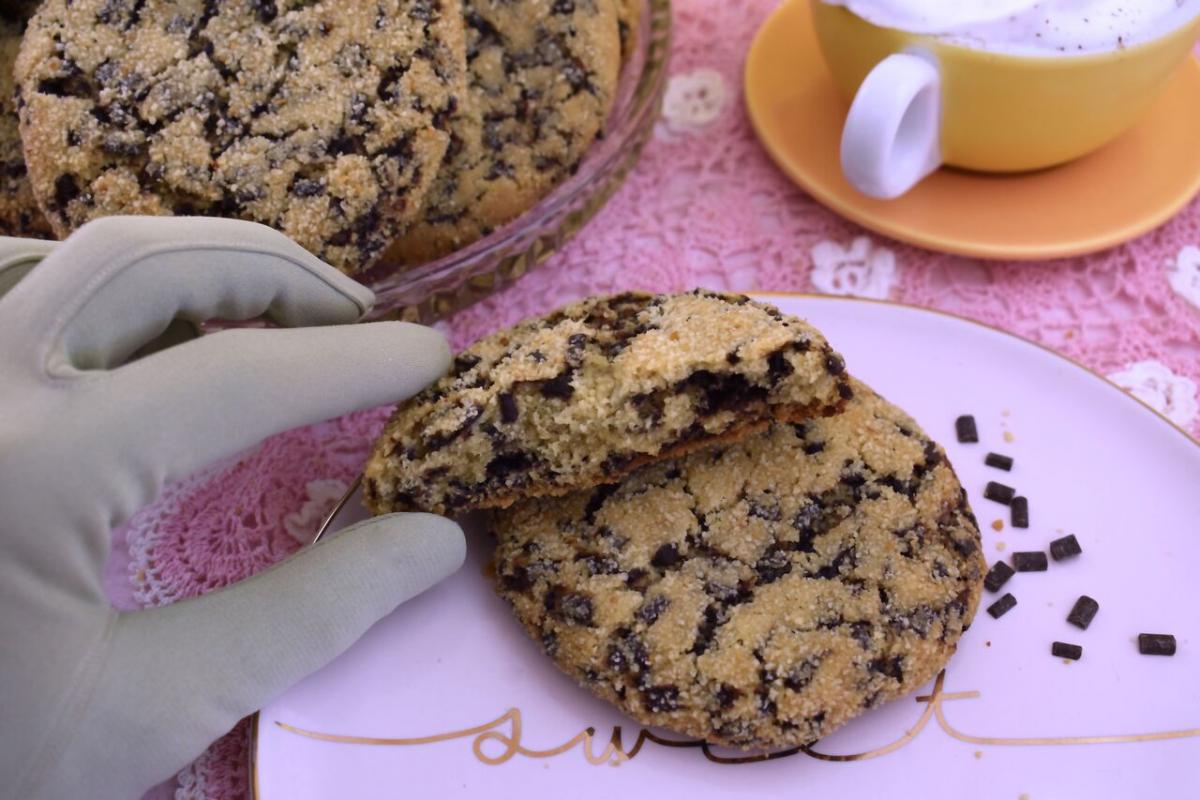 Ingredients

Beat
250g vegan butter softened to room temperature
90g light brown sugar
90g white sugar
2 tbsp vanilla extract
1 Flax seed egg replacer (1 tbsp ground flaxseed mixed with 3 tbsp water, mix and let set for 15 mins)
Sieve
390g all purpose flour
35g corn starch
1 tsp baking powder
1 tsp baking soda
1/2 tsp salt
300-400g vegan chocolate chips or bits
125g vegan bread crumbs
Sea Salt Flakes
Method

Preheat oven to 190C/374F. Line two baking sheets with parchment paper or a silicone baking mat.
In a large bowl of a stand mixer, using the paddle attachment add butter and sugars. Mix on low until just creamy.
Add flax egg and vanilla, and beat on low until just combined.
In another bowl sieve together flours, baking powder, baking soda, and salt and whisk together until combined. Add to large bowl and mix on low until just combined.
Pour in the chocolate chips and use a large wooden spoon or rubber spatula to fold in the chocolate chips. 
Using a large spoon, weigh out 90g of dough, roll into a perfect ball. 
Put bread crumbs into a small bowl and cover dough ball in bread crumbs. Place on baking tray. Repeat the process and put 4 balls per tray.
Bake in the oven at 200C/400F for 15 -18 minutes or until tops are golden brown.
Let cool on tray for about 12 minutes before serving warm, or transfer to a wire rack to cool down10.Sprinkle sea salt over the top.
Website: www.sarakidd.com
Instagram: https://www.instagram.com/vegancakesbysarakidd/
Facebook: https://www.facebook.com/vegancakesbysarakidd/
Vegan Baking FB Group: https://bit.ly/2rWrWc2