Many are convinced that pasta invariably contains eggs and, although it is true that a few traditional Italian pasta dishes are made with egg pasta, the standard pasta that the Italians eat every single day is, in fact, egg-free. To enjoy this great vegan recipe by The Vegan Corner, pick up some dry pasta in your local supermarket: the vast majority will be eggless!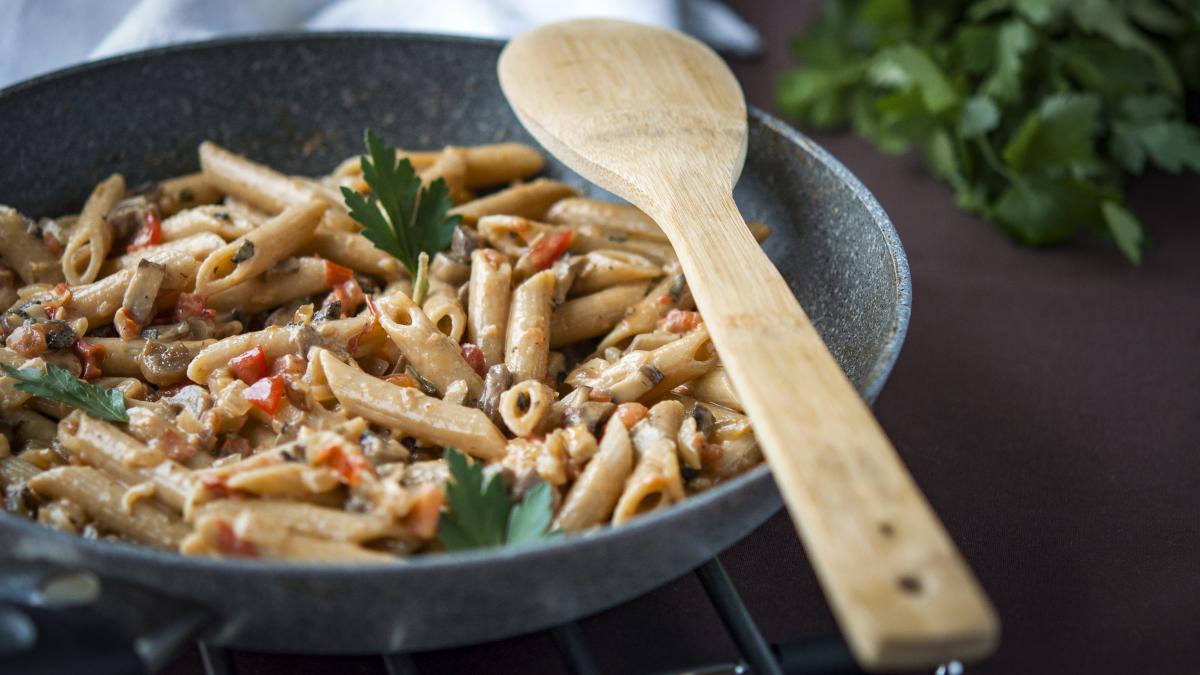 Ingredients

1 cup (140g / 5 oz) onions, diced 
1 1/4 cups (140g / 5 oz) mushrooms, diced 
1 1/4 cups (240g / 8.5 oz) tomatoes, diced 
10 sage leaves, chopped
1/2 cup (120ml) soy milk 
black pepper
2 tbsp (30g) vegan cream
1 cup (200g / 7 oz) pasta, uncooked 
salt
Method

To begin with, place a non-stick pan onto a medium heat, and tip in the onions, the mushrooms, the tomatoes, the sage, the milk and the black pepper, stir, and cook the ingredients for about 3 minutes.
To complete the sauce, add in the vegan cream, stir it in, and add salt to taste. If you see that the sauce is getting dry, add in some extra milk or water as needed.
Cook the pasta as instructed on the packet, and as soon as it is ready, drain it, add it into the pan with the sauce, and stir the ingredients together to obtain the final dish.
Recipe taken from The Best of The Corner - Proven to Be Good (e-book) by The Vegan Corner.
A video version of this recipe is available here.
If you'd like to buy The Vegan Corner's e-book full of recipes just like this, you can do so here.