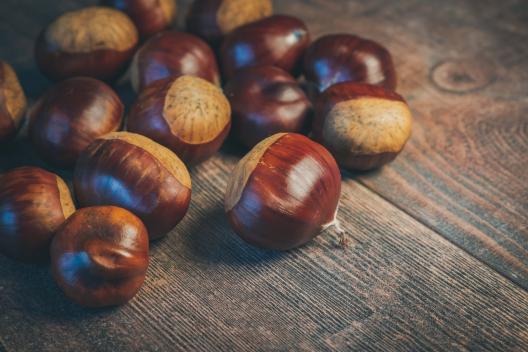 Ingredients

For the pie

7 oz (200g) dried chestnuts, soaked overnight
2 medium onions, peeled & chopped
3 cloves garlic, peeled & chopped
12 oz (340g) mushrooms, washed & sliced
4 tbsp olive oil
2 slabs of vegan puff pastry 
For the sauce

2 tsp cornflour
5 fl oz (140ml) chestnut stock
2 tbsp tomato puree
Few drops of soya sauce
Sea salt & freshly ground black pepper to taste
Method

Set the oven to 400F/200C/gas mark 6. Have a 10 inch (25mm) diameter ovenproof plate ready.
Simmer the chestnuts in the soaking water for half an hour or so, until tender. Drain and slice. Keep the stock and put aside in a large bowl.
Fry the onions and garlic until golden brown. Add the mushrooms and fry until tender. Add all these to the chestnuts and leave.
Next make the sauce: mix the cornflour with 5 fl oz of chestnut stock to make a smooth paste. Whisk the paste into the other ingredients of the sauce. Stir thoroughly into the chestnut mixture.
Roll out the slabs of pastry on a floured surface and use one to cover the plate. Trim the edges and fill with the mixture up to 1 inch (25mm) from the edge. Brush with water and lay second slab on top, trim the edge and seal well, crimping pastry edges.
Use remaining pastry to decorate your pie.
Brush with soya milk and bake for 45 mins, middle shelf, until golden brown and risen.
Serves 6-8.  Serve with a varied and colourful selection of seasonal vegetables.