UK MPs will see (and taste) the case for vegan diets & stock-free farming on World Vegan Day.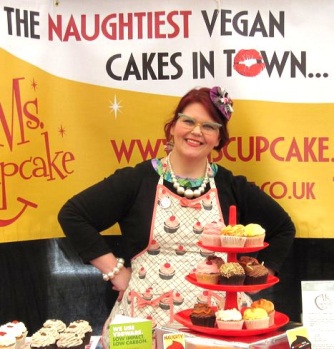 Can 'a little of what you fancy' help to tackle global health crises? MP Kerry McCarthy is inviting fellow MPs to chew on the plant-based solutions to obesity and hunger on World Vegan Day. MPs will also enjoy delicious vegan cupcakes from award-winning baker, Ms Cupcake on that day, Tuesday 1 November.
Kerry McCarthy MP said today, "I am delighted to be hosting this parliamentary event for World Vegan Day. I've been vegan for 20 years, and last year I was joined in parliament by two more vegan MPs; we've been told we're the largest vegan caucus in the world! This event provides a great opportunity to raise with other MPs and parliamentary staff issues such as the impact of the livestock industry on global food security and the environment, and the benefits of a vegan diet. And maybe we'll be able to persuade a few more to try turning vegan too."
Showing MPs they can have their cake and eat it too!

Vegan Society CEO, Jasmijn de Boo said today, "We are very pleased to be able to introduce delicious, locally made vegan cupcakes to MPs. As a 'first' for Parliament, there will also be tasty vegan dishes offered in each of the four Westminster restaurants every day during the week of World Vegan Day. Appealing, nutritious vegan food offers a powerful route to tackling current global crises. Plant-based diets and stock-free agriculture can help solve the deeply inter-connected problems of global climate change and global hunger, as well as obesity in the UK."
Ms Cupcake

Mellissa Morgan, Ms Cupcake, said today, "I'm excited to see more and more people embracing vegan food and lifestyles! Our first 'Ms. Cupcake' shop - London's first entirely vegan bakery - is going from strength to strength. The Baking Industry Awards recognised us as their 'Rising Star of the Year' and we've been chosen as a 2012 Olympic Games supplier. It's so encouraging that the British public are adopting compassionate behaviours which do less damage to the world. Ms. Cupcake is honoured to be a part of World Vegan Day at Parliament this year."
Kerry McCarthy MP has requested an adjournment debate on World Vegan Day debate in the House of Commons on Tuesday 1 November. If successful, the debate will focus on the role of plant-based diets and stock-free agriculture in tackling hunger, obesity and global climate change.
Media Contact: Amanda Baker - Mobile: (07847) 664 793 - Email: media[at]vegansociety[dot]com - Tel: (0121) 523 1737 direct line – Web: vegansociety.com
Notes for Editors
A vegan dish will be available in Bellamy's and The Terrace in Westminster, at Portcullis House and at 7 Millbank, every day from Mon 31 Oct until Fri 4 Nov 2011.
Well-planned vegan diets have been shown to reduce the risk of heart disease and obesity – see / and Vegan Society book, 'Plant-Based Nutrition and Health' by Stephen Walsh.
The United Nations have shown that food sufficient to meet the calorie needs of 3.5 billion humans is wasted by the global animal farming industry each year. United Nations Environment Programme. The environmental food crisis. Nairobi: UNEP; 2009. http://www.unep.org/publications/search/pub_details_s.asp?ID=4019 (accessed 18 Oct 2011)
The Livestock's Long Shadow report from the United Nations shows that the global animal farming industry causes 18% of all human greenhouse gas emissions effect, ahead of all forms of travel and transport (at 13.5%). Food and Agriculture Organization of the United Nations. Livestock's Long Shadow: environmental issues and options. Rome: FAO; 2006 ftp://ftp.fao.org/docrep/fao/010/a0701e/a0701e00.pdf (accessed 18 Oct 2011)
Kerry MCCarthy MP will be hosting Vegan Society Chief Executive Jasmijn de Boo, and the Baking Industry Rising Star winner, Ms Cupcake, on Tuesday 1 November 2011.
Vegan Trademark registered, Ms Cupcake - Mellissa Morgan - won the Rising Star Award at the 2011 Baking Industry Awards in September 2011.
Kerry McCarthy MP, Cathy Jamieson MP and Chris Williamson MP are the three vegan Members in the current Parliament.
World Vegan Day falls on 1 November every year, launching November as World Vegan Month: /News-And-Events/world-vegan-day/
Founded in November 1944, The Vegan Society promotes vegan lifestyles - which exclude, as far as is possible and practical, all forms of exploitation of animals for food, clothing or any other purpose. Registered Charity No. 279228, Company Registration No. 1468880 Registered in England & Wales, VAT Registration No. 448 5973 95