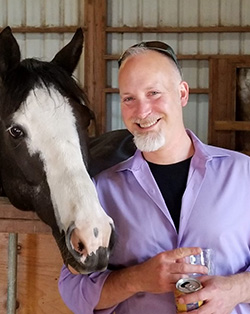 Mr. Karp and his wife have been vegan for twenty and twenty-eight years, respectively, and care for four cats, ages 9, 11, 12, and 23. Mr. Karp is involved in Anonymous for the Voiceless, presents continuing legal education seminars on the documentary Dominion, and represents vegans in civil and criminal litigation. He also authored a chapter on Vegan Litigation in his book Understanding Animal Law.
Mr Karp is licensed in Washington, Oregon, and Idaho and can be contacted through his website.
Mr. Karp is a Martindale-Hubbell AV Preeminent-rated and AVVO 10.0 Superb-rated lawyer who exclusively practices animal law throughout the States of Washington, Oregon, and Idaho. Having graduated from Gonzaga University with a B.A. Honors (Majors in Political Science and Sociology, Minors in Spanish and Philosophy, Concentration in Women's Studies) and University of Washington with a J.D. and M.S. in statistics, this is his twenty-first year actively practicing law. He estimates having evaluated and/or handled over 6500 animal law cases to date and has authored Understanding Animal Law, published by Carolina Academic Press, in October 2016.
Mr. Karp founded and served as first chair of the Washington State Bar Association's Animal Law Section in 2002 and has held executive committee positions since its formation. He founded the Idaho State Bar Association's Animal Law Practice Section in 2012 and continues to serve on its executive committee. In 2015, he became an executive committee member of the Oregon State Bar Association's Animal Law Section. He has also been a vice chair of the American Bar Association's ("ABA") Animal Law Committee since its creation in 2004.
Mr. Karp served six years as a contributing editor of the Animal Legal Report, produced by Animal Legal Reports Services, regularly writes on the topic of animal law, and routinely speaks around the nation about animal law, including at Yale, Harvard, Vanderbilt, and Vermont Law School. He has taught animal law at the University of Washington School of Law and Seattle University School of Law. In 2014, he taught as a lecturer on animal law at Edmonds Community College. He has been quoted in TIME, the National Law Journal, the ABA Journal, and other periodicals, including dedicated articles on his practice in the Seattle Times, Seattle Weekly, Pacific NW Magazine, and Seattle Magazine.
The American Bar Association's Tort Trial and Insurance Practice Section's Animal Law Committee's annual Excellence in the Advancement of Animal Law Award recognizes exceptional work by an Animal Law Committee member who, through commitment and leadership, has advanced the humane treatment of animals through the law. Mr. Karp received this award in 2012.
Mr. Karp has co-authored the ABA Tort and Insurance Practice Section's Survey on Animal Tort and Insurance Law for ten consecutive years, published three articles in Thomson West's Causes of Action series (pertaining to injuries to animals by animals, intentional injuries to animals by humans, and Section 1983 claims involving injury to an animal); two annotations in American Legal Reports (pertaining to preconviction and postconviction forfeiture of animals and private prosecution of crimes); six articles in the legal encyclopedia American Jurisprudence Trials (pertaining to veterinary malpractice litigation, use of force against and by animals, assistance animal access, litigating actions under the Migratory Bird Treaty Act and Bald and Gold Eagle protection Act, cadaver dog evidence, and animal fighting contests); co-authored one article in the legal encyclopedia American Jurisprudence Proof of Facts related to defending dangerous dog classifications; completed an annotation on custodial disputes pertaining to animals in American Jurisprudence Proof of Facts. Mr. Karp recently finished an annotation concerning the Lacey Act.
He has chaired several animal law continuing legal education ("CLE") conferences hosted by the WSBA, spoken at over fifty CLEs around the nation, all on the subject of animal law, including in New Mexico, Georgia, Louisiana, Michigan, Connecticut, Massachusetts, and Florida. Mr. Karp also founded and chaired the first and second Animal Law Summit, an international, cross-jurisdictional, multi-day CLE, and continues to maintain a direct role in its future development. The Fifth Summit is presently scheduled for Summer 2019 in San Diego.
With positive results, he argued before the Washington Court of Appeals, Ninth Circuit Bankruptcy Appellate Panel, and the Ninth Circuit Court of Appeals on the subject of animal law, resulting in some decisions that many regard as seminal.
Mr. Karp serves as an advisory board member for the Center for Wildlife Ethics. He also volunteered his time to the Northwest Wildlife & Rehabilitation Center, now part of the Whatcom Humane Society.