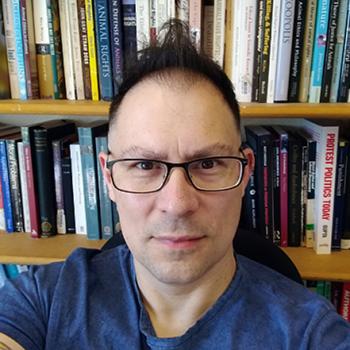 Lecturer in Political Theory, University of Leicester
Steve Cooke works in the field of moral and political philosophy. He specialises in justice for nonhuman animals and in the ethics of different forms of protest and activism.
Previously, Steve was a University Teaching Fellow in Theory and Animal Rights at Sheffield and a Teaching Fellow in Environmental Politics at Keele. He was the Society for Applied Philosophy's 30th Anniversary Research Fellow, awarded for a research project on animal rights and environmental terrorism. His PhD was on the ethics of animal liberation.
Currently, Steve is exploring the ethical status of slaughterhouse vigils as forms of protest, as well as moral dimensions of lab-grown animal products.
Steve has published most recently in The Journal of Ethics, Journal of International Political Theory, Politics, Journal of Political Philosophy, Environmental Values, Global Ethics, and Political Studies.
https://www2.le.ac.uk/departments/politics/people/dr-stephen-cooke