9 April was the first ever Future Normal Day!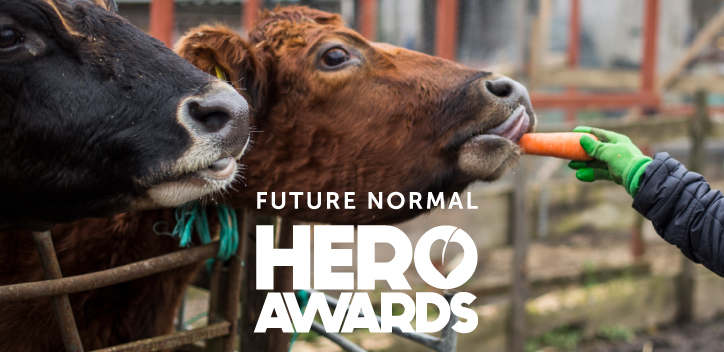 Future Normal Day has been created to encourage people to reconsider their relationship with animals.

Forget for a moment the 'new normal' we're all coming to terms with.

The Future Normal is a much bigger change that's coming, thanks to people like you who want a way of living that celebrates our connections to other animals and doesn't cause them harm. It's being ushered in all over the world, as more and more of us decide that doing the right thing for animals doesn't mean going without.

It's what every animal lover wants to see.

As well as launching Future Normal Day, we're also launching the first ever Future Normal Hero Awards and will be recognising people in the community who have gone above and beyond for animals.

Check out the winners of the Future Normal Hero Awards on our Future Normal social media channels on Facebook, Twitter and Instagram, or in the video below.

You can join in the celebrations by sharing your own sanctuary, adopted, rescued or re-homed animal pics and clips on social media using #FutureNormalDay.
Future Normal, our biggest and most ambitious campaign yet, launched in September 2020. But what is the Future Normal?

Hopeful actions

We want to encourage people to think about the kind of future they want to live in and the steps they can take to make it a reality. Going vegan can be seen as a hopeful action. Veganism is a lifestyle taken up by those of us who believe a kinder, more compassionate world can be created, and that whatever small part we can play is worth it.
Making the connection

For this campaign we are talking to those who define themselves as 'animal lovers', but who haven't yet made the connection and gone vegan. We are sharing the message that being an animal lover means caring for and respecting all animals, not just those we might share our homes with.
Compassionate future

We want the Future Normal to be a time in which all animals are given the respect and rights they deserve. A place in which they are no longer used, but recognised as individuals with their own personalities, preferences and desires.
Commit to change

We believe that this initiative will resonate with people on a deep level, and we have worked hard to create engaging and thought-provoking content to hopefully lead to meaningful and lasting behaviour change.
Explore the Future Normal here, where you can find a whole host of exciting videos, articles, podcast episodes, a quiz and more. Please share the site with your friends and family, and click here if you want to support Future Normal via a donation. Thank you for any contribution you are able to make – all donations go towards helping us to reach even more people.