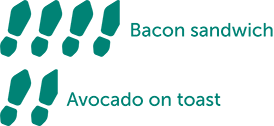 A bacon sandwich generates 1.9 times more CO2e than avocado on toast, and a full English breakfast generates 6.8 times more CO2e.
From BBC Food
Serves 4
Ingredients

4 ripe avocados, peeled and de-stoned
4 pinches dried chili flakes
2 small garlic cloves, finely grated
2 limes, juice only sea salt extra virgin olive oil
4 slices sourdough, toasted few sprigs fresh coriander, chopped
Method

Place the avocado in a bowl and add the chili, garlic, lime juice, salt and a drizzle of extra virgin olive oil. Mash with a fork to the desired consistency. It can be as chunky or smooth as you like.
Spread on the toast and garnish with coriander leaves.