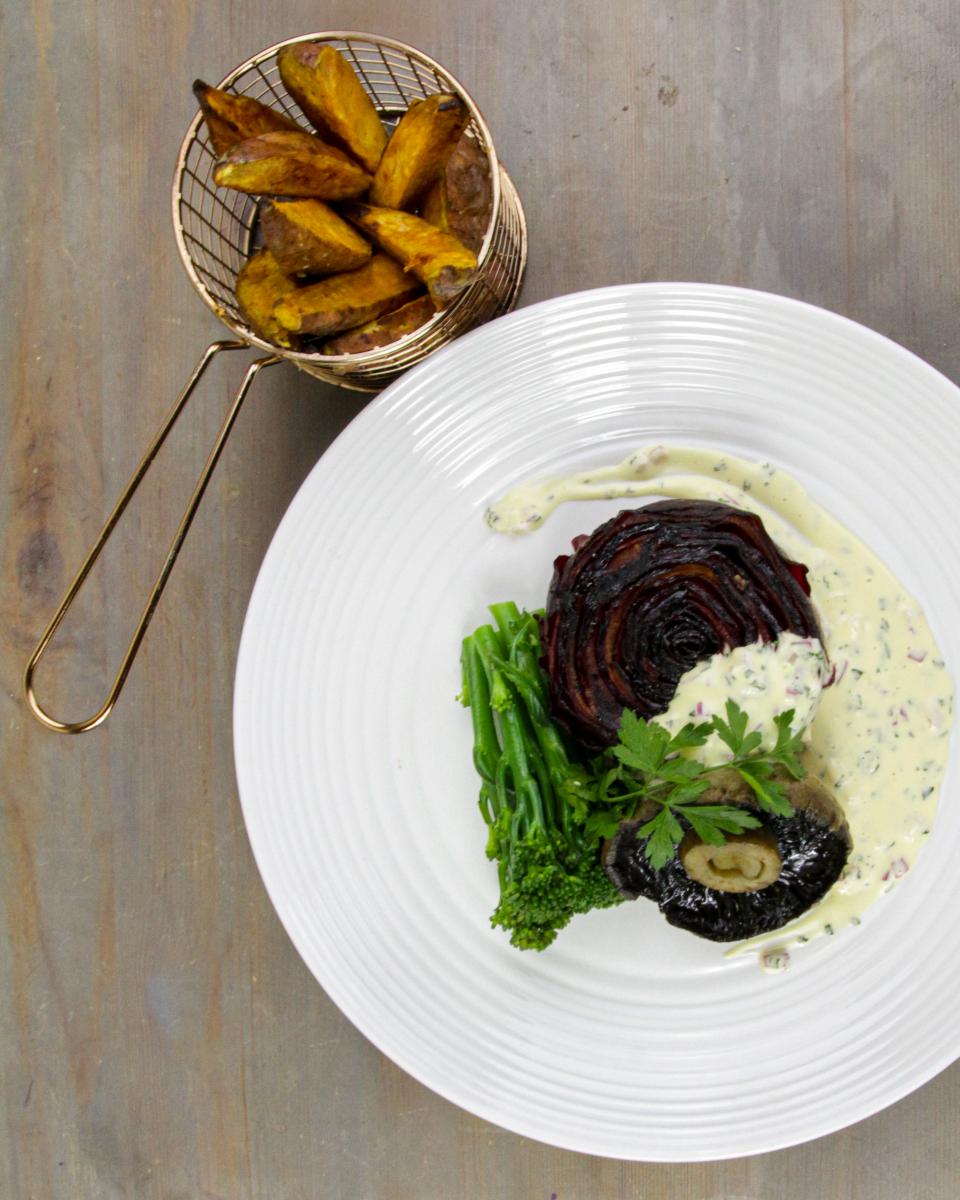 Ingredients

6 large beetroots, halved and cut into very fine slices
2 large carrots, peeled and ribboned with a peeler
2 large parsnips, peeled and ribboned with a peeler
50 g reduced fat vegan margarine
4 flat mushrooms
Black pepper, to taste
250 ml soya cream
200 g calcium-set tofu
100 ml water
1 red onion, finely diced
1 clove garlic, pureed
1 tbsp cornflour
1 tbsp water
1 tbsp chopped fresh tarragon
100 g tenderstem broccoli, steamed
4 sweet potatoes, made into wedges or baked
Method

For the steaks

Lay the beetroot slices out into four rows of equal length so that each slice overlaps the next. Top each row equally with the carrot ribbons. Top again equally with the parsnip ribbons.
Carefully starting at one end, roll up trying to keep it as tight as possible to form a pinwheel. Wrap the circumference of each roll in tinfoil to secure it (or you can use metal cooking rings if you have them).
Melt the vegan spread in a frying pan big enough to fit all 4 beetroot steaks. Add the steaks and cook over a low to medium heat. Turn after 5 minutes and repeat. Then, place the steaks onto a lined baking sheet and put the mushrooms onto the same sheet. Using the residual margarine in the pan, brush the mushrooms and season. Bake in the oven on 180 °C for 15 minutes until the mushrooms are cooked and tender.
For the sauce

Blend together the cream and tofu until smooth.
Heat 100 ml of water in a saucepan and add the onion and garlic. Simmer and cook until the onions are soft. Add the cream mix and warm through. Mix the cornflour with 1 tbsp water and add to the pan. Bring to a simmer and allow to thicken. Add the chopped tarragon and season.
Serve the steak with the mushrooms, tenderstem broccoli and sweet potatoes dressed in the Bearnaise-style sauce.
TIP: Look for calcium in the ingredients list of your tofu
Nutritional analysis per serving (1/4 recipe)
| | | | | | | | |
| --- | --- | --- | --- | --- | --- | --- | --- |
| Kcal | Carbs (g) | Fibre (g) | Protein (g) | Fat (g) | Saturates (g) | Sugars (g) | Salt (g) |
| 475 | 78.8 | 17.3 | 14.8 | 12.8 | 3 | 42.8 | 0.67 |